What Happened To Henry Hill's Ex-Wife Karen Friedman Hill?
Not many people can claim a Hollywood actress was nominated for an Academy Award for portraying them in a biopic, but Karen Friedman Hill's life hasn't been much like other people's lives for a long time. In fact, since the mother of two first met her future husband, Henry Hill, in 1965 on a double date All That's Interesting described as a meetup that "didn't go smoothly," things have been, well, interesting for Karen. 
How does a nice Jewish girl from Long Island end up in witness protection? If you read the 1985 book, Wiseguy: Life in a Mafia Family, or saw Goodfellas, the instant Martin Scorsese classic, you have an idea. Portrayed by Lorraine Bracco in the film, HBO describes her take on Karen as "one of the most neglected elements of the widely hailed masterpiece" and argues that Karen serves as the perfect lens through which to see the bizarre and terrifying mafia life the two quickly became caught up in. But Karen was much more than an accessory to the main story — in the film and in real life.
Why Karen Hill had to go into Witness Protection
Karen and Henry's marriage was a tumultuous one and frequently combative, per Mafia Wiki, with allegations of adultery as well as drug and alcohol abuse on both sides. By the time the glamour had faded and their lives were turned upside down, they were in too deep. In order to spare himself a potentially lengthy prison sentence on a 1980 drug trafficking charge, says ABC News, Henry turned on his former mob associates and friends. As you might guess, those associates were not pleased. That meant the whole family, including the couple's two children, Gregg and Gina, would be placed in the Witness Protection Program.
With a $1 million bounty allegedly on his head, according to ABC News, Henry didn't have much choice. That meant new identities and relocation for the family now no longer known as the Hills. According to a Mirror excerpt from the book, On the Run: A Mafia Childhood (written by Gregg and Gina as adults), Karen and the kids had to leave everything (including family) in the past. But, as the Mirror reports, that didn't guarantee them safety, largely thanks to Henry's inability to keep a low profile — or keep away from crime.
Here's where Karen Hill ended up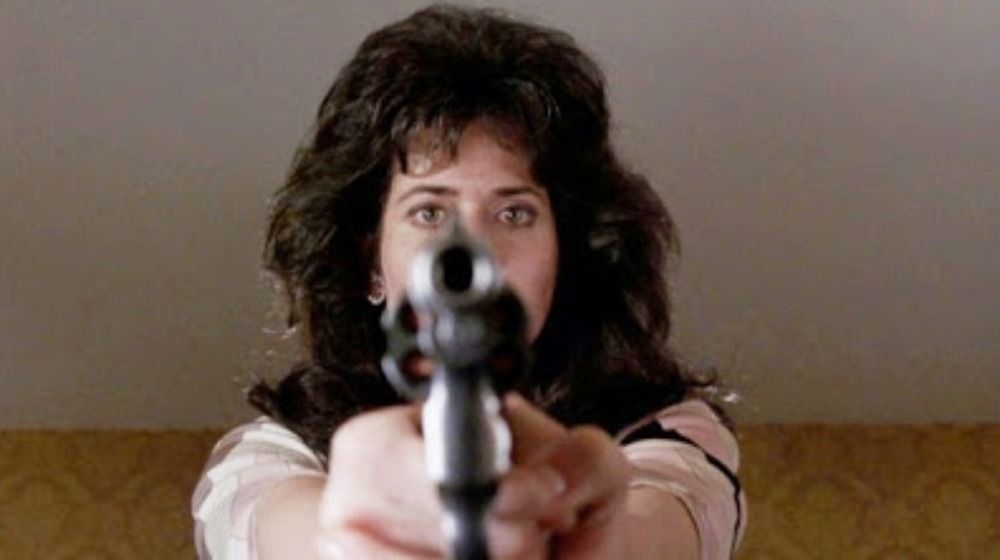 Warner Bros. Pictures
Understandably, it's hard to find information on what Karen is doing now, but here's what we do know. Per Mafia Wiki, the Hill family bounced around between various states, including Washington, Nebraska, and Kentucky. They were also kicked out of the Witness Protection program after the film came out, according to ABC News. While no one knows for certain why the couple separated in 1989, we know that Karen finally filed for divorce in 1990, though it didn't become official until 2002.
Karen never met Lorraine Bracco, her onscreen counterpart, according to The New York Times, and we don't know much about how she felt about the film (though ABC News tells us Henry called it "95 percent accurate"). Henry Hill died in 2012, but Karen is alive and well, according to her husband's former manager, says ABC News. Several sources, including Alchetron, say that Karen runs her own business, but that may only be speculation. Fortunately for her, it's tricky to find out exactly what she's up to these days. She might even be your neighbor — just don't rat her out.