The Tragic Death Of Ted Healy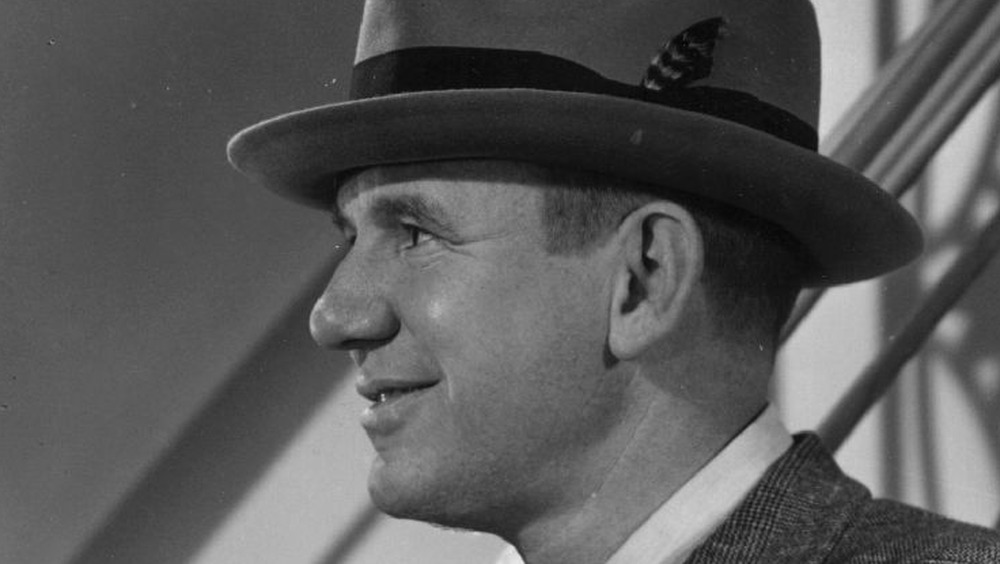 Hulton Archive/Getty Images
Ted Healy may have brought laughter to millions as the mastermind behind the Three Stooges, but his real life was far from the happy comedies that he brought to the screen. Healy's on-stage persona as the Stooges' disagreeable boss was not exactly fiction. Eventually they suffered a major falling out when the trio decided to end their relationship with Healy following a contract dispute. The feud became so acrimonious that Healy threatened to bomb any movie theater that showed the Stooges' films.
Healy was not only warring with his former colleagues. He was reportedly also a mean and occasionally violent drunk (and cheated on his wife), earning him enemies throughout Hollywood. It was likely this combination of alcohol and belligerence that led to his death.
According to The Daily Telegraph, Healy stumbled out of the trendy Café Trocadero after being beaten up in the early hours of December 21, 1937. Dazed and bleeding, he allegedly told friends that he had been attacked by three college-aged men. His friends took Healy to his hotel room and called a doctor, who cleaned up Healy's wounds and stitched a gash on his face.
A few hours later, however, Healy began having seizures, and died that morning.
Healy's cause of death remains a source of contention
Given the nature of Healy's death, doctors performed an autopsy and concluded that he died from nephritis: inflammation of the kidneys brought on by chronic alcohol abuse. Healy's friends contested the findings, however, and alleged that he had been beaten to death by mobster Pat DiCicco, future James Bond producer Albert "Cubby" Broccoli, and fellow 1930s screen star Wallace Beery. Shemp Howard, one of the original stooges (brother of Moe and Curly), claimed that Healy phoned him the night of his death and said that Beery, DiCicco, and a third man had attacked him. Moreover, Broccoli later admitted that he got into a physical altercation with Healy that night, though he maintained that he did not hurt the comedian.
"Healy died and it was common knowledge who beat him up. I always heard Wallace Beery and Pat DiCicco were the guys," stated Paul "Mousie" Garner, who worked with the Three Stooges, per The Chicago Tribune.
Rumors also suggest that Louis Mayer, who founded behemoth MGM Studios, even ordered a coverup of the crime. "Louis B. Mayer knew everything," according to Stooge historian Jeff Forrester. That said, allegations surrounding foul play in Healy's death are purely speculative and remain unproven.
Healy's death occurred just days after the birth of his son, adding yet another tragic detail to his passing.