What You Didn't Know About Sally Scull
Shutterstock
The Wild West is full of famous outlaws. Countless movies and shows portrayed their life as exciting. You may think you know all the notorious criminals, but have you ever heard about the most feared wife of the Old West?
Sally Scull, sometimes spelled Skull, was a rancher who was best known for possibly killing most of her husbands. Legends talk about her riding her magnificent horse, Redbuck, and killing one husband when he woke her up by pouring water over her head. While it's hard to separate fact from fiction, Scull's marital life did involve many "missing" husbands who just one day disappeared from her side.
According to Legends of America, Scull was born Sarah Jane Newman in Pennsylvania in 1817 or 1818. She was the daughter of Joseph Newman and Rachel Rabb, who moved to Texas as part of the "Old Three Hundred" of settlers in the Texas area. Sarah Jane, who was six years old when the family moved, had nine other siblings.
Start 'em young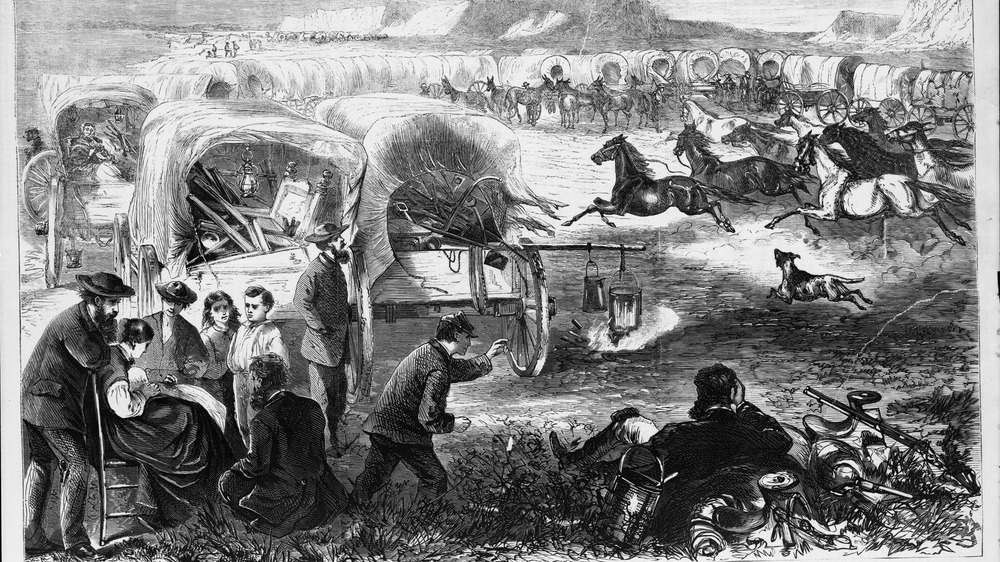 Heritage Images/Getty Images
Living on the frontier meant the young Sally had to learn how to survive from a very young age. They had to make sure all their candles were off at night so that hostile Native Americans won't shoot arrows through their windows.
When she was younger, her mother spied a Native American man's foot through the crack of the door. He was trying to raise the door so that he could get in. So Scull's mother took an ax and slammed it onto his feet, cutting off his toes. And when others tried to enter the house through the chimney, she lit a pillow and set the men on fire.
Scull was so impressed by her mother's actions that when a male neighbor didn't attack some Native Americans who were spying on them, she demanded the neighbor give her his gun. The Colorado County Citizen wrote that this encouraged a young Scull to shoot guns. And as she grew up, Scull became known as a fierce gunslinger.
Husband #1 was a hero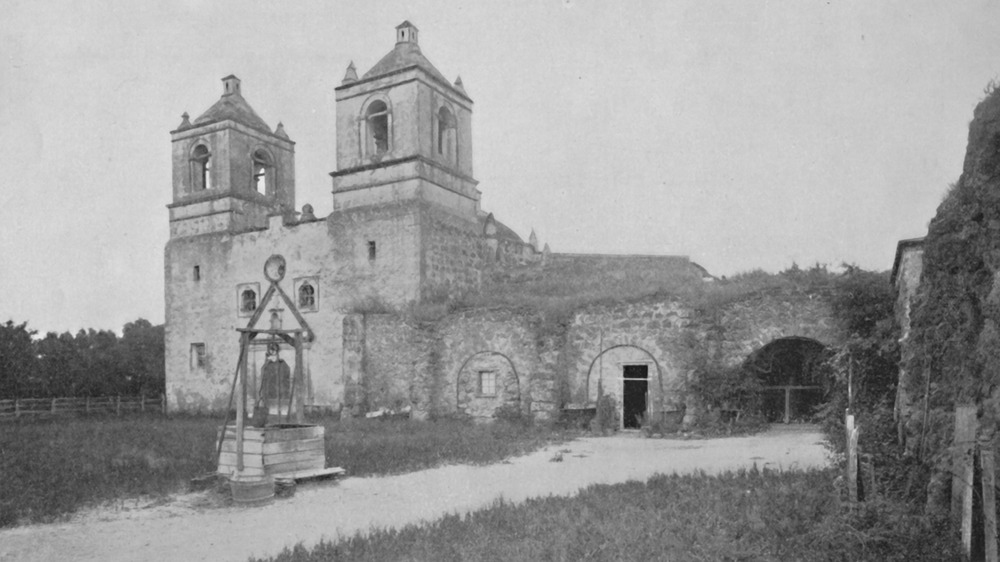 Print Collector/Getty Images
Sally's first husband — whom she did not kill, by the way — was older than she was by several years. But that's not the most interesting thing about their marriage.
Sally met her first husband, Jesse Robinson, when she was a little girl. Robinson was part of a posse that protected settlers in Texas. He also served in the Battle of San Jacinto in the Texas Revolution, which granted him a sizeable piece of land. At some point, Robinson and his crew saved Sally and others from hostiles who tried to burn them alive. Sally saw Robinson and vowed to marry her hero. She was six years old.
Per Sons of DeWitt Colony, Sally married Robinson when she was 16. They had two children, Nancy and Alfred.
They say never meet your heroes, and Sally shouldn't have. She found Robinson did not suit her lifestyle, and he saw her as a great scold. The two divorced, with Robinson charging Sally with adultery. She said Robinson was cruel to her.
A contentious divorce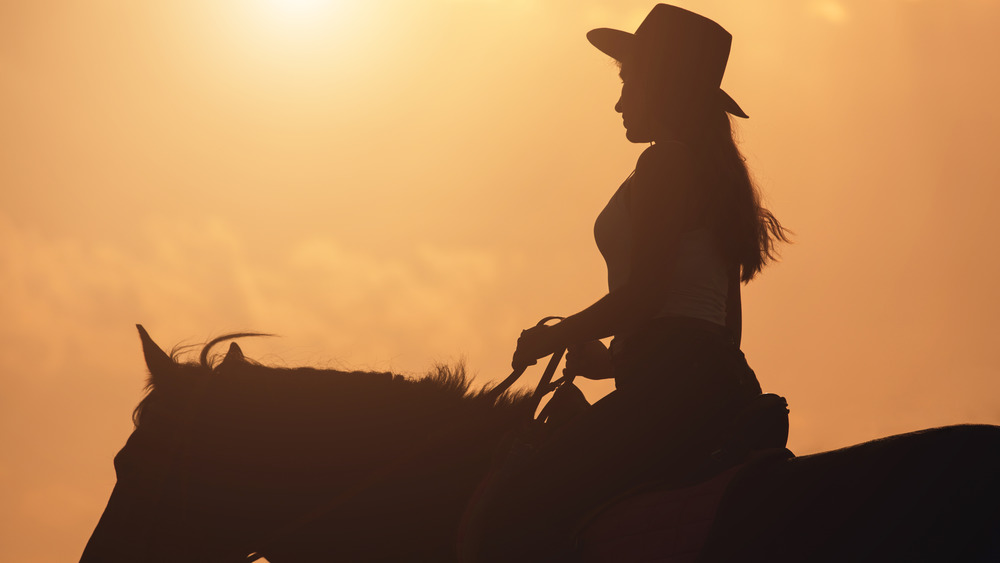 Shutterstock
The end of her marriage to her first husband was not at all easy. Sally married her second husband, George H. Scull, but lived in the same town as her ex. She claimed Robinson was trying to cheat her out of her inheritance and demanded he pay back her dowry. Things got even worse as Sally and Robinson fought over custody of their children.
Originally, each got custody of one child — Alfred to Sally and Nancy to Robinson. This did not sit well with Sally.
Sally, along with her second husband, left town because things got heated with Robinson. She left with her son but was determined to get her daughter. She petitioned to gain custody of Nancy, but she failed. So she conspired with husband number two to kidnap the girl. They snuck back to town and took Nancy. They escaped to New Orleans, and Sally put her children in a convent. Incensed, Robinson tracked them down, but Sally once again took her children to another school.
She was a girl boss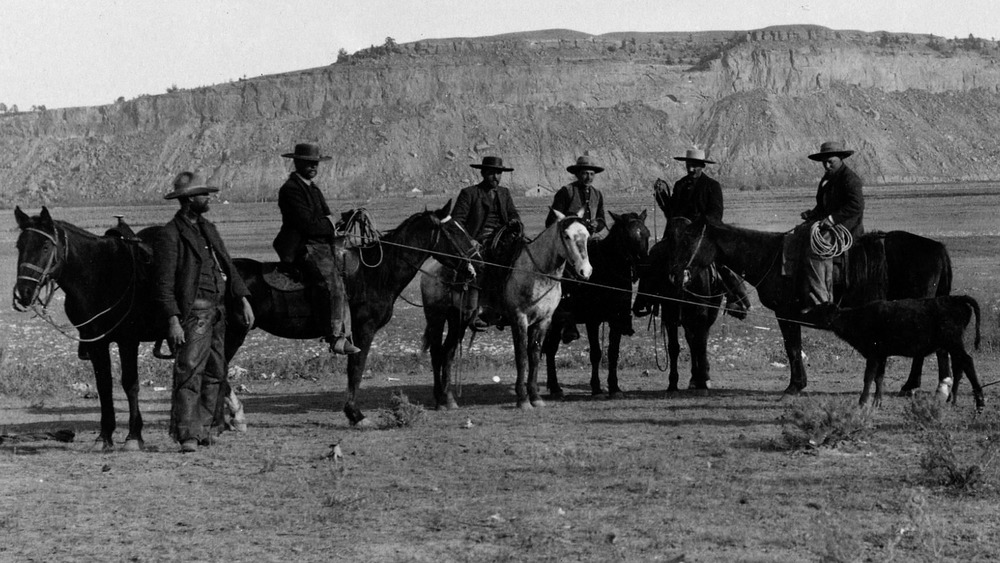 Buyenlarge/Getty Images
After Sally's second husband "disappeared," she reinvented herself as an astute businesswoman. (She also changed the spelling of her last name to Skull, because she thought it was cool. She was right.) Skull began a horse trading business.
Her neighbors believed Skull stole their horses so she could sell them in New Orleans. Legends of America said this was possible, though she was never arrested for it. Skull began making her way to Mexico to buy horses.
This turned out to be a great idea. Skull became fluent in Spanish, which made her famous among ranch hands in Mexico, along with her brash behavior and skill with guns. She hired Mexicans for her trading business and was rumored to be a tough but fair boss. Eventually, Skull managed to bring essential goods like medicine, coffee, and clothing back to Texas through a cotton trading company.
Skull even made the town of Banquete, where she lived, into a major horse trading station.
Boy, did she have a temper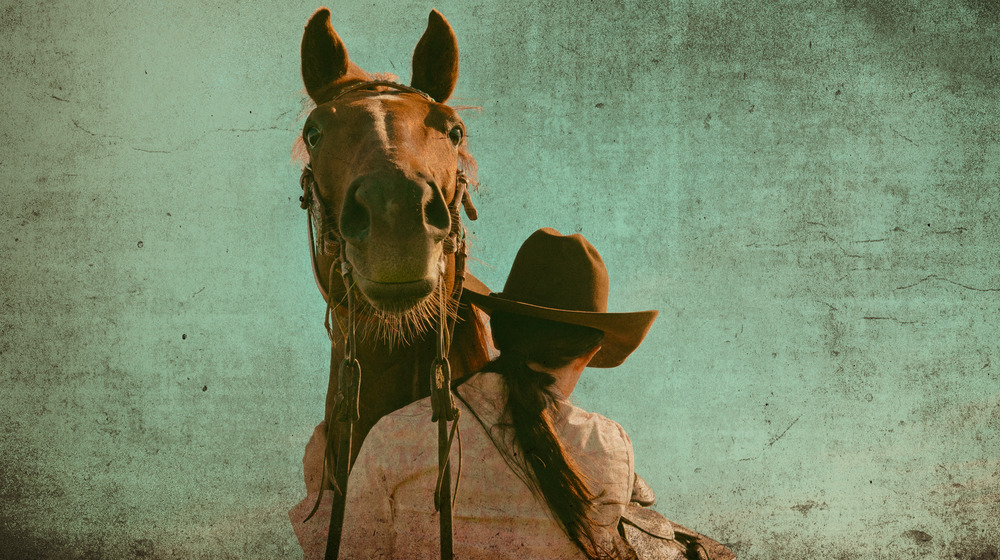 Shutterstock
For someone who allegedly shot one of her husbands for waking her up, it's no surprise Skull had a temper.
Many reported Skull would confront anyone who had a bad word to say about her. At one point, said Legends of America, she overheard a man badmouthing her. She confronted him and began shooting at his feet, telling him, "So you been talking about me? Well, dance!" (The quote, by the way, has been sanitized.)
But her anger isn't always directed at her ex-husbands or people annoying her in town. One story goes that Skull's daughter Nancy became very attached to a pet dog, even preferring it over humans. It was a trait she shared with her mother, who cared more about her horse Redbuck. One day, Skull visited Nancy in New Orleans. Nancy's pet dog was wary of this rough visitor and tried to bite her. Skull got mad, took out her gun, and shot the dog point-blank. Nancy never spoke to her mother again.
No one knows what happened to Skull. Some say husband number five shot and killed her. Some say she retired peacefully. Either way, no one can say Sally Scull (or Skull) isn't a legend.