The Surprising Way John Dillinger Once Broke Out Of Jail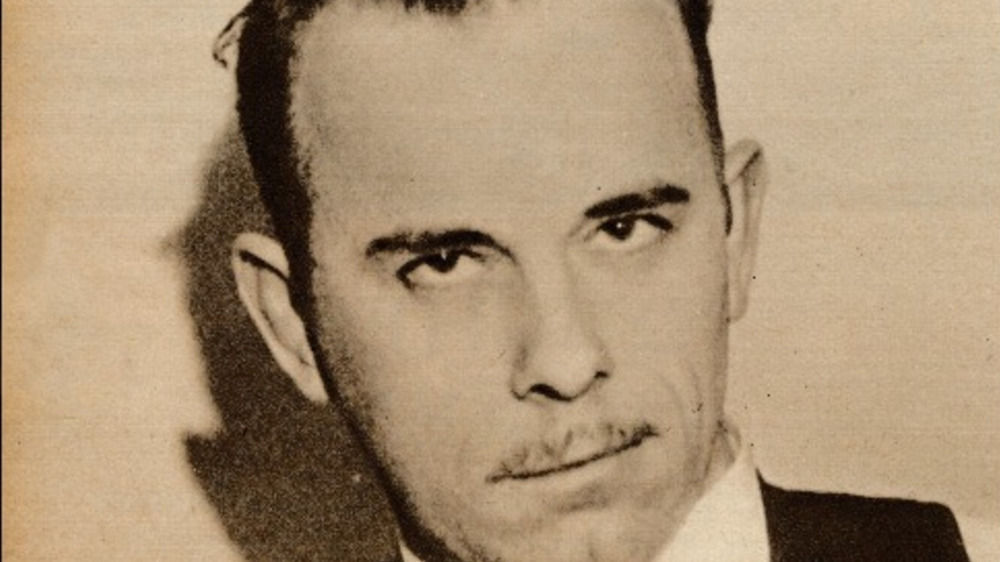 Print Collector/Getty Images
Public Enemy Number One John Dillinger was no stranger to run-ins with the law. He bounced in and out of jails for most of his 31 years, not just because of his frequent crimes, but because no jail could hold him. Dillinger was seemingly able to break out of police custody just as easily as he could break into bank vaults. He successfully evaded (or at least delayed) justice in 1933 by fleeing his jail cell in Lima, Ohio with the help of some friends. But Dillinger's most famous, and final, jailbreak was his escape from the top-security Lake County Jail in the last year of his life, according to the NY Daily News.
In January of 1934, Dillinger was apprehended in Arizona. He was brought to the high-security, reputedly "escape proof" Lake County Jail in Crown Point, Indiana to await trial, precisely because of his well-known slippery nature. "I know he's a bad baby and a jailbreaker but I can handle him," the sheriff, Lillian Holley, told Time. However, from the very beginning of his arrival at Lake Country, Dillinger scoffed at the "escape proof" claims, saying in an impromptu press conference that "a jail is like a nut with a worm in it" and promising he would escape, according to the John Dillinger website.
Dillinger escaped from the supposedly unescapable Lake County Jail with a wooden gun
On March 3, 1934, Dillinger made good on his claims, pulling off an unprecedented jailbreak with the help of a fellow inmate. Brandishing a wooden gun that he had hand-crafted, most likely from a washboard, he managed to intimidate 33 jail guards, as well as the other prisoners, into letting him walk free from his cell. Once released, Dillinger and his partner stole two real machine guns from the warden's office, imprisoned his former jailers, and escaped Lake County Jail in the sheriff's stolen car, according to the FBI.
Dillinger didn't leave alone, however. His co-conspirator, along with their two hostages — a deputy sheriff and a garage employee — rode with him past the 50 or so guards stationed outside the prison, with Dillinger reportedly gaily singing hits like "Git Along, Little Dogies" and "The Last Round-Up" all the while, per the John Dillinger website. Soon, Dillinger had crossed over the Illinois state line into freedom and back into the waiting arms of his girlfriend, Evelyn Frechette.