How Old Angus Young Really Was When AC/DC Wrote Back In Black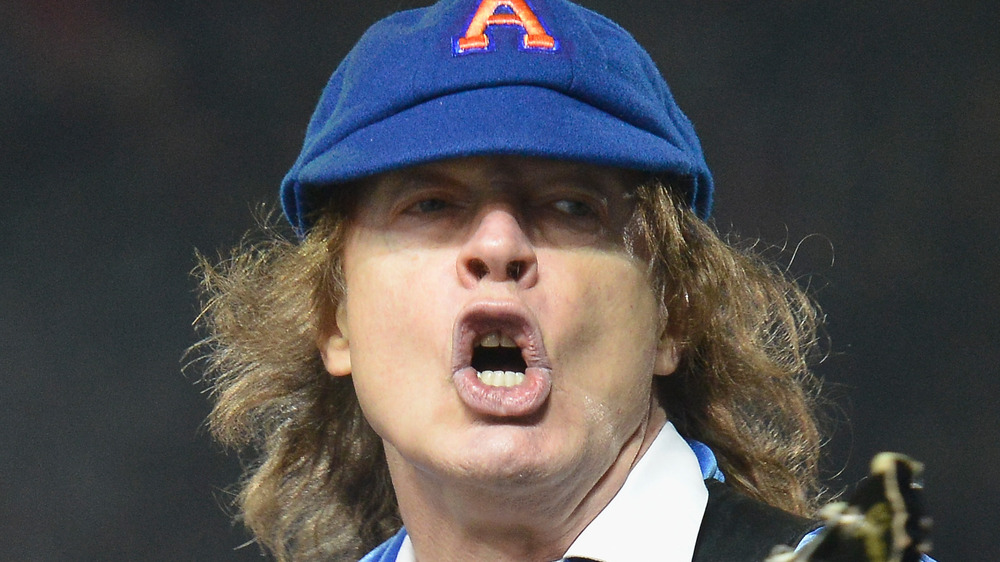 Duane Prokop/Getty Images
Lead guitarist and songwriter Angus Young of the legendary metal band AC/DC has been duck-walking the stage while playing some of rock's biggest hits for decades. Known for co-writing albums such as High Voltage and Let There Be Rock, Young was, well, very young when he wrote them. When it comes to the 1980 album Back in Black, the band members were in their mid '20s and early '30s, per Loudwire. When the album was released, singer Brian Johnson was 32, guitarist Malcolm Young was 27, bassist Cliff Williams was 30, drummer Phil Rudd was 26, and Angus was 25. Over 40 years later and 50 million albums sold, Back in Black remains a truly remarkable piece of work.
What makes the album even more of a feat is due to the circumstances that precluded its recording. Just months before the album's release, AC/DC's singer Bon Scott passed away after a night of drinking. While the band was devastated, they stayed strong and decided to keep on going as they knew Scott would have wanted. It wouldn't be long until their search for a new singer led them to Brian Johnson, who'd been singing for the band Geordie, per Loudwire.
The recording of Back in Black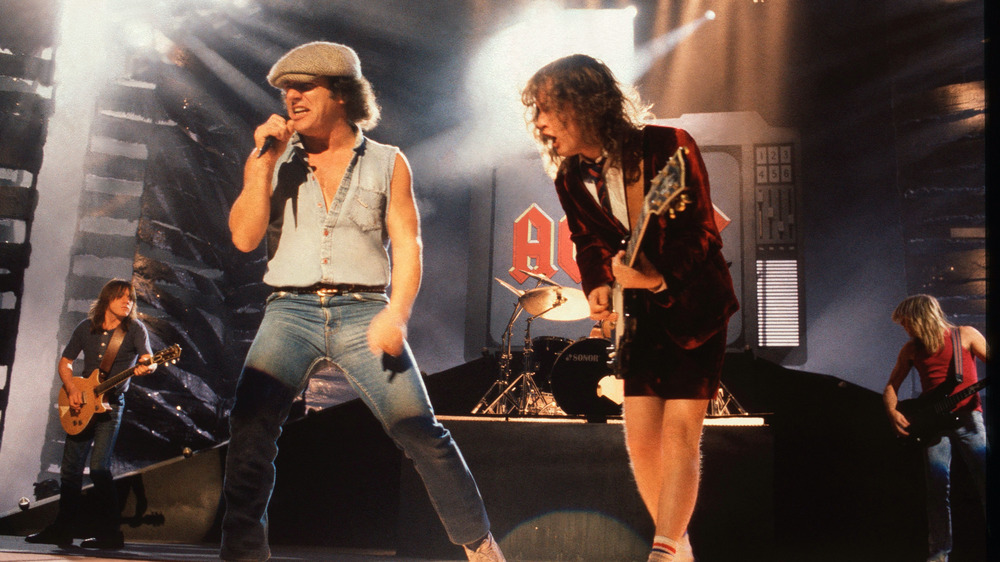 Steve Rapport/Getty Images
In April 1980, AC/DC flew out to Compass Point Studios in Nassau, Bahamas, to begin recording the album. According to VH1, the band arrived during tropical storm season. "[The album] was a force of nature, that thing. It really was," Johnson described. Despite the impending storms, both Angus and his brother wrote most of the music in the studio while Johnson spent his time writing lyrics. Maybe it was the threat of the oncoming storms, but the band would finish writing and recording the album after only seven weeks. "We just started writing and everything poured out of us," Angus Young told Loudwire. "I don't even remember specifics for a lot of the songs. We had almost nothing in front of us one day, and then the next there they were with a finished record."
When the album was released, it was a hit around the world. It was No. 1 in Australia, England, France, and Canada, but only reached No. 4 in the U.S. It's hard to believe this now given the album is the second highest-selling album behind Michael Jackson's Thriller. Back in Black is a true work of art and is an important part of metal, along with all music, today.