The Truth About Elton John And Rod Stewart's Relationship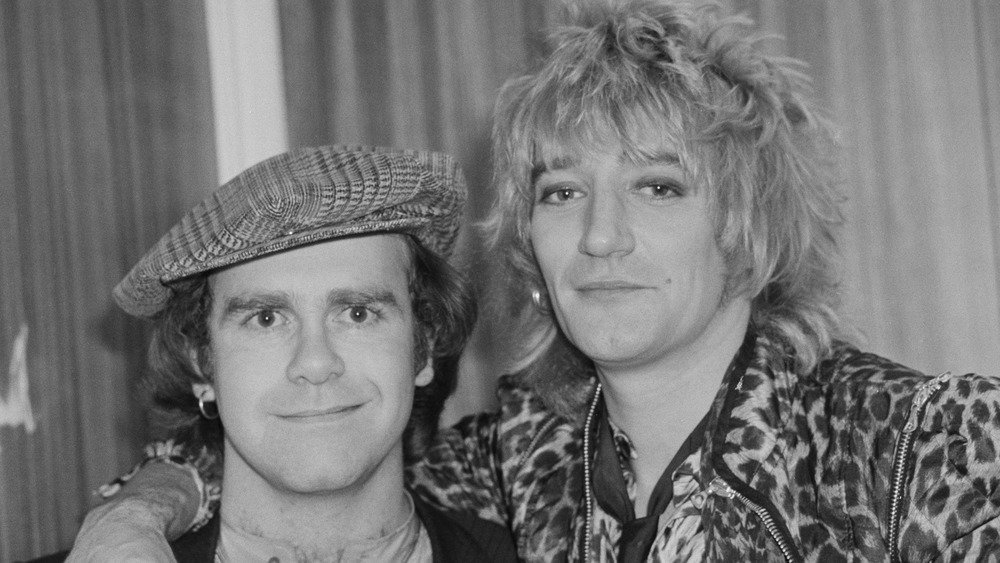 Evening Standard/Getty Images
In the world of 1970s rock n' roll, two London neighbors formed a friendly rivalry that would last over half a century. Early in their friendship, Elton John and Rod Stewart were nicknamed "Sharon" and "Phyllis" by their mutual friend Long John Baldry due to "the camp and catty way they treated each other and gossiped" (via The Sun).
While both rock n' rollers were playing live shows in Las Vegas back in 1978, a banner advertising Stewart's "Blondes Have More Fun" tour was installed outside Caesar's Palace. John soon arranged to have a banner displayed across the street that read "But Brunettes Make More Money." Then in 1985, blimp-sized balloons hung above Earl's Court in London, advertising a series of Stewart's concerts. According to The Sun, John "hired a sniper to shoot the balloons down with an air rifle."
John and Stewart have exchanged practical jokes and thinly veiled comments for decades. But is the glam-rock legends' relationship a bitter rivalry or merely a lighthearted, prank-filled friendship?
Rod Stewart and Elton John's friendly rivalry turned sour in 2018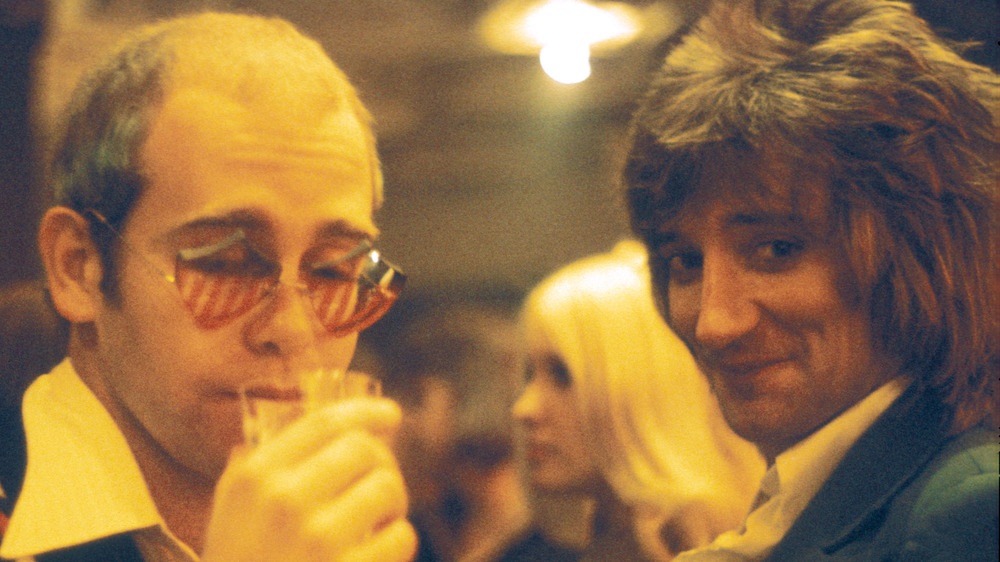 Graham Wiltshire/Getty Images
Elton John once said he and Rod Stewart were "cut from the same cloth" (via The Sun). "We try and publicize the fact that we always have a go at each other in the papers, but in fact we do that for reasons only known to us, really," he said. "We're actually very good friends."
The pair's friendship of five decades appeared to have turned sour in 2018, when Stewart appeared on Watch What Happens Live! and deemed John's Farewell Yellow Brick Road Tour "not rock and roll." "I do love Elton, only we're not talking at the moment," Stewart said the following year during an interview for a Scottish radio station (via The Telegraph). "We've had a spat, because I criticized his tour as being money-grabbing."
John recalled the incident in his 2019 autobiography Me: Elton John. "I certainly didn't feel like I needed a lecture on the feral spirit of rock and roll from someone who'd spent most of the last decade crooning his way through the Great American Songbook and 'Have Yourself A Merry Little Christmas,'" he wrote (via NME), adding, "I had no idea what I'd done to upset him so much. Which was ironic, given the hours I'd put in over the years deliberately trying to annoy him."