The Truth About Serial Killer Fred West's Childhood
It wasn't until February 25, 1994, that the police finally caught up with Fred and Rosemary West. Investigators stopped by to question the couple about the disappearance of their daughter, Heather West, and that initial inquiry kicked off a search of the Wests' property at 25 Cromwell Street in Gloucester. The search revealed the couple was among the most prolific and grotesque serial killers in the history of the United Kingdom. 
One bone that was proved to belong to Heather led to a full excavation of the lot, which uncovered how Fred and Rosemary West would kidnap, rape, dismember, and murder teenagers and young women in the South West England county of Gloucestershire. It was a killing spree that took place over decades, beginning in the 1960s, according to DevonLive. Across the U.K., the address of the West family home became known as the "house of horror" and fodder for both the tabloids and the nightly news, alike.
Fred West was a teen predator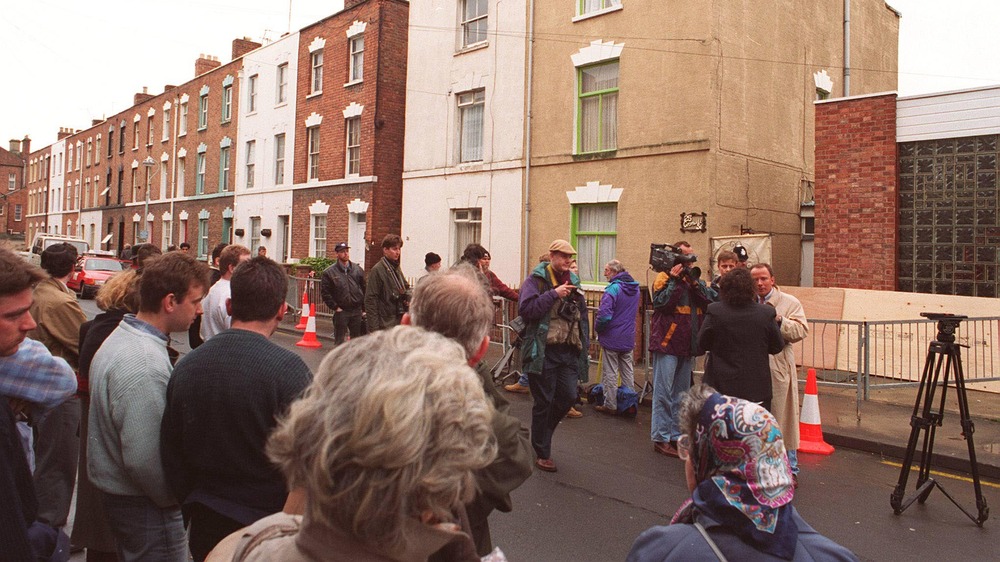 Photoshot/Getty Images
As investigators pieced together a timeline of the brutal murders the couple committed, they learned that Fred West's disturbing history of predatory behavior began well before he met Rosemary — and that he had a childhood filled with problematic circumstances and behavior. Fred West was born on September 29, 1941, the first surviving child of Walter Stephen West and Daisy Hannah Hill. Eventually, there would be six children in this family of low-income farmworkers. Yet, Fred was his mother's favorite, according to Biography, and she was often overprotective of him. "He was just an ordinary little lad, nothing that would stand out in your mind," Kay Cotton, the owner of the farm where the family lived, told The Independent. "He was small with a crop of curly hair and was very like his mother to look at."
All six of the West children were expected to perform chores on the farm, with the girls picking strawberries and hops, while the boys hunted rabbits and harvested wheat, per People Pill. In school, Fred was often in trouble and, per The Sun, remained semi-literate. In 1956, at the age of 15, he left school and became a full-time farm laborer. The next year, Fred and his brother John began socializing at a youth club in a nearby town, where Fred purportedly harassed women and girls, even going so far as to grope them in plain view. It was just the beginning of Fred's sexual and violent transgressions.
Fred West thought incest was normal
When Fred was arrested in his late teens for repeatedly raping his sister, he revealed some of his disturbing experience with — and views about — sex. He told police that he was first introduced to sex by his mother when he was just 12 years old, and that she encouraged him to engage in acts of bestiality. And when he freely admitted that he had been molesting young girls, he incredulously asked, "Doesn't everybody do it?" Express reported. However, others in the family say it never happened. "None of us was ever abused, in any way, by anybody," said Fred's youngest brother, Doug, per the Hereford Times. "As far as mum and Fred, and dad and animals, that was just fantasy by somebody."
Since Fred's sister refused to testify against him, and his mother was prepared to testify in his defense, the case collapsed. It would set off decades of Fred getting away with abduction, rape, and murder of teenagers and young women before the police finally closed in on him and his wife, Rosemary, in 1994. Although police believed it to be many more — and Fred claimed dozens more — they could only pin 12 murders on him. On January 1, 1995, Fred West took his own life by hanging himself in his cell, per the Daily Mail, before he could stand trial.