The Time Teddy Roosevelt Quit Politics To Become A Cowboy
Hulton Archive/Getty Images
Many people have a dream, however abstract, to quit their day job and do something wild and crazy instead. Even Theodore Roosevelt, one of the most famous figures in the history of United States politics, was not immune to such a romantic notion. In 1883, the rising politician swapped his suits for spurs and took to the United States Badlands to seek freedom, heal from grief, and become a cowboy.
While Roosevelt had his North Dakota ranch holdings for less than five years in the 1880s, the Theodore Roosevelt Center claims that the politician's Badlands years helped transform him from "a frail and somewhat snobbish New York 'dude' into the more democratic exemplar of the strenuous life who became the 26th President of the United States." And who understands the heart of America better than a tried-and-true cowboy? (Aside from an actual Native American, that is.) Here's how and why Roosevelt lassoed the cowboy spirit.
Teddy Roosevelt's cowboy phase was brief but transformative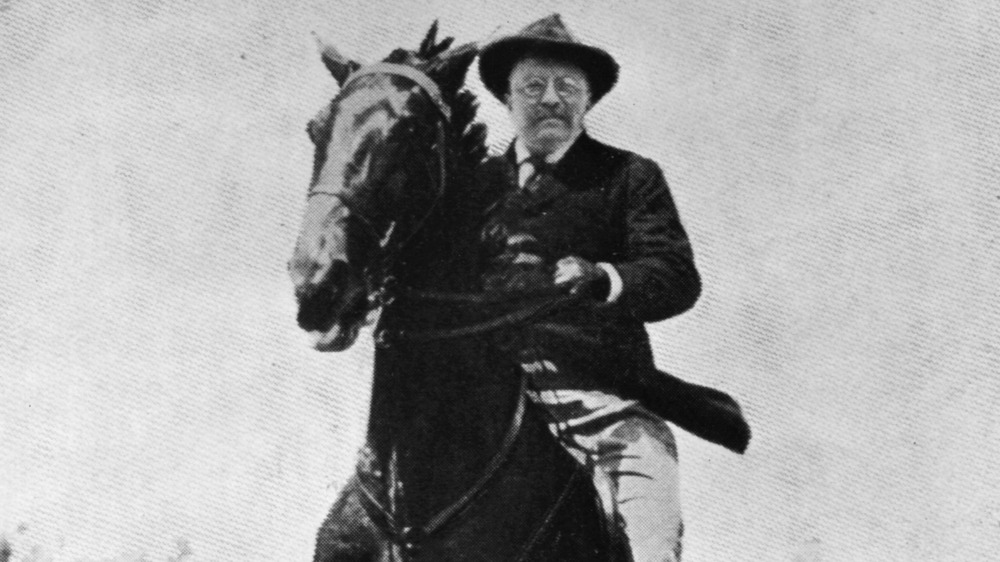 Hulton Archive/Getty Images
According to the Theodore Roosevelt Center, Theodore Roosevelt headed for the Badlands of North Dakota on September 8, 1883. The then-24-year-old set out to kill a buffalo, but ended up investing in two ranches in the Little Missouri River Valley — the Maltese Cross and the Elkhorn — on impulse. Just five months later, a world-shaking tragedy struck: On Valentine's Day 1884, Roosevelt lost both his mother and his wife within hours of each other, due to typhoid fever and a kidney ailment, respectively, reports History.com.
One way Roosevelt responded to his grief was by working to refine his skills as a hunter, rancher, and cowboy, despite struggling from physical ailments including asthma. In the Badlands, he arrested thieves, fought gunslingers, stopped stampedes, and rounded up livestock.
Even after he sold off his ranch holdings around 1887, Roosevelt frequently visited the Badlands "to hunt and refresh his soul," per the Theodore Roosevelt Center. He visited the area for the last time in the fall of 1918, just a few months before his death. Today, North Dakota is home to 15 sites that honor the former politician (and cowboy), who deemed the region the place where "the romance of [his] life began."