The Most Underrated Pearl Jam Song On Every Album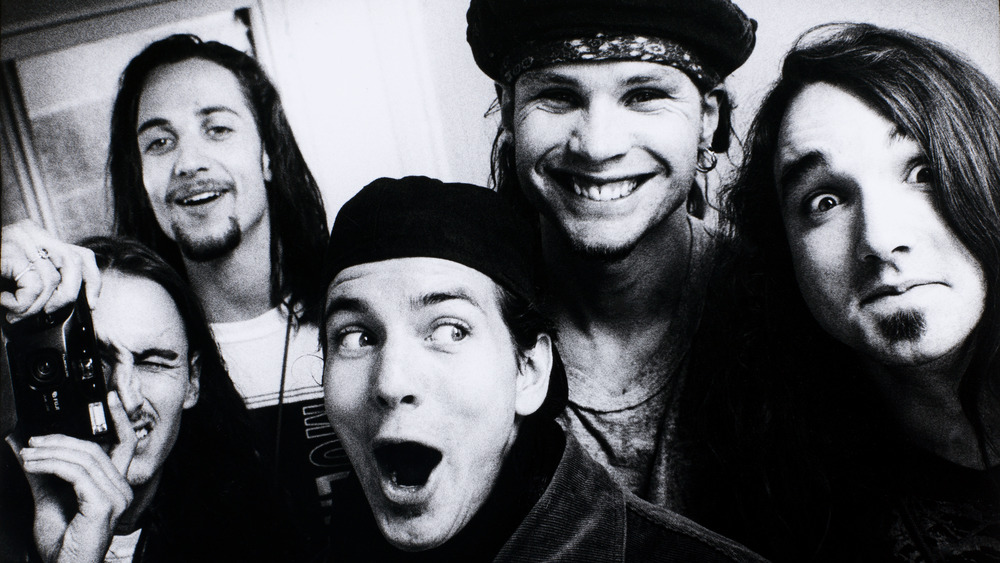 Niels Van Iperen/Getty Images
Thirty years ago, Pearl Jam released its debut album, Ten, which stayed on the Billboard charts for five years and immediately made the band a legend. Regarded as one of the most important bands of the "grunge" music movement, Pearl Jam went on to dominate the decade, selling tens of millions of albums while maintaining their antipathy to commercial music, fame, and traditional rock star status symbols.
But time changes things. Today, Pearl Jam is no longer the biggest rock band in the world, but they continue to be a vibrant creative force, and their albums and concerts continue to sell. The band's back catalog remains a staple of rock radio and streaming, and many of their compositions have retained a cultural currency few songs manage. Songs like "Alive," "Jeremy," and "Given to Fly" can still be heard despite the passage of time.
As with any hugely popular band, however, those huge hits sometimes overshadowed other songs on their albums, and then time obscured those deep cuts even further. The time has come to take a fresh look at the most underrated Pearl Jam song on every album and surface a few of them so they can get their due at long last.
"Release" — Ten
Ten was a huge cultural moment in 1991, but it's easy to forget that it wasn't an immediate hit. Arriving a few weeks before Nirvana's Nevermind, it was a few months before grunge exploded into a phenomenon, and the world took notice. The album went on to sell millions and produced songs like "Alive" and "Jeremy" that helped define an entire genre of music and establish Pearl Jam as one of the best bands around.
Most fans dug deep into the record — even outtakes like "Yellow Ledbetter" were ubiquitous on the radio — but somehow the emotional, powerful final track, "Release," on the album got overlooked. As Ultimate Classic Rock notes, the power of the song stems from Eddie Vedder's lyrics, reflecting on the pain he suffered when he discovered the man he'd thought of as his father his entire life wasn't his actual biological father. But for anyone dealing with trauma and struggling to break free, the words in "Release" will resonate.
The musicians in Pearl Jam had been working for a long time before the band broke out, and it shows in the songwriting. Noise Creep describes the song as hypnotic — it's intricate guitar lines swirl around each other, pulling the listener in — and notes the sense of catharsis the song offers. For a song closing out an album of emotionally raw music, that's the perfect note to strike.
"Leash" — Vs.
When Pearl Jam began working on their followup to 1991's Ten, they were arguably one of the biggest bands in the world, and the pressure was on to be both musically daring and the spokespeople for an entire generation. That pressure influenced the songwriting on 1993's Vs., which is angrier and less polished than their debut. "Leash" is one of the angriest songs the band has ever recorded, and that may be why many people slept on this propulsive gem when it first came out.
Spin calls "Leash" the most underrated song on the album, in fact, and notes that the band rarely even plays it live. While the immaturity of the song's lyrics may have something to do with it — any song about being young and imploring the older generation to "drop the leash" and let you be free is never gonna age well — another factor is the song's angry, unmelodic approach. There's no real hook here to catch the ear and demand repeat listens, the pleasures of the song are more complex. Under the snarling guitars there's a staggering rhythm that sits so deep in the pocket you're grooving without even realizing it, and the jarring chord shifts that define its pre-chorus and chorus are pretty complicated, musically. Add to that Eddie Vedder's ability to express everything from anger to hope in the space of one lyric, and you have a song that hardcore fans love — and that should be better-known.
"Tremor Christ" — Vitalogy
When someone on Pearl Jam's official forum asked about most underrated songs, it's not too surprising that just about everyone name-checked "Tremor Christ" from Vitalogy.
That album was the high-water mark for Pearl Jam as a cultural juggernaut, and songs like "Corduroy," and "Not for You" were instant hits. But the album's fourth song has been bubbling under for a quarter century, and it's probably one of the best songs on the album. It's a strange song — no doubt. According to Five Horizons, guitarist Mike McCready said, "It's kind of an odd, marching Beatles tune. It's just a strange song. ... The groove reconciles itself after you get into it."
The opening is off-putting, with a series of sour, shimmering guitar chords. The songs takes it time before coalescing into a pattern you can get into. and it takes a few listens to click into its groove and atmosphere. But once you do, it's an incredibly affecting song that is still being covered today — as noted by Consequence of Sound, St. Vincent released an acoustic cover of the song a few years ago (she's a big Pearl Jam fan — and only a true fan would choose to cover this one).
"Smile" — No Code
1996's No Code was the point where Pearl Jam stopped being the biggest rock band in the world and began their slide into mere superstardom. As noted by Consequence of Sound, the album was intended to be a creative departure and a risk — and it left a large number of its fans cold. The album sold in big numbers, but it also received mixed reviews and augured a decline in the band's popularity.
Many of the songs on the album eschew the emotional, grungey hard rock of the band's first few albums — and then there's one of the band's most overlooked songs, "Smile." A 70s-style rocker that's out of step not just with the band's established sound but also the rest of the album. Louder reports that the song was obviously influenced by the work the band did working with Neil Young on his Mirrorball album the year before, which explains why it sounds like an outlier on an outlier album. But it's a solid, foot-stomping song with a chorus that hooks into your brain and stays there.
As Ultimate Classic Rock notes, the song is an "unadulterated rock moment" with fuzzy guitars, a loping rhythm, and even that most old-school of instruments, the harmonica. As a result of these disparate influences and tensions in the song, it has a timeless rock and roll quality.
"Brain of J" — Yield
Grunge rock is often thought of as a stomping, churning sound, slow and lumbering. But bands like Nirvana and Pearl Jam brought a distinct punk rock flavor to their music. Pearl Jam often buried those influences in favor of a broader emotional palette for their music — but it was always there. And sometimes, like on the criminally overlooked "Brain of J" on 1998's Yield, they leaned into it and delivered a raucous, punk-fueled rager of a song.
Louder rightfully praises the song's inventive riff and surprising chord progressions, which gives this aggressive little song a depth that most supposedly "punk" pastiches lack. And Ultimate Classic Rock correctly notes the counter-cultural tone of the lyrics. Pearl Jam were often at their best when they were enraged, and with "Brain of J" their anger is perfectly constrained by the song's surprisingly complex arrangement. It's one of those songs that amateur guitarists decide to learn only to discover that it's actually a real challenge even for professional musicians.
The song is less tuneful and harder for fans to get into. But it has an angry energy that feels evergreen and still sizzles today. This isn't a hard rock band pretending to be punk for two minutes. It's a band casually indulging its punk side with the sort of expertise few can manage.
"Breakerfall" — Binaural
Binaural was a failure by Pearl Jam standards — it was their first album not to go platinum and was released in May 2000 with so little fanfare you get the feeling the band knew it kind of sucked. As Diffuser notes, Eddie Vedder has admitted he struggled with burnout and writer's block during these sessions, finding it difficult to write lyrics and melodies — and most fans agree it certainly showed.
But the opening track, "Breakerfall," is great. As Rolling Stone notes, it's lightning fast and filled with energy. You can easily imagine a Pearl Jam fan playing Binaural for the first time and getting really, really excited about the rest of the album based on this opener. Ultimate Classic Rock compares the song's sound to The Clash, which is accurate in a very good way, and considers the song a "forgotten gem" from Pearl Jam's oeuvre.
Although the song gets lost because it's part of a disappointing album, it has, in all fairness, become something of a fan favorite in concert. The song deserves a revival beyond the hardcore Pearl Jam fans, though. Anyone who loves a smart, straightforward rock song that echoes 1970s punk should put it in their ears immediately.
"Thumbing My Way" — Riot Act
The years 2000 and 2001 weren't the greatest in Pearl Jam's career. Their 2000 album, Binaural, didn't sell as well as previous efforts and didn't get the sort of critical acclaim they were used to. Then, as Ultimate Classic Rock reminds us, while touring in support of that album the band witnessed a horrifying tragedy when nine fans were crushed to death during a concert in Denmark, an event that haunted them. Then, like everyone else in the country, they got to live through Sept. 11, 2001, and watch how the world and the country transformed in its wake.
After a year-long break, the band returned with Riot Act in 2002. The songwriting is introspective, sad, and peppered with a sense of mortality, but few of the new songs have achieved classic status. One stand out, though — the gentle, elegiac "Thumbing My Way." As Rolling Stone notes, this is a song about "loss and regret," made all the more powerful because of its shimmering, understated arrangement. The emotional power stems from its simplicity and Eddie Vedder's deceptively casual, intimate approach to his vocals. Yet the melody is hopeful, going up in the chorus as if to imply subliminally a belief that everyone was going to come through those dark times together. If the band's sound hadn't been in such flux, and the country in better psychological shape, the song might have received the attention it deserved.
"Big Wave" — Pearl Jam
Every band has an overall tone, an emotional palette they work with. Pearl Jam's "tone" was definitely not happy-go-lucky. Their songs were frequently introspective, angry, or sad, but rarely joyful. After 2002's Riot Act, the band took four years to release their eighth studio album, 2006's Pearl Jam. The break paid off, as Pearl Jam is widely regarded as a bit of a comeback in terms of music and sales. And as Rolling Stone notes, the album contains the hidden gem "Big Wave."
Straightforward and driving, the song is pretty simple. It's about one of Eddie Vedder's biggest passions — surfing. And musically it's a pretty simple song based around a killer riff — one that Ultimate Classic Rock describes as "simple yet engaging" — and a great chorus. In other words, the band didn't exactly reinvent the wheel with this one, but the end result is an earworm that's hard to resist. That simple joy might be one reason the song doesn't get as much attention as it should — it kind of feels unserious and off-brand for such a politically charged and thoughtful band.
The song was so fun, in fact, it's one of the few songs Pearl Jam has even supplied to a movie soundtrack, appearing in 2007's animated film, Surf's Up.
"Unthought Known" — Backspacer
By the time you get to 2009's Backspacer, Pearl Jam is well into their mature phase as a band. There aren't as many surprises any more, but there's more focus and a steady approach to their sound and songwriting that elevates the results. The album was well-received, and several tracks remain fan favorites in live shows. Yet one of the best songs on the album is often overlooked — the rather epic "Unthought Known."
Musically, it's one of the better late-era Pearl Jam tracks. As Ultimate Classic Rock puts it, the song starts off simple then "begins a steady build, eventually erupting into an expansive wave of sound before winding down once more." The melody that Eddie Vedder sings harkens back to earlier Pearl Jam, and the piano slams into place like it was always part of their sound.
So why has it been overlooked for more than a decade? Maybe it's the subject matter — Noise Creep describes the song as "one of Pearl Jam's more heady tracks," and they're not wrong. The song is about how the subconscious mind understands things that you're not aware of but that still guides decisions. Or something. Vedder admits, "I pushed the limits of how much you can drink and smoke, and this song came out of it."
"Future Days" — Lightning Bolt
Pearl Jam's more recent albums are marked by a renewed confidence and swagger. They haven't abandoned their experimental side, but they've learned not to release entire albums of experiments but instead sprinkle them in among songs that trade in their classic sound, like in 2013's Lightning Bolt. But that strategy might explain why an excellent song like "Future Days" escapes mainstream notice — this piano-based ballad isn't exactly what the casual Pearl Jam fan thinks of in terms of the band's style.
But it's a beautiful song about helping others to survive — making it a perfect fit for our troubled times and deserving of more attention. Ultimate Classic Rock calls the song a "poignant" study of human fragility. That's might not sound like a good fit with the rock and roll philosophy, but one constant with Eddie Vedder's songwriting is an honest acknowledgment of the passage of time. He's never been one to pretend he's still a 20-something kid raging against the machine, and a contemplative song like this is just part of his journey through this life. If you think of it in those terms, there's little doubt this one will bring a tear to your eye — and become one of your favorites.
"Quick Escape" — Gigaton
Pearl Jam's 11th album took seven years to arrive, but the wait was worth it for fans. Kerrang! called Gigaton "a triumph" and gave it a perfect score in their review. The album is a return to the fast, energetic form of old-school Pearl Jam — but with modern, experimental flourishes that make this so much more than a nostalgia trip.
The underrated "Quick Escape" was the third single released from the album, but it didn't have nearly the impact it should have — in part because the band had to postpone its supporting tour because of the COVID-19 pandemic. The song is a perfect example of their muscular modern sound, a more aggressive and punk-influenced tune than most of the band's recent output. It's also a perfect example of classic Eddie Vedder weirdness, since it's a song literally about the human race fleeing to Mars in order to escape all the chaos and ruin back home. And it's an angry song about the human race fleeing to Mars in order to escape all the chaos and ruin back home.
Old-time fans should love it, but it somehow slipped past many of them. But as Ultimate Classic Rock notes, "Quick Escape" features two of the best guitar solos Stone Gossard and Mike McCready (two of the greatest rock guitarists of all time) have ever laid down — and that's saying something.
"Long Road" — Merkinball
Written during the Mirrorball sessions with Neil Young in 1995 (which saw Pearl Jam acting as a backing band for the legendary rocker), Spin reports that "Long Road" was prevented from appearing on that album because of record label interference. Pearl Jam released the two-song EP Merkinball to get it out there, but "Long Road" was outshined by the angry, energetic classic "I Got Sh*t" (sometimes rendered "I Got Id") and has remained overlooked ever since.
Which is a shame, because it's a lovely, sad song. Rolling Stone reports the song is specifically about Eddie Vedder's high school drama teacher, but notes that the song's beautiful lyrics tap into a universal experience — missing those who have left us. This is, in other words, a mature song from a group of mature artists who have a lot of life to reflect on and turn into powerful, affecting art. 
Somber and haunting, "Long Road" is not exactly a party bop, but the hypnotic, circular rhythm and chant-like vocals grant the song power and a relentless emotional quality that makes it great. As a result, the song was a perfect choice for inclusion on the soundtrack of the film, Dead Man Walking, with Vedder recording a new version with the legendary Nusrat Fateh Ali Khan for the film.