How Many Guinness World Records Does BTS Have?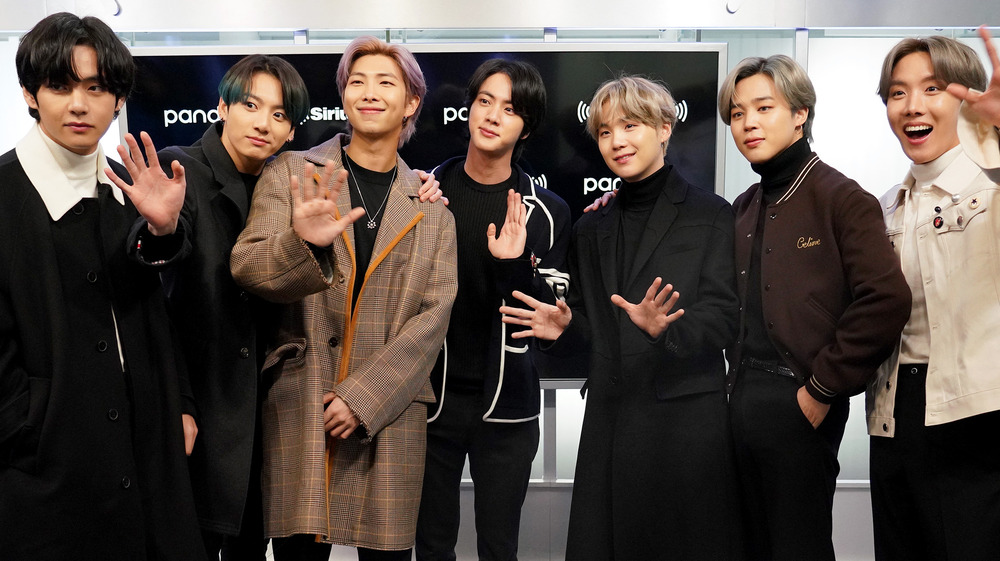 Cindy Ord/Getty Images
Unless you've been living under a rock, you know 2020 has been an historic year for music. Sure, the pandemic shut down all concerts and tours, making it harder for up-and-coming musicians to make money. But it was also a year in which Taylor Swift released two albums a few months apart during the lockdown. The year when 17-year old Disney star Olivia Rodrigo's song "Driver's License" shot to number one within a week, reports The New York Times, the fastest rising song in history. But for many, we will best remember 2020 as the year mainstream American audiences finally embraced BTS.
BTS has been slowly making their mark on the American charts, but 2020 was the year they really made it. The Korean boy band was finally nominated for a Grammy, and broke several records to get there.
If you're unfamiliar with BTS, maybe you just weren't sure of their name. BTS stands for Bangtan Sonyeondan, which roughly translates to "Bulletproof Boy Scouts," the group told Graham Norton on his talk show (posted on YouTube). Their management agency announced in 2017 that BTS would also stand for "beyond the scene" to symbolize how the band wants to go against the grain, wrote Seventeen. The group consists of seven members and has released nine albums since their debut in 2013. There's even a lot of merch. 
BTS is a product of the K-pop system, and some members have even branched out with solo EPs.
Records upon records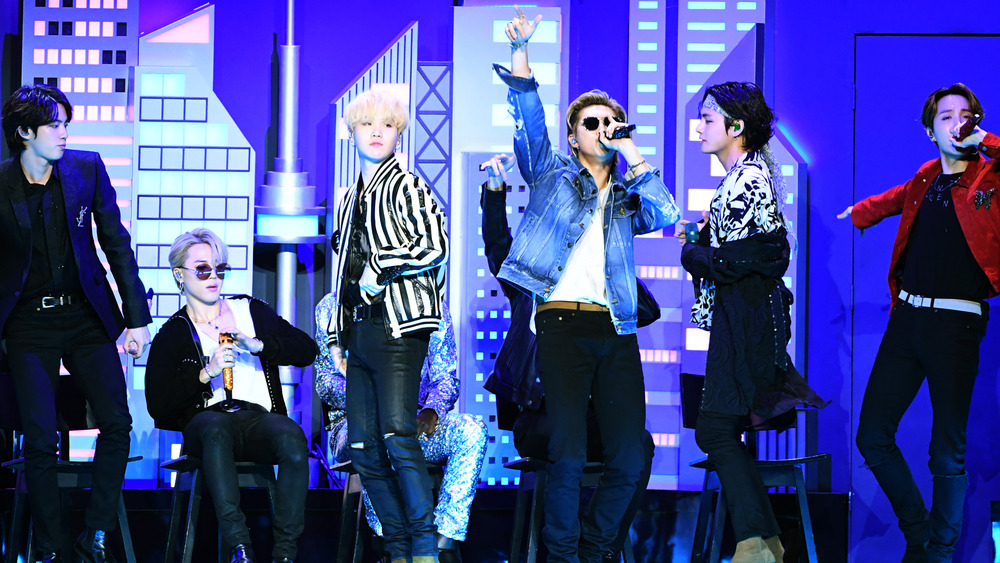 Kevin Winter/Getty Images
BTS has fans worldwide. The fans even have their own name, the Army. The BTS Army packs stadiums, streams albums, buys merch, and is a massive part of what makes BTS one of the biggest pop acts in the world.
According to the Guinness Book of World Records, BTS holds 12 world records so far; some are even breaking the records they set before. They're also part of one more world record, though it's not directly about them.
Their records include: most tickets sold for a live-streamed concert, most Twitter engagements for a music group, most simultaneous viewers for a music video on YouTube Premieres, most Twitter engagements, most weeks at number one on Billboard's Social 50 Chart, most viewed YouTube video in 24 hours, most viewers for a music concert live stream on a bespoke platform, fastest time to reach one million followers on TikTok, most viewed YouTube music video in 24 hours, most viewed K-Pop video on YouTube in 24 hours, highest annual earnings for a K-Pop band, best selling album in Korea, and the most grand prize (daesang) awards won at the Mnet Asian Music Awards.
And, while it's technically a prize given to the K-Pop fandom as a whole, the BTS Army was one of the fan groups who contributed to the hashtag #TwitterBestFandom. The hashtag was used to vote for the 14th Annual Soompi Awards for the best fandom trophy. Guinness named #TwitterBestFandom the most used hashtag on Twitter in 24 hours.
They aren't blue and grey about their records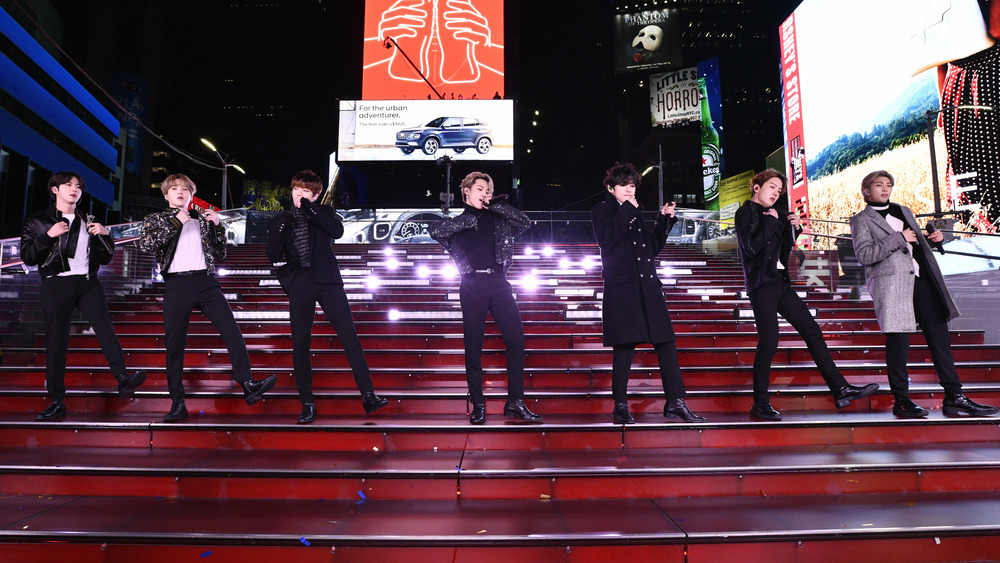 Eugene Gologursky/Getty Images
Several of BTS's world records were set this year, toppling only themselves for establishing the record in the previous year in the first place.
Their record for concert live streams was set in June 2020 for the group's Bang Bang Con: The Live, reported The National News. For the show, 756,000 fans from more than 100 countries tuned in. BTS's label, Big Hit Entertainment, said if the concert were held in a stadium, the band would have to perform 15 shows to fit in the audience.
BTS also set the 2020 viewership records for its music video for "Dynamite" on YouTube. The previous record-holder? BTS. The band held the record in 2019 for "Boy with Luv," its song featuring American singer Halsey, and in 2018 for "Idol." Guinness said "Dynamite" was viewed 101 million times in 24 hours. Billboard said 74.6 million people watched "Boy with Luv." And in 2020, BTS also became the largest selling band in South Korea. The band earned $50 million. No wonder (per Variety) their music label went public in late 2020.
Since BTS just released its latest album, they still have more songs to go and more records to break. They logged another first just a few months ago. BTS was the first Korean group to perform on MTV's Unplugged. And if they win their first Grammy, you better be sure the Army will flood social media with their love for the boys.