The Messed Up Truth About The Murder Of Laci Peterson
On the evening of December 24, 2002 — Christmas Eve — police in Modesto, California received a report about a missing woman. Laci Rocha Peterson, eight months pregnant with a son, was last seen by her husband, Scott Peterson, at 9:30 that very same morning.
Peterson, who first met with Modesto police in a nearby park where Laci was known to walk the couple's pet dog, was acting strangely (via Rolling Stone). Scott was an immediate suspect, as is the case in missing persons reports. Police noted his peculiar behavior from the start: He declined to take a polygraph the first night Laci was reported missing; his lack of interest in the investigation; his overall forgetfulness of the day's events. Scott quickly became the number one suspect in not only Laci's disappearance, but in her eventual murder, as well.
Born in the small Californian city of Escalon in 1975, Laci Rocha grew up as a typical "girl-next-door." A cheerleader through middle and high school, Laci attended California Polytechnic State University, majoring in horticulture (via SF Gate). In 1994, while a student at California Polytechnic, Laci met Scott Peterson through a mutual friend. The pair hit it off immediately, and after two years of dating, decided to move in together. The couple tied the knot in August of 1997.
A wife and soon-to-be-mother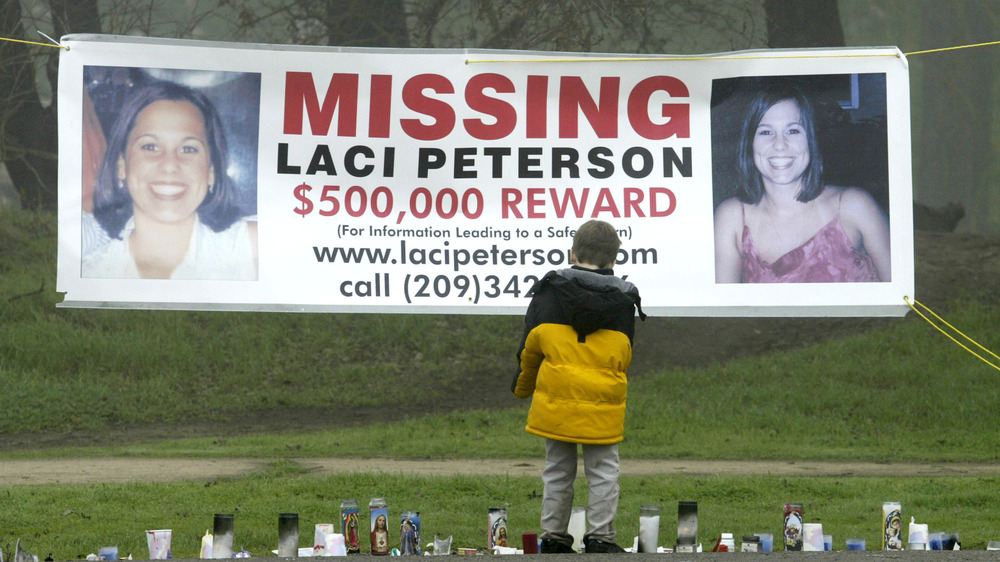 Justin Sullivan/Getty Images
While the exact details of her disappearance vary, depending upon the source, it's generally agreed that Scott Peterson reported Laci Peterson missing to Modesto police on the evening of December 24. The search for Laci, 8 months pregnant at the time, began in earnest shortly after her reported disappearance. 
After months of fruitless searches, a couple walking along a path in the San Francisco Bay area discovered the remains of a male fetus on April 13, 2003 (via ABC News). A day later, Laci's mutilated body was discovered a mile away from the fetus. On April 18, Modesto police arrested Scott Peterson on his way to play golf with his father and brother — at least, that's how he told it. Peterson's car, however, told a completely different story.
According to CNN, Peterson's Mercedes was packed with survival gear, multiple cell phones, camping equipment, and $15,000 in cash. Scott was arraigned on April 21, 2003, and charged with two counts of premeditated murder. He entered a plea of not guilty and the trial was set for June 2004.
During the trial's five months, jurors were treated to the most intimate details of the case, including the state in which the bodies of both Laci and her son were found. They heard about Scott's multiple affairs, including one with Amber Frey that had ended when Frey heard about Laci's disappearance. That interesting collection of items found in Scott's Mercedes the day of his arrest.
Parents' search for peace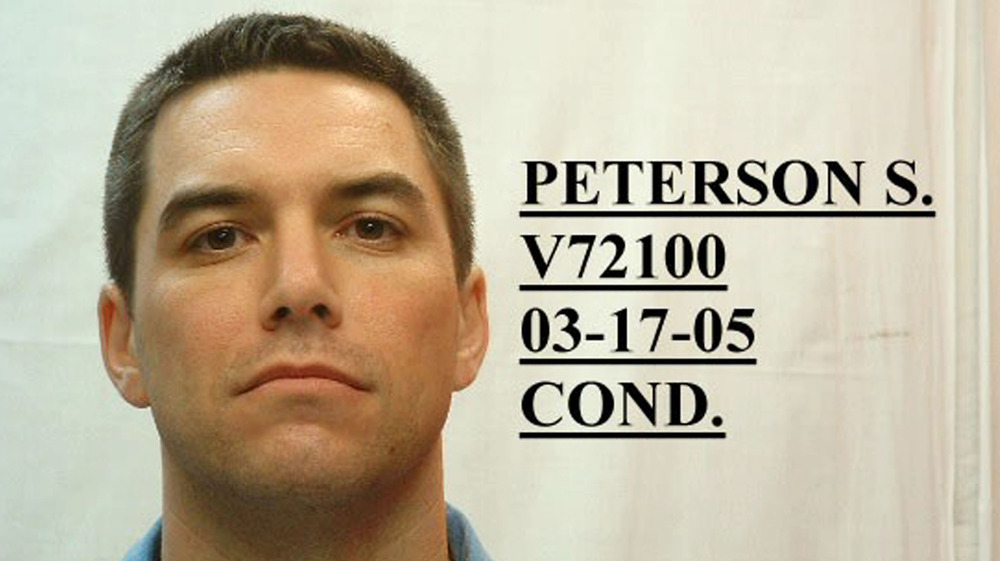 Getty Images/Getty Images
On November 12, 2004, Scott Peterson was convicted for the first degree murder of his wife, Laci Peterson, and the second degree murder for his son, Connor. Scott was given the death penalty.
The story doesn't end there for Laci's family, however. In March of 2019, California governor Gavin Newsom signed an executive order creating a moratorium on all executions (via CNN), staying Scott Peterson's death sentence. In 2020, the California Supreme Court overturned Peterson's sentence, stating that while the trial and conviction were fair, some of the potential jurors were turned away early due to their belief that the death penalty was cruel and unusual (via CNN). Even more recently, Peterson's attorneys are currently trying to overturn the conviction entirely, claiming that one of the jurors lied her way onto the jury (via ABC News).  At this point, it appears only time will tell if Laci Peterson's family will ever find peace.