Details You Should Know About Stone Cold Steve Austin's Ex-Wives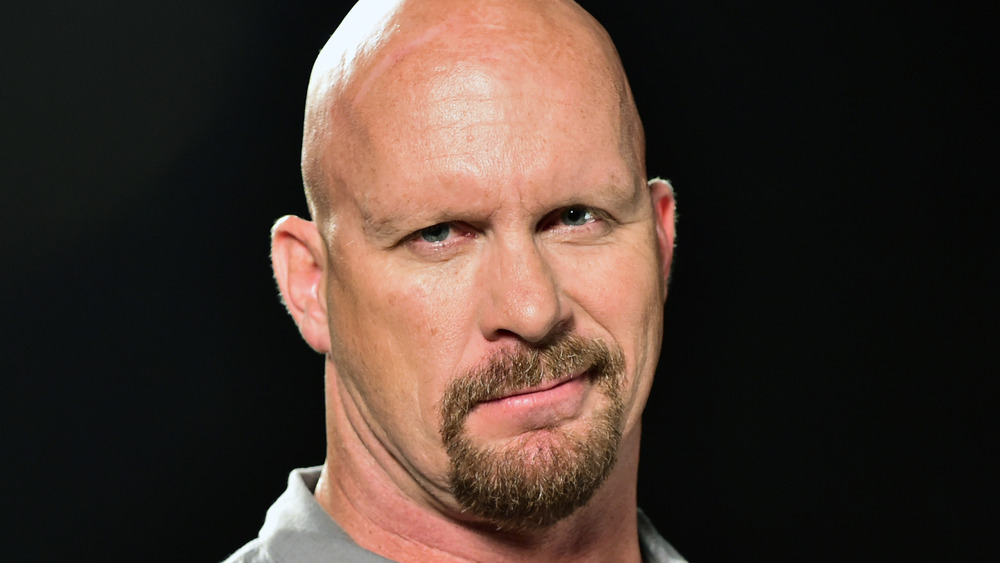 Moses Robinson/Getty Images
Stone Cold Steve Austin is perhaps the greatest superstar the WWE ever produced. He tops several lists of the greatest wrestlers of all time. With his crude irreverence and extreme relatability to the legions of beer-drinking wrestling fans at the turn of the 21st century, Austin dominated the Attitude Era with his killer leather vest/speedo combo, his filthy mouth, and his devastating signature move, the Stone Cold Stunner.
So it's no surprise that Stone Cold Steve Austin will be among the wrestlers featured in the Biography special WWE Legends, an 8-part series premiering on A&E on April 18. Other wrestling greats that will be featured include "Rowdy" Roddy Piper, "Macho Man" Randy Savage, Booker T, and more. The biographical series will go beyond the ring, offering a look into the personal lives of the wrestlers and letting fans in on details they never knew before. Details like the romantic sides of these big, bombastic personalities.
For example, did you know that Steve Austin has been married four times? According to Rich Athletes, the latest woman to melt Austin's stone cold heart is Kristin Feres. The two were married in 2009, and they like to keep their relationship out of the public eye as much as possible, but Austin has said that his current wife has effected positive changes in him. His fourth marriage has been his longest, and Austin plans on it being his last. But let's take a look at the exes who came before Kristin.
Jeanie Clarke gave Stone Cold Steve Austin his name
Austin's first was his high school sweetheart Kathryn Burrhus. As Still Unfold notes, there's not much information out there about her, but we do know that she and Austin got married on November 24, 1990. Alas, their young love was not meant to last, as Austin had an affair with his wrestling manager Jeanie Clarke, whose ring name was Lady Blossom. His marriage to Burrhus was annulled in August 1992, and by December of that year, he was married to Clarke. They had two children together, Stephanie, born in 1992, and Cassidy, born in 1996.
According to the Miami Herald, Austin and wrestling fans the world over owe a debt of gratitude to Jeanie Clarke, as she was the one who came up with the whole "Stone Cold" name and persona. Austin recounts in his memoir The Stone Cold Truth, how Jeannie put a cup of tea in front of him and told him to drink it before it got "stone cold." Then "with this light in her eyes," she dubbed him Stone Cold Steve Austin, and he loved it. Without her, who knows what would have come of Steven Williams (who was going by "The Ringmaster" at that time), or pro wrestling in general. The Attitude Era greatly grew the WWE's popularity worldwide, and much of that growth was largely thanks to the promotion having Stone Cold Steve Austin at the helm. So, thank you, Jeanie.
Debra Marshall: Steve Austin's second attempt at finding love in the squared circle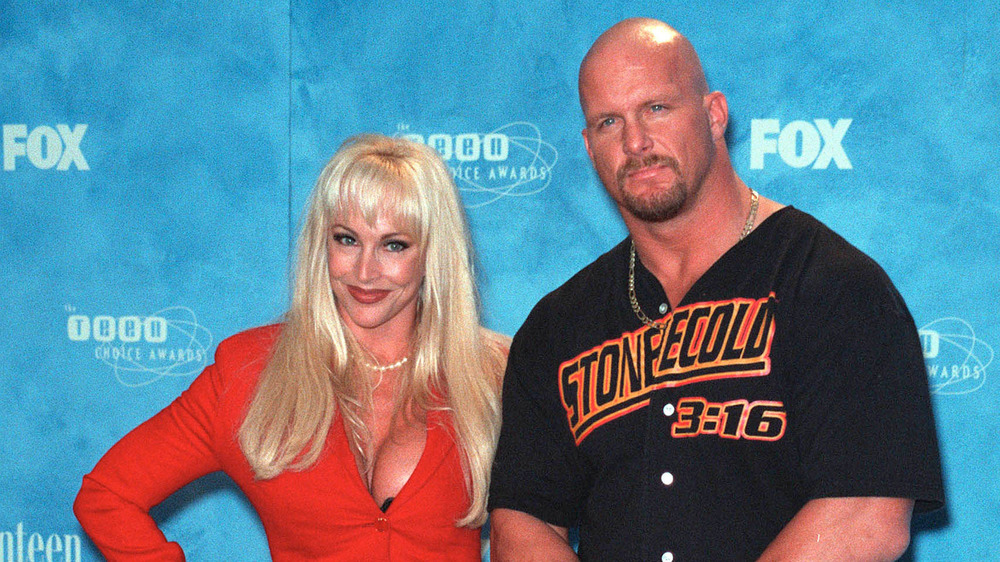 Shutterstock
Neither was his union with the woman who made his career made to last. Austin and Clarke got divorced in 1999, and the wrestler turned his attention to another valet he met wrestling. Debra Marshall was a WWE diva before the golden age of WWE divas. She and Austin met in 1998, and were married by the end of the year 2000. According to Sportskeeda, before hooking up with The Texas Rattlesnake, Marshall had donned a business suit and wowed crowds as a sultry professional woman. But once teamed up with Austin, she kicked that gimmick to the curb, released her inner redneck, and became known as "Mrs. Rattlesnake." Part of her gimmick was her habit of baking cookies backstage, and anyone who spoke unkindly about the treats was treated to a smack over the head with the tray they'd been served on. This included Stone Cold Steve Austin himself.
Outside the ring and off-camera, however, the abuse went in the other direction. According to ProWrestling.net, Austin got violent with her in real life, and after the third time he hit her, she decided to call the police. The abuse unfortunately affected her career, as she found it best to just get out of the limelight for a while. The two were divorced in 2003. It appears that Steve Austin took some much needed bachelor time to find himself and improve on some things, and it looks like he is now in a healthy relationship with Kristin.