The Actual Worth Of Mike Tyson's Punch Out!! Game From Pawn Stars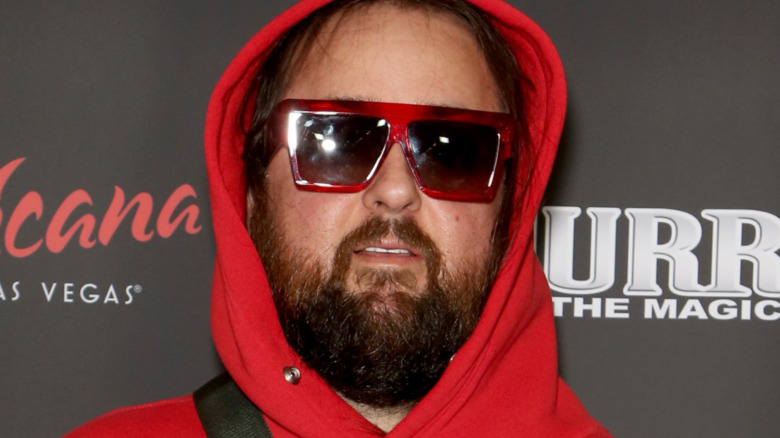 Gabe Ginsberg/Getty Images
Glass Joe. Mr. Sandman. Bald Bull. Soda Popinski. For anyone old enough to remember (or those who've downloaded emulators – shhhhh, we won't tell), these character names occupy the hallowed halls of classic Nintendo Entertainment System (NES) games. Or for those who've downloaded the Nintendo Switch version: congratulations! You, too, can play the version of Mike Tyson's Punch Out!! that doesn't include Mike Tyson, a fact that really annoyed the world's punchiest moko (Maori tribal designs) facial tattoo wearer, as he states on Twitter. And for the record: Tyson wasn't removed from the game because he bit off Evander Holyfield's ear. That happened in 1997, a full seven years after Nintendo's license on Tyson's name expired (hence why Tyson was to changed to "Mr. Dream").
But hey, copies of Punch Out!! that include Iron Mike still exist, as season 18, episode 11 of the History Channel's Pawn Stars shows us. Mike Tyson's Punch Out!!, as the clip on YouTube says, sold 3 million copies from 1987 to 1990, and also happens to be a favorite of Pawn Star's Chumlee. For all the units sold, though, how many copies are still playable? Like in an actual, 30-plus-year-old piece of NES hardware, rather than suffused with dust and/or dried spit from the old "blow in the cartridge" trick? It helps to treat your possessions well, especially if the eventual monetary value of an object outstrips the sentimental value you ascribe to it, and you want to, you know, earn some sweet, sweet green.
The closest in condition was an 'A' grade sold in June 2020
So how much could a sealed, never-opened copy of Mike Tyson's Punch Out!! from 1987 be worth? In Pawn Stars, seller Brian was looking to get $100,000 for it. The game had been valuated by Wata Games, a company who appraises the condition of games, at an "A+" ranking of 9.4 out of 10, which is extremely rare. In fact, the sale in question was potentially so valuable that the founder of Wata Games, Deniz Khan, paid Pawn Stars a face-to-face visit to discuss its value. 
By all accounts, the game belonged to a collection owned by a former K-mart owner who had a lot in stock — third print out of four of the game, with prints one and two being nigh nonexistent. The game even had its original K-mart price tag, at $34.97. Khan stated that some collectors would pay $65,000-$75,000 "without thinking," and that he'd be "comfortable valuating it" in the $70,000-$80,000 range.
Ultimately, Chumlee and Brian couldn't agree on a price, and the sale fell through. Was it because Brian wanted too much? Well, we can check over at Price Charting, kind of like eBay for statisticians, where you can track prices over time. In June 2020, an "A" grade, unopened version of Mike Tyson's Punch Out!! sold for $44,211. Is the difference between "A" and "A+" enough to merit the jump from $44k to $100k? Prrrrrrrobably not, by any reasonable estimation. Sorry, Brian.