This One Man Always Travels With The Queen. Here's What He Does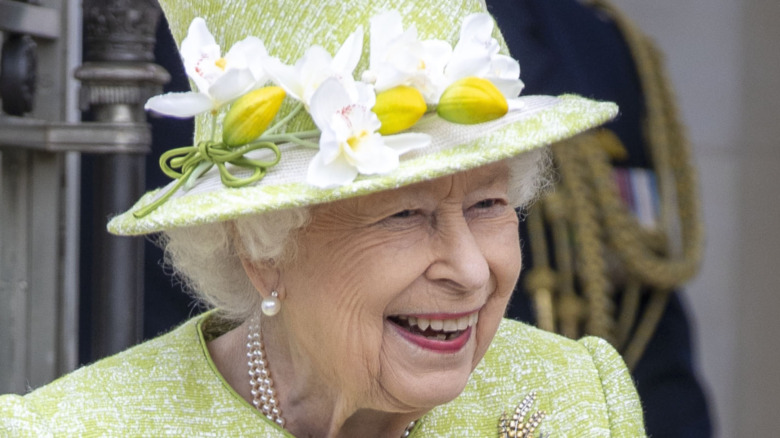 Wpa Pool/Getty Images
When you're the Queen, you don't need an alarm clock — because you have your own personal piper to wake you up! Every weekday morning at 9 a.m. the Queen's Piper stands under Queen Elizabeth's window and plays for 15 minutes. The Queen's Piper travels with her to all of her royal residences, though Royal Central notes he doesn't travel to Sandringham, due to limited lodging space.
His duties aren't limited to wake up calls, though. According to Royal Central, he also plays during dinner and coordinates the additional pipers who also come and play for official State banquets. The queen's piper also often plays at funerals and funeral processions. When Princess Margaret died in 2002, the then-Royal Piper, Jim Motherwell, played during the procession of her coffin from Kensington Palace, together with the head piper from the Royal Highland Force. When the Queen Mother died a month and a half later, he performed one of her favorite tunes, "The Dark Island," as her coffin left the Royal Chapel of All Saints at Windsor Great Park at Windsor Castle bound for her funeral in London, reports The Guardian.
The position is over 177 years old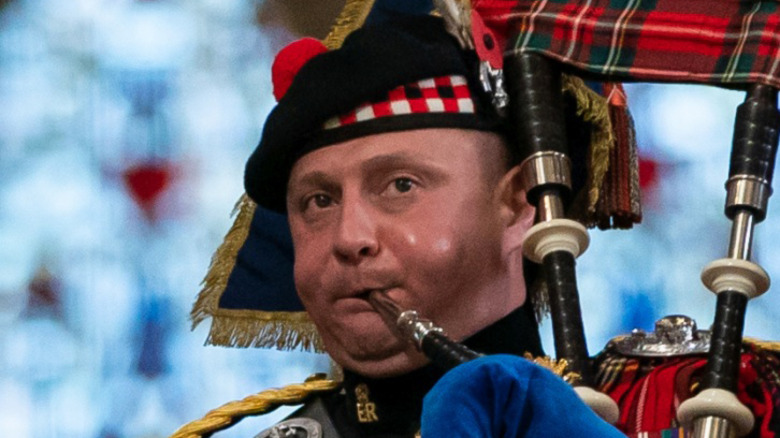 Wpa Pool/Getty Images
The role of the Piper to the Sovereign was established by Queen Victoria in 1843, according to Royal Central. After a visit to Taymouth Castle, home of the Marquess of Breadalbane, she was inspired by his own personal piper to create the royal position. "We have heard nothing but bagpipes since we have been in the beautiful Highlands and I have become so fond of it that I mean to have a Piper, who can if you like it, pipe every night at Frogmore," she says in Ruth Binney's book Royal Family Life.
The position was first held by Scottish piper Angus MacKay, according to Bagpipe News, and he remained in her service until 1854. 
There has been a Royal Piper with the sovereign ever since the position's inception, though the practice was paused during World War II from 1941-1945, Royal Central notes. In 2012 Colour Sergeant David Rodgers became the first member of the Irish Guard to hold the position, which has traditionally been filled by a Scottish Piper (via The Times). In total, only 16 different pipers have taken on the position, according to The Mirror, with the current Queen's Piper, PM Richard Grisdale (via Facebook), stepping into the role in 2019.