How Much Alec Guinness Was Actually Worth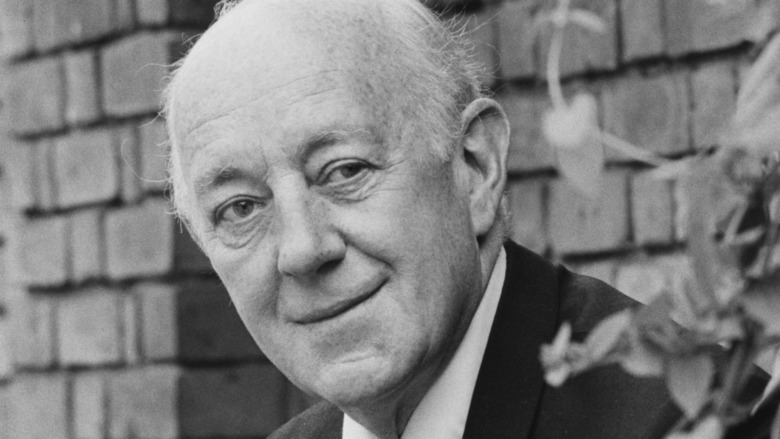 Evening Standard/Getty Images
Sir Alec Guinness, best known for playing the wise old wizard Obi-Wan Kenobi in the original Star Wars trilogy, had a long history in theater and acting well before the world-changing space opera would hit the silver screens back in 1977. While it's widely known that Guinness wasn't a fan of the Star Wars films at all, famously telling one young fan that he would only give them an autograph if he promised never to watch the movies again (via Cheat Sheet), Guinness made $50 million overall from his involvement in the original trilogy.
Born in London, England, on April 2, 1914, Sir Alec Guinness took to the stage for the first time at the age of 20. Steeped in traditional theater and drawn to Shakespeare, Guinness took on all sorts of different roles in his early years: from playing bit parts in productions of Hamlet to playing Romeo in a 1939 stage production of Romeo and Juliet (via Murphs Place). That didn't keep him away from experimenting in film, however, where he would make his motion picture debut in 1946's Great Expectations, playing the role of Herbert Pocket.
Alec Guinness was not a fan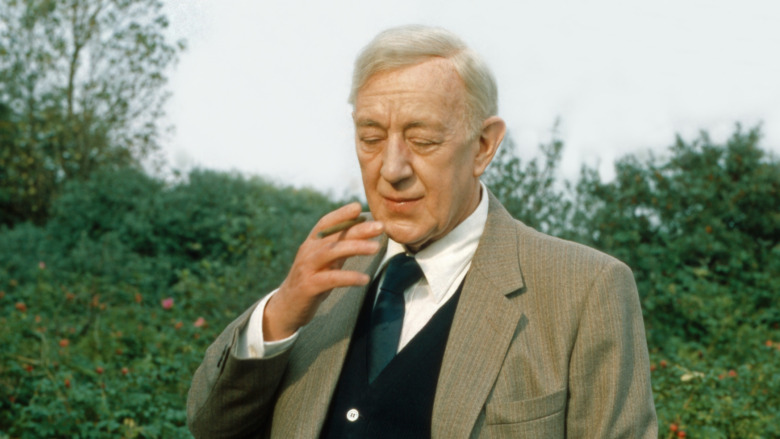 United Archives/Getty Images
Star Wars may have been an instant cultural phenomenon when the film landed in theaters on May 25, 1977, Sir Alec Guinness famously hated not just the movie but the production as well. In letters to an acquaintance during filming of the original film, Guinness mentioned the experience. "Can't say I'm enjoying the film. ... new rubbish dialogue reaches me every other day on wedges of pink paper — and none of it makes my character clear or even bearable. I just think, thankfully, of the lovely bread," he purportedly wrote (via Dangerous Minds). 
The film's success didn't make the actor any more congenial toward the movie or its fans, either. Back in 1979, only a year away from the release of The Empire Strikes Back (the sequel to the original Star Wars movie), Guinness met an eager young fan that had seen Star Wars over a hundred times (via Buzzfeed). The fan, Daniel Henning, begged the actor for his autograph. Guinness agreed, however on one condition. As Henning told Cheat Sheet, "[Guinness] got a pen, leaned his head down, and he wrote 'To Danny, Good wishes always. Alec Guinness. And you have promised me not to see Star Wars again!'"
Payday for a Jedi Knight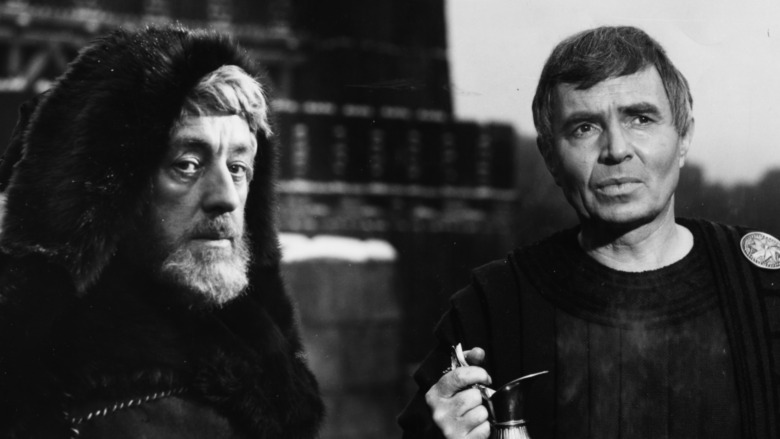 Keystone/Getty Images
Sir Alec Guinness was offered the role of Obi-Wan Kenobi in 1975 (via Dangerous Minds). However, instead of his usual flat fee, he took what was considered by many at the time a huge gamble: Guinness waived his usual fee. He agreed to the role in exchange for "points" on the film's revenues. "Points" being a percentage of a movie's profits. And in the mid '70s when Westerns were ruling movie theaters, there was no guarantee a space opera was going to make money, let alone break even.  Yet, Guinness insisted on the points, and not just for Star Wars, either.  Guinness insisted on receiving 2 percent of the film's unnamed sequels, as well. 
In the end, Guinness received $3.3 million just for Star Wars and over $50 million for all three movies in the original trilogy. The earnings helped Sir Alec Guinness achieve a staggering $100 million net worth when he died at the age of 86 in 2000 (via Celebrity Net Worth).