The Heartbreaking Death Of Scottie Pippen's Oldest Son, Antron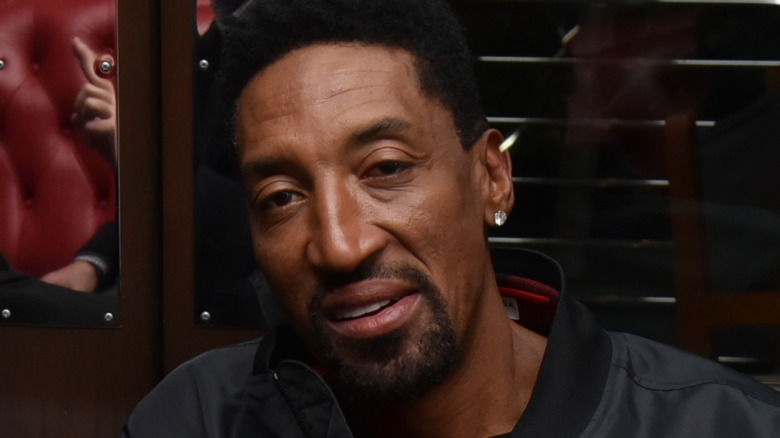 Brandon Williams/Getty Images
Basketball great Scottie Pippen is grieving the loss of his first child and oldest son, reports TMZ. On April 19, the legendary NBA champion announced the death of his son Antron on his Twitter account. His son was 33 years old. In a set of tweets dedicated to his son, the famed Chicago Bulls player wrote Antron suffered from asthma and wanted to follow his father's footsteps by making the league. 
"Antron suffered from chronic asthma and if he hadn't had it, I truly believe he would've made it to the NBA. He never let that get him down, though — Antron stayed positive and worked hard, and I am so proud of the man that he became," wrote Pippen.
Antron Pippen was born on December 29, 1987, to Pippen and his ex-wife Karen McCollum. He was the couple's only child together in their two-year marriage. Despite health concerns, the young Pippen did take a shot at basketball and played the sport at Texas A&M International University. Afterward, he played in the now defunct semi-professional league, World Basketball Association, for the team Upstate Heat, per Yahoo! Life.
A devastating loss
No cause of death has been revealed, but Antron reportedly died on April 18, 2021. He was the eldest of seven children that Pippen has in total. Pippen says that he and his firstborn both had a love for basketball, and that he is heartbroken by the loss.
Pippen also shared old photos of himself and Antron on his Twitter account, including a newspaper clipping that featured father and son. He asked fans to keep his ex-wife and the family in their prayers. "Please keep his mom, Karen, and all of his family and friends in your thoughts and prayers. A kind heart and beautiful soul gone way too soon. I love you, son, rest easy until we meet again," he said. 
Sadly it is not Pippen's first time grieving the loss of a child. In 1994, after the birth of his twins Taylor and Tyler, the latter died only a few days after being born, per Yahoo! Life.