David Crosby's Biggest Regret May Surprise You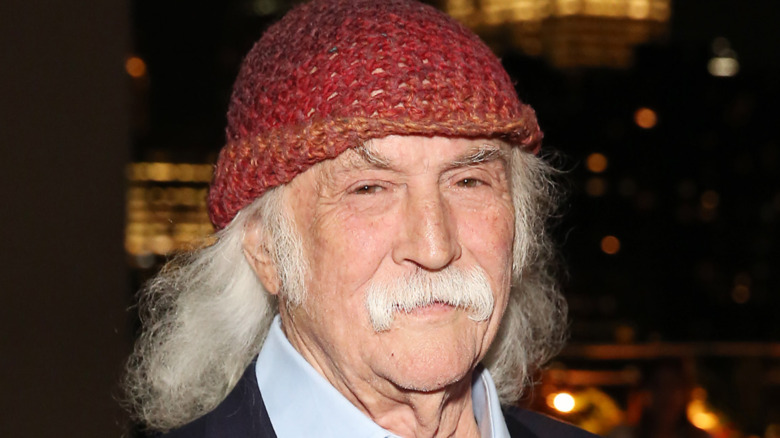 Monica Schipper/Getty Images
You may know him best as one of the primary singer/songwriters who made up the Byrds or as one of the established musicians who joined forces in the late 1960s to form one of rock 'n' roll's first known supergroups, Crosby, Stills, Nash & Young. Either way, David Crosby has been a familiar name to rock fans for close to six decades, not only because of his singing, songwriting, and guitar-playing skills but also because of the distinctive mustache he's worn since his CSN&Y days — it may be all white nowadays, given the fact he's almost 80 years old as of this writing, but the 'stache still remains a key part of this legendary musician's brand and identity.
Despite the gentle, calming nature of many of his songs with the Byrds and CSN&Y, Crosby has also been a fairly controversial individual at times, and he's shared many a hot take even in recent years. These include a 2017 tweet that seemingly suggested pro wrestling fans are illiterate (via Sports Illustrated), as well as his one-word dismissal of Eddie Van Halen's legacy just days after the guitar legend's death in October 2020, as reported by Loudwire. His oftentimes tragic past has also included a long history of drug abuse, as well as multiple personal tragedies, including the death of his girlfriend Christine Hinton in a car accident in 1969. However, there's one thing that Crosby himself mentioned as the biggest regret in his life. Here's the full story on that regret and how it continues to affect him to this day.
David Crosby regrets insulting and mistreating his former bandmates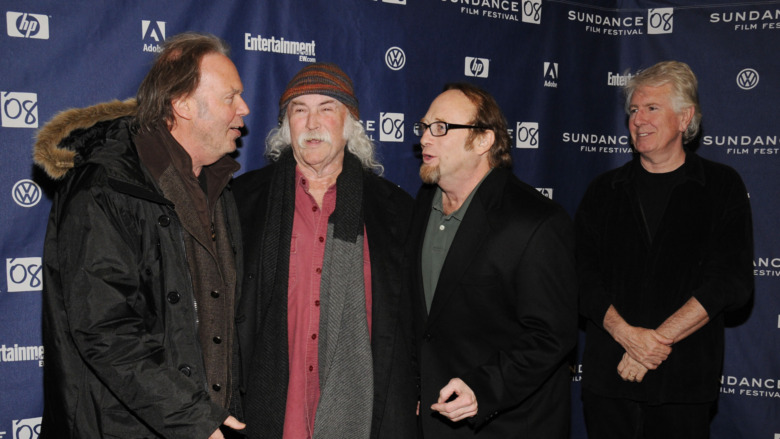 Bryan Bedder/Getty Images
As we've established, David Crosby has played alongside several all-time great musicians. However, it would seem that many of them still don't want anything more to do with him — mostly due to the caustic comments he made in the past. In the 2019 documentary David Crosby: Remember My Name (via AZCentral), the veteran rocker admitted that his difficult personality has estranged him from multiple ex-bandmates. "I still have friends, but all the main guys I made music with won't even talk to me," Crosby further lamented. "[Roger] McGuinn, [Graham] Nash, Neil [Young] and Stephen [Stills] all really dislike me. Strongly."
For those keeping track, that's the voice behind most of the Byrds' biggest hits, as well as three-fourths of Crosby, Stills, Nash & Young, who remain at odds with the two-time Rock & Roll Hall of Famer. Nash said on the documentary that Crosby can't take back some of the nasty things he said in anger, while Young vowed never to return to CSN&Y after Crosby insulted his then-girlfriend, actress Daryl Hannah, by calling her a "purely poisonous predator." According to Rolling Stone, Crosby apologized profusely to Young and Hannah (who tied the knot in 2018) on the Howard Stern Show, though he maintained that he made those remarks because he was concerned that Young might be taken advantage of.
Crosby wrapped up the documentary by pondering his mortality and expressing a desire to make peace with his former bandmates. "I think you should be able to say goodbye and tell them what they meant to you," he said.