The Comment That Destroyed Michelle Shocked's Career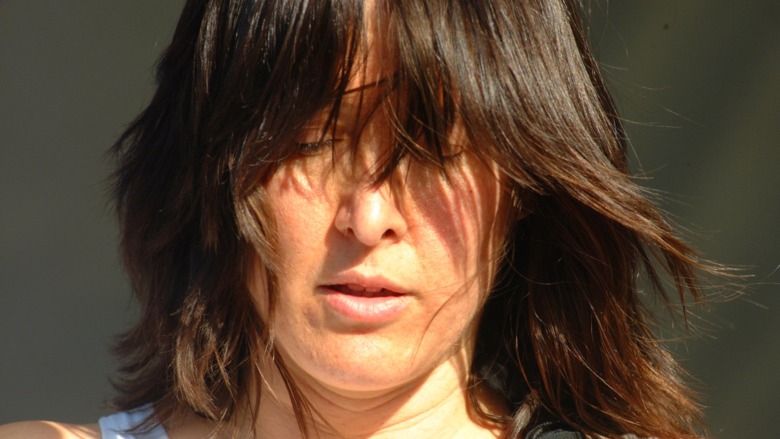 Sherry Rayn Barnett/Getty Images
The cover of "Short Sharp Shocked," Michelle Shocked's 1988 breakthrough album, shows a police officer gripping the singer's throat in a chokehold. Shocked's face is twisted in pain, and she looks as though she is screaming. According to Elizabeth Wurtzel at The Cut, the image is real — the photo was taken at a demonstration in San Francisco during the 1984 Democratic convention. It signaled that Shocked was not a passive voice, but a politically involved artist and activist, an ally to those fighting against the forces of oppression. The success of "Short Sharp Shocked" and its hit single "Anchorage" looked set to ensure that Shocked could enjoy a devoted cult following for decades to come. That was until March 2013, when Shocked effectively torpedoed her own career thanks to comments made during a disastrous live show. 
Like the cover of "Short Sharp Shocked," the incident occurred in San Francisco. Shocked was gigging at Yoshi's, an intimate music and food venue. At the start of her second set, she told the audience that the overturning of Proposition 8, which banned gay marriage in the state of California, could mean the downfall of civilization and herald the end of days, according to Yahoo! Entertainment. The artist told the audience they should go on social media and post that Michelle Shocked says God "hates" homosexuals — a comment in which she used a gay slur. Many in the crowd challenged Shocked on her comments, before the majority then walked out. Per SFGATE, the crew then killed the PA and ended the show, while the promoter apologized to Shocked's baffled fans and informed them that refunds would be available.
Shocked's comments baffled her audience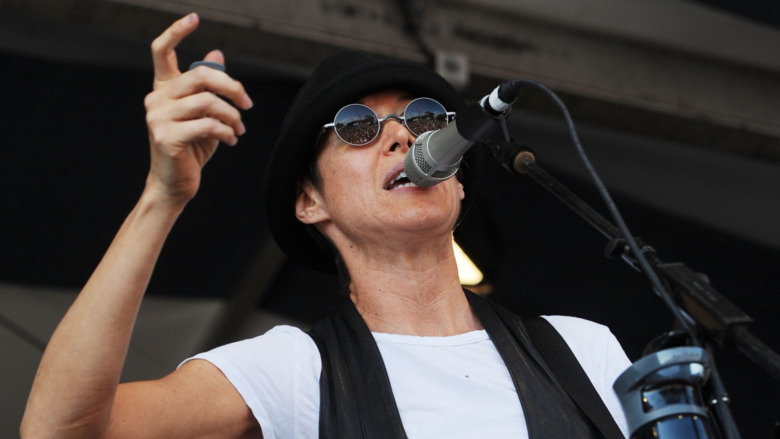 Rick Diamond/Getty Images
Gay marriage was a hot issue back in 2013, and numerous public figures weighed in to voice their opinion. Opposition to it wasn't exactly difficult to come by — the British actor Jeremy Irons drew ridicule when he warned that gay marriage could lead to fathers marrying their own sons to avoid inheritance tax, per The Guardian. Yet, Michelle Shocked's comments in particular raised eyebrows for several reasons, with outlets such as Billboard characterizing the incident as a full-blown onstage meltdown.
For a start, Shocked had made her support of Proposition 8 clear in, of all places, San Francisco, a city famous for its LGBTQ+ culture and described by the San Francisco Travel Association as "the World's Gay Mecca." No performer touring through San Francisco could realistically claim to be ignorant of the city's demographics, but what made Shocked's comments even more unexpected was the singer's long association not just with the city — as shown on the cover of "Short Sharp Shocked" — but with the LGBTQ+ community in particular. In her 1990s heyday, Shocked repeatedly avoided defining her sexuality. Meanwhile, in an interview with The Dallas Voice she claimed she would be "honored" to be considered an "honorary lesbian," which made her outburst all the more difficult to stomach to those longtime fans who had taken Shocked's allegiances for granted.
Michelle Shocked's 'betrayal'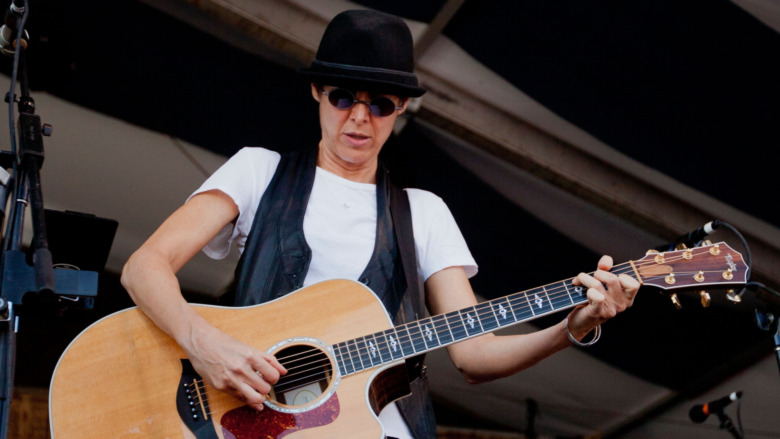 Douglas Mason/Getty Images
Since Michelle Shocked had challenged her audience to tweet her comments even as the show was going on, the backlash came fast. As fans voiced their disappointment, hurt, and confusion, outlets such as Billboard reported that the remaining 10 shows of her tour — San Francisco had been the opening date — had been canceled by venue owners. Two days on from the disastrous show, Shocked had still failed to address the incident publicly.
Eventually, an explanation emerged via an open letter from Shocked, who describes herself as a born-again Christian. "I do not, nor have I ever, said or believed that God hates homosexuals (or anyone else). I said that some of His followers believe that," she said in a statement, republished in American Songwriter. She also claimed that her use of a homophobic slur "was predicting the absurd way my description of, my apology for, the intolerant would no doubt be misinterpreted." Her comments about Proposition 8 were "neither literal nor ironic: it was a description of how some folks – not me – feel about gay marriage."
Shocked later appeared on numerous outlets including CNN, where, in a surprisingly evasive interview with Piers Morgan, Shocked eventually claimed that she was "not homophobic." However, in a biting article, Rolling Stone described how Shocked had betrayed her fanbase, and, indeed, it seems that they have not forgiven her for it. 
Shocked's last album, "Soul of my Soul," came out in 2009.