How Much Is Randy Orton Worth?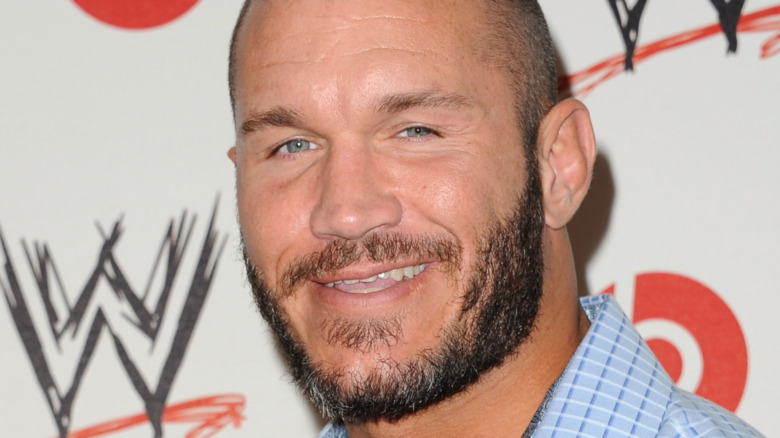 Angela Weiss/Getty Images
Being a star in the squared circle is in Randy Orton's blood. As his official WWE bio states, he is the son of "Cowboy" Bob Orton, himself a WWE Hall of Famer and inveterate drinking buddy of "Rowdy" Roddy Piper. But wrestling as the Orton family business doesn't stop there. Randy's uncle was also a pro wrestler and actor. However, as Last Word On Sports reported, Barry "Barry O" Orton died in March 2021. And their dad, Randy's grandfather Bob Orton Sr., was also a professional wrestler who was quite popular in the 1950s and '60s.
Ever since he made his WWE debut in 2002, Orton has made a few names for himself, including "The Viper," "The Legend Killer," and "WWE's Apex Predator." And he picked up a hefty amount of belts along the way. Orton has 14 WWE World Heavyweight Titles and two Royal Rumble wins. Just hearing his initials, RKO, is enough to riddle his opponents with fear, as that's also the name of his signature finishing move. So just how well has all this success padded Orton's bank account? Is Randy Orton one of those pro wrestlers who are worth a lot more than you think? Let's take a look into his net worth and see.
Randy Orton is sitting on a nice little nest egg
Dimitrios Kambouris/Getty Images
The Viper hasn't been doing all that winning for nothing. He has been rewarded handsomely for his skills in the ring. The expert financial snoops over at Celebrity Net Worth calculate his net worth to be around $7 million. So Orton isn't exactly one of those pro wrestlers who are worth a lot more than you think, but neither is he hurting for cash.
And he made those millions by going after the biggest and baddest in the pro wrestling world. He earned himself the nickname "The Legend Killer" during a narrative in which he went after WWE Hall of Famers, disrespecting and physically attacking them. This gimmick of sparking feuds with lauded wrestlers while he was just a rookie led to him taking on Shawn Michaels in one of his most high-profile bouts. Such determination made him the youngest WWE World Champion in history in 2004 at just 24 years old. So one thing is for sure: Randy Orton definitely didn't ride his family's coattails to WWE stardom. He worked for every title and dollar he has earned.