The Tragic Death Of Stevie Ray Vaughan
Icon And Image/Getty Images
On August 27, 1990, Stevie Ray Vaughan had just finished a show opening for Eric Clapton in Wisconsin. The concert had ended in super group style: Clapton and Vaughan jamming together onstage along with blues legends Robert Cray and Buddy Guy, as well as Stevie's older brother Jimmie. According to Guitar World, Stevie had told his bandmates the day before that he'd had a dream in which he saw his own funeral. Then, shortly after taking off, the helicopter carrying Vaughan and two of Clapton's crew inexplicably crashed into a ski slope, killing the pilot and four passengers instantly. Vaughan became another of the large number of musicians tragically killed in plane crashes or other modes of air travel. 
But, aside from a little ground fog, the night was clear, the weather calm. The crash was attributed to pilot error, but how in the world could the pilot have made such a fatal mistake in such conditions? The other three helicopters that left the golf course outside East Troy, Wisconsin, that night made it to Chicago just fine. So what happened to the one Vaughan was riding in? That's exactly what one lawyer and former Army helicopter pilot aimed to find out decades later.
The pilot of Stevie Ray Vaughan's helicopter should not have been flying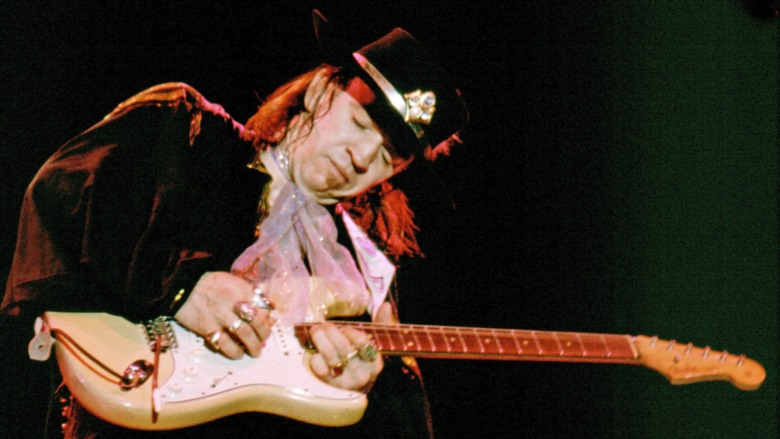 Larry Hulst/Getty Images
Writing in D Magazine on the 30th anniversary of Vaughan's death, attorney and former Army helicopter pilot Colin P. Cahoon described his experience figuring out exactly what went wrong that night. To do so, he and fellow helicopter pilot and expert witness Joe Kettles went to the scene of the accident and recreated the flight using the same kind of helicopter from the accident. What they found was that the lights of the golf course created a temporary blind spot after flying above them and before the lights of Chicago appeared off in the distance to provide orientation.
This blind spot would not have been a problem for a pilot approved to fly using the helicopter's array of instruments, but, unfortunately for Vaughan and the three other passengers, Jeff Brown was not. He was only qualified to fly in conditions that allowed clear visibility out of the windows. He was approved for the flight due to the clear weather conditions, but he really needed those instruments to navigate that short blind spot. Colin and Joe missed the slope by just a few feet when they recreated the flight. They determined that neither the pilot nor the passengers knew what was coming. Unfortunately, the world will never know what would have become of a talent like Stevie Ray Vaughan had that helicopter made it to Chicago that night.