The Heart-Wrenching Death Of Betty White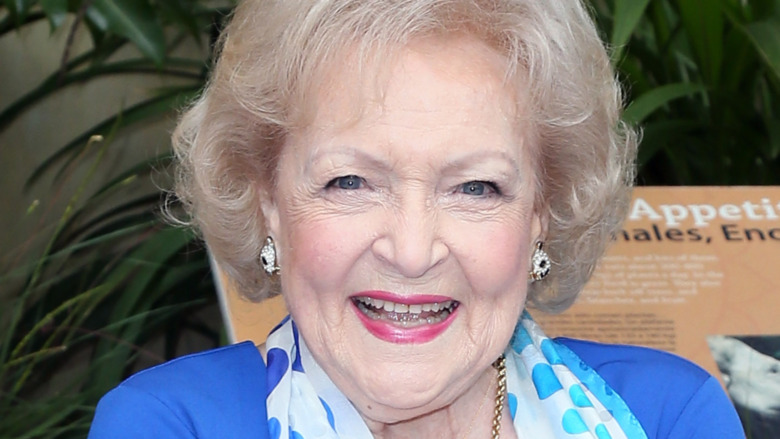 David Livingston/Getty Images
On December 31, 2021, the world said goodbye to the beloved, benign smile of actress, comedian, and animal rights activist, Betty White. She had seemed to be in good health, with no indications other than her advanced age that the end was near.  According to law enforcement sources (via TMZ), White died at home. She was 99. Betty had been known for her longevity, saying she'd been "blessed with good health," as Elle says. Sadly, she passed less than three weeks before her 100th birthday, an event that she shared on her official Twitter account was being commemorated with a People magazine cover. 
Twitter responded as expected, considering Betty White trending for any reason has been enough for a panicked response from users for years. Her name was trending No. 1 in the U.S. within minutes of the news breaking, alongside "RIP Queen" and "Golden Girls." And indeed, losing her feels like losing a grandmother that each of us shared.
Betty White was everyone's 'grandmother'
Born Betty Marion White Ludden in 1922 in Oak Park, Illinois, Betty rose to prominence through the 1950s both in front of, and behind, the screen. Dubbed the "First Lady of Television," she was one of Hollywood's first women producers during her work on the sitcom, Life with Elizabeth (1952-1956), as she discussed with the Hollywood Reporter in 2010 after winning the SAG Lifetime Achievement Award. She received one of her eight Emmys (per the Emmys) in 1976 playing "neighborhood nymphomaniac" Sue Ann Nivens on "The Mary Tyler Moore Show," and her work as Rose Nylund on "The Golden Girls" (1985-1992) remains legendary (per the Guardian). All of this came from Betty getting interested in acting after she wrote herself into her graduation play at Horace Mann Grammar School (per Celebrity Nine).
All in all, Betty's Guinness World Record for "Longest TV Career for a Female Entertainer" is well-earned and justly deserved (per My Modern Met). 
A legacy of hilarity, warmth, and care for animals
Betty's list of acting credentials may be jaw-droppingly long, as we can see on IMDb, but she was equally proud of her work with animals. For over 40 years, she was a trustee with the Greater Los Angeles Zoo Association, working to spread her sincere and unbounded love of animals, which started "in the womb," per TV Guide, before becoming co-chair of the zoo's board. She defended zoos as playing an integral role in animal conservation, per this 2012 interview with Smithsonian Magazine.
Above all, Betty was an absolute master of sharp quips. She said of vodka and hot dogs that she loves them "probably in that order" (per the Chicago Sun-Times), said of men in gold hotpants that "everyone should have a hobby" (per the Guardian), called her first two marriages "rehearsals" (per Celebrity Nine), and said of her continued call for acting parts at age 90, "they don't know how to get rid of me." When she appeared on "Saturday Night Live" in 2010 as the oldest host in the show's history due to a Facebook campaign (per History), she admitted only then learning what Facebook was, and subsequently called it "a huge waste of time" (via Time).
Above all else, she said, "I'm just Betty. I'm the same Betty that I've always been. Take it or leave it." We'd certainly rather not leave it.