The True Story Of The Time Jane Fonda Saved Her Grandson From A Bear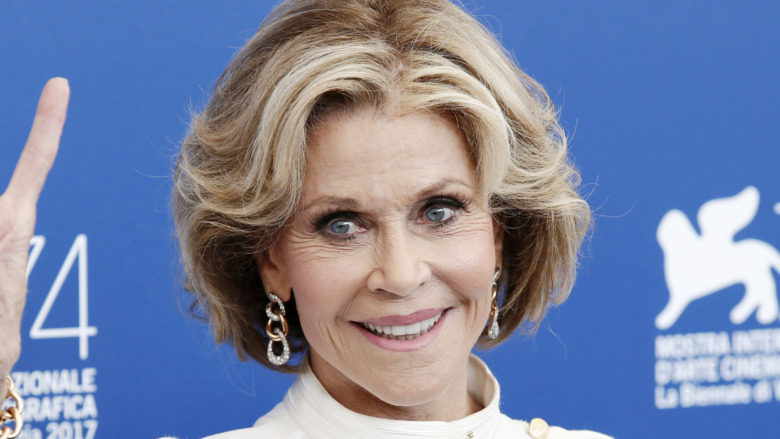 Shutterstock
Renowned actress Jane Fonda is no stranger to standing tall against the things a lot of people fear. Not only is she famed for her acting, she's also an activist who supported a lot of early social justice movements of the 1960s and '70s. Fonda was famously blacklisted from Hollywood for her anti-Vietnam War stance, and spent a good part of her career facing ire and condemnation for her anti-establishment beliefs (via Marie Claire).
But aside from her long list of work and activism off the screen, she's also a proud mother and grandmother. And it shouldn't be a surprise to anyone that a woman who bravely stood up to mounting criticism at the height of her career is probably not afraid of a large North American mammal.
Last week on "The Tonight Show with Jimmy Fallon" (posted on YouTube), Fonda and the late-night television host played his game of "Best, Worst, First," a game in which a generator randomly picks a topic that was either the first best, or first worst experience that the player can think of. Fonda spoke about her best first kiss, and then she was asked to speak about her worst uninvited guest: a bear.
Jane Fonda vs. intruding bear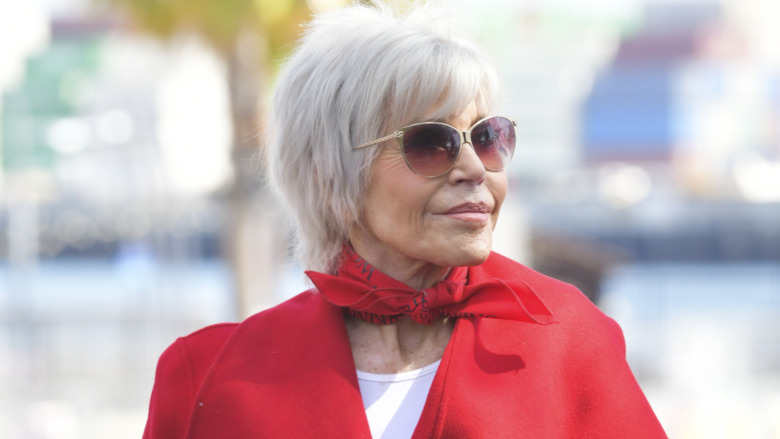 Rodin Eckenroth/Getty Images
Fonda says the worst uninvited guest she's ever had was a bear. Not only did it manage to enter her New Mexico ranch house, it found its way into her bedroom and was attempting to go near the crib of her three-month-old grandson. Fonda says that as she slept in her house, she was awakened by unfamiliar sounds. Upon investigation she was confused by the sight of her frightened dog running out of her room.
When she looked again, she saw the bear in her bedroom, on its way to her grandson's crib. Fonda said she acted quickly, but in the most hilarious way. " ... I knew what to do. I opened my bathrobe and said 'Rawrrr,'" said Fonda.
Fonda's gigantic roar scared the bear so much that it wet itself and sat in shock. "The bear urinated on my antique rug and turned around and sat down," she said.
When she made a second loud roar, the bear finally decided to make its way out of the house through the ripped screen it entered from, and sat just outside the door. Fonda took the opportunity to close the door behind it and locked it, evidently saving her grandson from becoming bear dinner.