What We Know About Queen Elizabeth And Boris Johnson's Relationship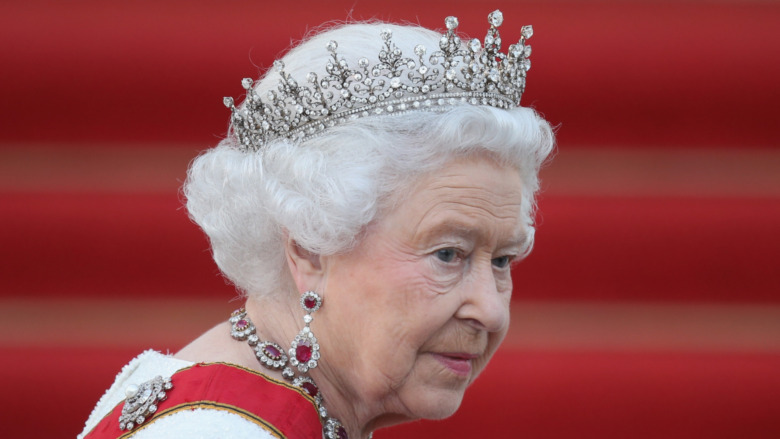 Sean Gallup/Getty Images
Since the time she was just 25 years old, Queen Elizabeth II has seen more than a dozen prime ministers come and go. Although the queen is not permitted to share her political views and never openly speaks about her relationships with the prime ministers, the connection between the queen and the 14 heads of government she has sworn in have ranged from delightful to total disaster.
Queen Elizabeth reportedly enjoyed mimicking Cameron Brown, according to the Sunday Post. She is said to have immensely disliked Labour's Tony Blair over his belief that he saved the monarchy during the controversy surrounding Princess Diana's death, as well as his wife's refusal to curtsy, per Express. And Margaret Thatcher and Queen Elizabeth had a complicated relationship that started off poorly and got worse before they eventually reached a mutual understanding of each other.
However, Queen Elizabeth made no attempt to disguise that Winston Churchill was her favorite prime minister of all time. Just days after he stepped down from duty in 1955, she wrote a letter to him (via the International Churchill Society), saying, "It would be useless to pretend that either he or any of those successors who may one day follow him in office will ever, for me, be able to hold the place of my first Prime Minister, to whom both my husband and I owe so much and for whose wise guidance during the early years of my reign I shall always be so profoundly grateful."
Queen Elizabeth and Boris Johnson didn't have the best start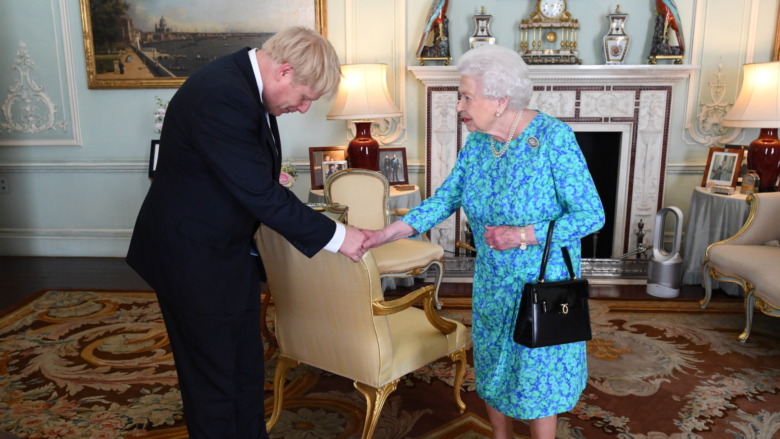 Wpa Pool/Getty Images
In early 2019, Prime Minister Theresa May was facing a constant threat of a no-confidence vote over her inability to lead the country through Brexit. Unable to stave off those threats any longer, she resigned to Queen Elizabeth II on July 24, which installed Boris Johnson as prime minister. Nearly immediately, the two clashed. Newly sworn-in prime ministers are often invited to bring their partners to the first meeting with the queen — but that wasn't the case with Johnson. Queen Elizabeth did not invite Johnson's girlfriend, Carrie Symonds, to their first meeting, because Johnson was still married at the time, and the queen takes "a dim view of adultery," according to the Daily Mail.
Just a few months later in September, Johnson crossed Queen Elizabeth by dragging her into a political firestorm over Brexit. Johnson asked for her approval to suspend Parliament for five weeks — a move that Britain's Supreme Court determined was unlawful and based on Johnson lying to the queen, Voice of America reported. Less than a month later, the relationship between Boris Johnson and Queen Elizabeth hit "rock bottom," one cabinet source told The Sun, after the prime minister forced the queen to deliver a "Queen's Speech" — a speech that lays out a new legislative agenda for Johnson's government. One problem: the speech came before the general election, giving it the appearance that the queen was endorsing Johnson and his party.
Crisis brings Queen Elizabeth II and Boris Johnson together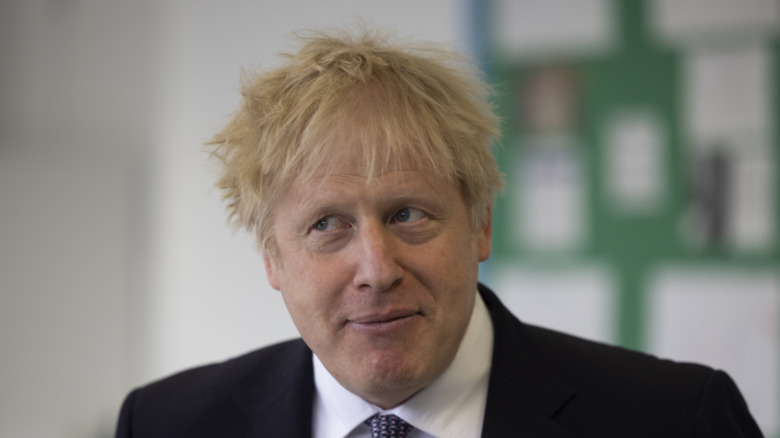 Dan Kitwood/Getty Images
There may have been plenty of reasons the queen and Boris Johnson clashed in the first year he was prime minister, but the two seemed to make a true effort to work together more harmoniously in 2020. Amid the global pandemic that had struck England particularly hard, Queen Elizabeth II issued a statement wishing Johnson a "full and speedy recovery" when he was hospitalized in April after contracting COVID-19, according to Town & Country. Later that same month, she sent another note as Johnson and Symond welcomed a new son into their family, per the Independent. 
For his part, Johnson stood up for the queen, while also showing that he knows when to stay out of the business of the royal family following Meghan Markle's interview with Oprah Winfrey. "The best thing I can say is I've always had the highest admiration for the queen and the unifying role that she plays in our country and across the Commonwealth," Johnson said, per Politico. He added: "When it comes to matters to do with the royal family the right thing for prime ministers to say is nothing. And nothing is the thing that I propose to say today."