How Many Kids Does Elon Musk Actually Have?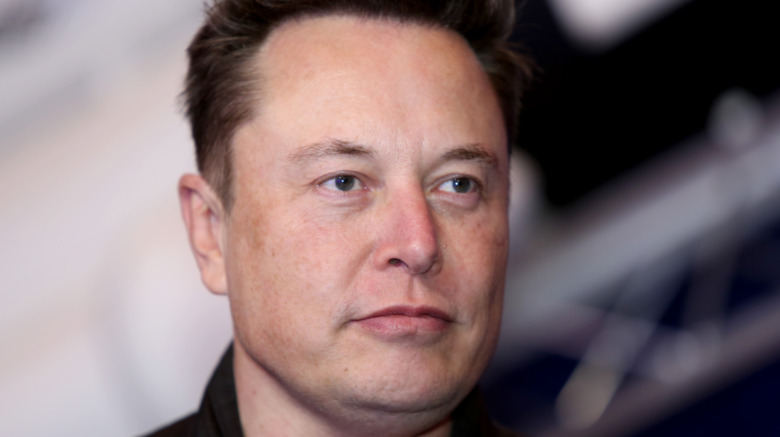 Bloomberg/Getty Images
Global businessman and billionaire Elon Musk is best known for being the CEO and co-founder of electric vehicle company Tesla. He is also the founder of the aerospace engineering company, SpaceX. According to Inc., the South African-born entrepreneur who has created and founded so many companies might be on track to becoming the world's first trillionaire by 2025. He's no stranger to public consciousness, as he's very active on his Twitter account and has made several appearances on some popular podcasts and shows, including Joe Rogan's podcast a year ago. Nonetheless, Musk is known to troll (a lot) on the social media site.
Which is what many of his followers thought he was doing last year when he announced the birth of his son by also sharing the name of his baby boy. The child's name is: X Æ A-12 Musk (yes, a real name both mom and dad chose). Musk and Canadian singer Grimes have dated since 2018. In May 2020, the couple welcomed their first child together. The name trended on the site for hours and people tried to decipher if Musk was serious ... or not.
While Musk simply shared the name, Grimes went on Twitter to explain the unique etymology of the baby's name a day later. Musk would explain the pronunciation of his son's name on the Joe Rogan podcast, which is basically: X Ash Archangel 12. But weeks later they'd made another change to the name, reported Vanity Fair.
Multiple marriages, multiple children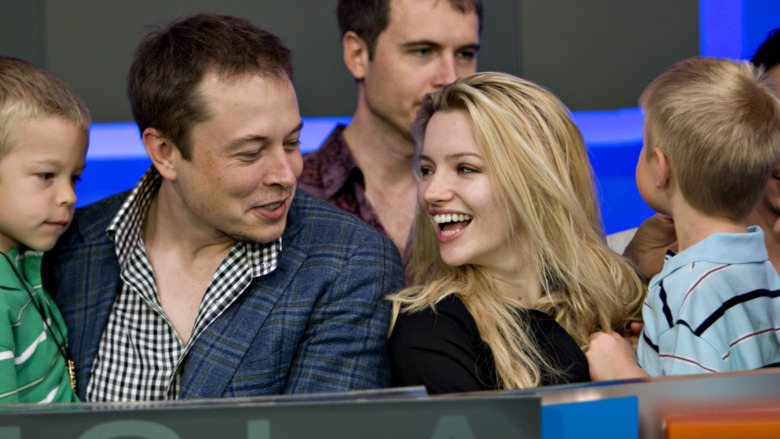 Bloomberg/Getty Images
But notwithstanding, Musk has other kids, and yes, you'd be right to think a few of them have some unique names. (But probably not like their youngest (so far) sibling.)
Musk is the father of six children in total. He's been married two times. His second marriage was to British actress Talulah Riley (they married and divorced each other twice). His first marriage was to Justine Wilson, reports Business Insider. Between the two of his ex-wives, only one had children with him. His first wife gave birth to all of Musk's first five children. Together they had twin boys, named Griffin and Xavier (pictured above with Musk and Riley), born in 2004, and triplet boys named Damian, Kai, and Saxon, born in 2006.
He would've been the father of seven, however. Unfortunately, the birth of his first child ended in tragedy. In 2002, Justine and Elon's first son, named Nevada, died of sudden infant death syndrome at just 10 weeks old. Afterwards the couple sought out in-vitro fertilization treatments for the birth of their next five sons, per People Magazine.
According to CNET, Musk is scheduled to host "Saturday Night Live" on May 8.