The Surprising Number Of Times Jerry Lee Lewis Has Been Married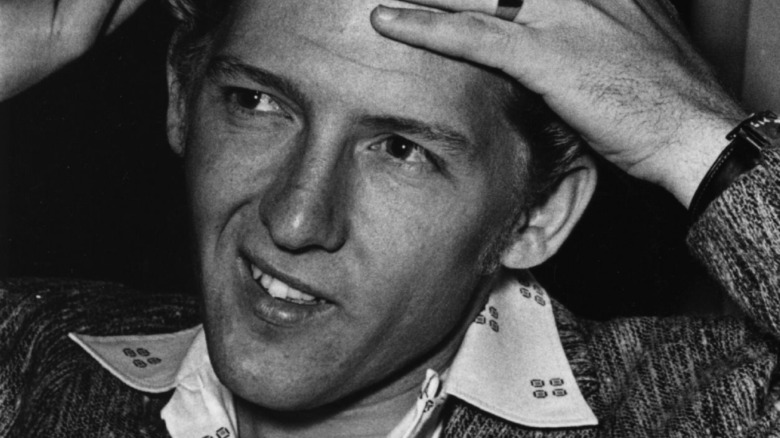 Evening Standard/Getty Images
Known as "Rock 'n' Roll's first great wild man," American singer and pianist Jerry Lee Lewis is probably just as famous for his talent as he is for his turbulent private life (via The Lewis Ranch). In fact, Lewis' personal life, and especially his relationship with women, reads a bit like a soap opera — complete with divorces, affairs, tragedies, and a bit of mystery thrown in.
Although Lewis was married seven times, some of the marriages may or may not have been completely valid. And almost all of them were somewhat troublesome. 
In an interview with People magazine in 1978, Lewis explained that he married his first wife when he was just 14 — though other sources claim he was 16 at the time of that first marriage (via Reuters). Preacher's daughter Dorothy Barton was older than he was and while the marriage didn't last long (about 20 months), the couple still had two kids.
While still married, Lewis met Jane Mitchum. The two started an affair and when Mitchum revealed she was pregnant, Lewis said he was forced to marry her as "her brothers were hunting me with whips." The couple married 23 days before Lewis' first divorce was final, so the validity of the marriage is questionable.
Although the couple stayed together for four years and had two children, it was a heated and troubled relationship. Lewis confessed she once threw claw-hammers through his car windshield (per The Guardian).
Marriage No. 3 almost ruined his career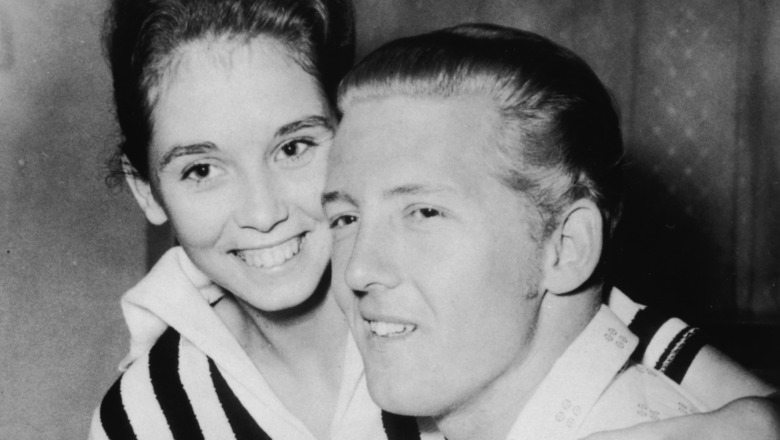 Hulton Archive/Getty Images
Marriage number three came soon after, and it was his most controversial one. In fact, it almost ended his career forever. That's because when Jerry Lee Lewis arrived in London for a massive new tour with 27 booked appearances, he brought along his new (and until then secret) bride (via History).
Lewis told the press that new wife Myra Gale Brown was 15 years old, but it was soon clear that this was a lie. Myra was actually just 13 and his first cousin once removed. In what seemed like a pattern by then, he had married her before his second divorce was final, though he argued that second marriage hadn't been legal anyway.
Both the press and the public condemned the marriage. All his shows in London were canceled and once back home in the U.S., Lewis didn't get a much better reception. For the next few years, his career was barely alive. But despite the controversy, the couple had two kids and remained married until Myra filed for divorce in 1970 on grounds of abuse and adultery (per Entertainment Weekly). 
Just a year after his divorce, he married Jaren Gunn Pate. The couple had one child together and more or less lived together until 1979. By then, Pate was claiming abuse and threats and a messy divorce was underway. In 1982, before the divorce could be finalized, Pate drowned in a swimming pool accident (via The Guardian).
But the trouble didn't end there either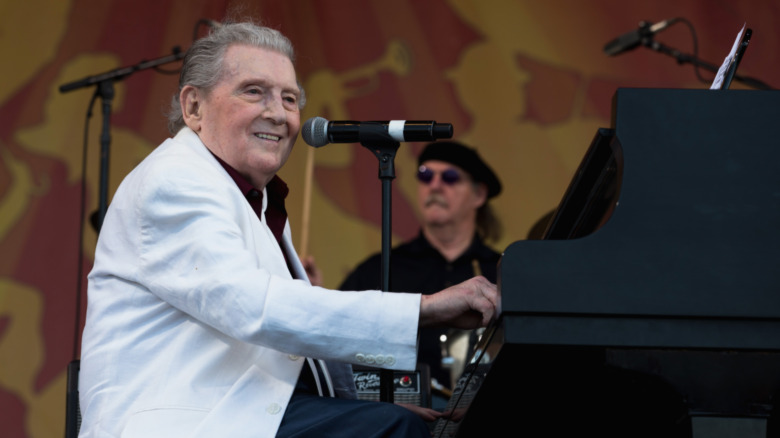 Douglas Mason/Getty Images
Tragedy would follow Jerry Lee Lewis into his fifth marriage as well. A year after losing Jaren Gunn Pate to drowning, Lewis married former secretary Shawn Michelle. But less than three months after tying the knot, Michelle died of an accidental overdose of sleeping pills. According to People, there were rumors of suicide and drug abuse, but nothing was ever confirmed and Lewis, now twice widowed, was soon ready to move on again.
Wife number six was Kerrie McCarver, whom Lewis started dating just months after Michelle's death. By April 1984, they were married. This ended up being his longest-lasting marriage. The couple had one child and were together for 21 years until their divorce in 2005 (per Express).
Lewis didn't marry again until 2012, which was the biggest gap between marriages of his entire life. He was 76 and his bride, Judith Brown, was 62, according to Express. But Judith Brown wasn't just any bride. She had been his personal assistant for over a decade. She also happens to be the ex-wife of Lewis' cousin, Rusty. And Rusty happens to be the younger brother of Myra Gale Brown, Lewis' once teen-bride.
The couple is still married. In 2020, they celebrated Lewis' 85th birthday with a virtual livestream event (via Rolling Stone).