The Reason Zack De La Rocha Left Rage Against The Machine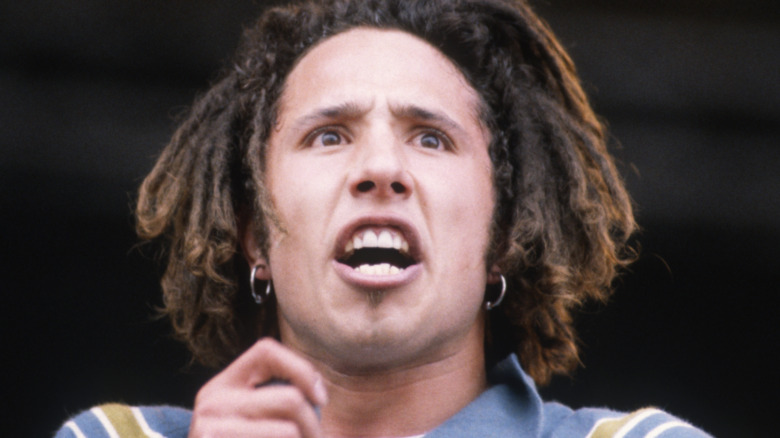 Gie Knaeps/Getty Images
Thanks to hard-hitting anthems such as "Bombtrack," "Killing in the Name," and "Bulls on Parade," Rage Against the Machine established themselves in the 1990s as a pioneering rap-rock act — and a linchpin of the decade's alternative rock scene. While Zack de la Rocha stood out with his passionate, politically-charged vocals and Tom Morello had the uncanny ability to make his guitar sound like a turntable, bassist Tim Commerford and drummer Brad Wilk made up a tight, underrated rhythm section that held everything together. They weren't afraid of courting controversy, as proved by their 1996 "Saturday Night Live" appearance that got them banned from the show, and law enforcement authorities and conservative figures were oftentimes wary of their incendiary live performances.
All that, however, came to an end in 2000, when after four albums, including an all-covers release that came out just weeks later, de la Rocha announced that he was leaving the band. Unable to find a suitable replacement, the remaining three members teamed up with Soundgarden's Chris Cornell and released three decidedly nonpolitical — yet nonetheless hard-rocking — albums as Audioslave before disbanding in 2007. In 2016, Morello, Commerford, and Wilk also formed another supergroup called Prophets of Rage with Chuck D of Public Enemy and B-Real of Cypress Hill, and that was more in line with their rap-rock roots.
By 2019, Prophets of Rage was no more, and as NME reported, that was because Rage Against the Machine reunited with de la Rocha almost two decades after he left. But why did Zack de la Rocha leave RATM in the first place?
Zack de la Rocha left Rage Against the Machine due to their 'failed' decision-making process
Frank Micelotta Archive/Getty Images
As recalled by Far Out Magazine, Zack de la Rocha's decision to leave Rage Against the Machine in 2000 was "not entirely unexpected" because of the intra-band tensions that escalated in the lead-up to his departure. In a statement, the vocalist explained that he felt RATM's "decision-making process has completely failed" and that the group's output no longer met their artistic and political expectations. This move came just weeks before the band released their fourth and final (thus far) record, the all-covers album "Renegades."
Speaking of "Renegades," Consequence noted that the album was "most definitely not de la Rocha's favorite project" and may have been a more specific factor that helped drive him out of the band. Aside from describing "Renegades" as a "weird," mismatched collection of covers, the publication pointed out that de la Rocha apparently "hated" the record so much that his bandmates were only able to get it released when they changed management.
Aside from de la Rocha's alleged distaste for "Renegades," it's also been theorized that Tim Commerford's actions at the 2000 MTV Video Music Awards — where he climbed a stage prop while Limp Bizkit's Fred Durst was accepting his band's Best Rock Video award — embarrassed him to the point he wanted to quit. However, Far Out Magazine hinted that the infighting within RATM might have been the biggest specific reason why he felt disenchanted with the group's decision-making process.
Things were very tense within RATM at the time de la Rocha left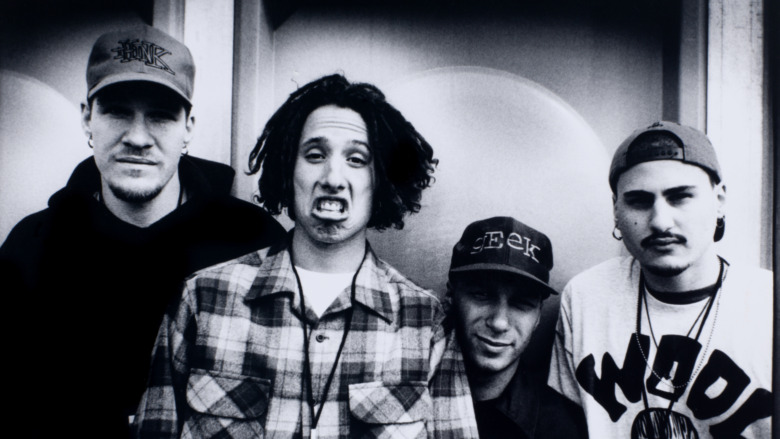 Niels Van Iperen/Getty Images
Just how tense were the relations within Rage Against the Machine at the time Zack de la Rocha left the group? As quoted by Consequence, Tom Morello revealed that the band had reached a point where they would fight about comparatively petty matters — and even get physical during these arguments. "There was so much squabbling over everything, and I mean everything," he said. "We would even have fistfights over whether our T-shirts should be mauve or camouflaged! It was ridiculous. We were patently political, internally combustible. It was ugly for a long time."
While T-shirt design might not sound like an issue big enough to spark a fistfight between bandmates, there was one far more serious matter where de la Rocha and the rest of RATM weren't seeing eye-to-eye. Per Far Out Magazine, Morello explained that the vocalist wanted to go on a hiatus from band activities that was supposed to end around 2003, while his bandmates wanted to keep recording and touring. However, the guitarist ultimately admitted that "Zack did what he had to do" and that RATM was always an act that was prone to "constant tension" due to the strong personalities within the band.
After a brief reunion in 2007, Rage Against the Machine's original lineup announced they would be reuniting with de la Rocha once again ahead of their scheduled performance at Coachella in 2020. Sadly, the COVID-19 pandemic put the kibosh on that, but even with their reunion tour postponed till 2022 (via Rolling Stone), fans can take solace in the fact they have something big to look forward to once things get back to normal.