This Is How Much Money Queen Elizabeth's Private Secretary Makes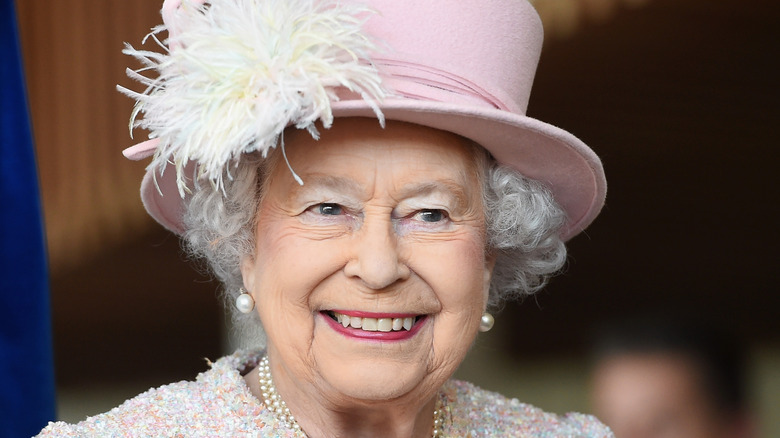 Stuart C. Wilson/Getty Images
The British royal family employs thousands of people to help run their $28 billion empire, a 1,000-year-old business known as Monarchy PLC that Queen Elizabeth II inherited in 1952 when she claimed the throne, according to Forbes. 
The organization is also referred to as "The Firm," a term that Queen Elizabeth's father, King George VI, purportedly called it. "We're not a family. We're a firm," he reportedly said, per The New York Times. 
Royal life requires private secretaries, public relations advisers, chauffeurs, housemaids, gardeners, pot washers, caterers, groomers, and more. Buckingham Palace alone, for instance, needs about a 1,200-person staff. While many of the positions come with benefits or free meals, the salaries won't always make you rich (see current job listings).
For instance, an upholsterer position for the Master of the Household's Office offers a yearly salary of about $35,000, depending on experience working with restoring furniture. But sometimes, the glamour of the job overpowers the financial gain. "With the Royal Household, everyday jobs become exceptional. This is because, whatever their role and whichever department they're in, our people are part of something remarkable. They provide invaluable support to the Royal Family — enabling them to fulfill their duties and serve the nation. And, working in magnificent and historic surroundings, they're inspired to deliver to a higher standard," the royal family website states.
A royal job with lots of responsibility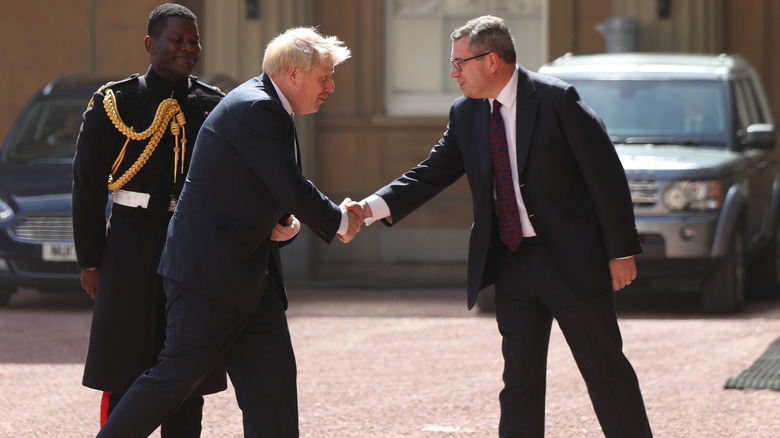 WPA Pool/Getty Images
The Mirror reported that some staff members earn roughly two pounds (about $2.78) an hour less than the average wage for a particular job, and there is a definite pecking order — with certain jobs providing more perks than pounds. For instance, a butler might earn 15,000 pounds, or almost $21,000, starting out in the field, but that also includes accommodations at stately palaces like Balmoral.
Other positions pay more, such as the private secretary to the queen, a role that requires discretion as well as skill and organization — after all, responsibilities include arranging all engagement and events within the royal household. Currently, Edward Young fills the slot, and he earns about 146,000 pounds a year, or slightly over $200,000, according to the Evening Standard. Young (above, greeting British Prime Minister Boris Johnson) nabbed the job in 2017 after serving as deputy private secretary and assistant private secretary for the royal household, said the royal website. 
Sometimes, though, it's tough at the top. When the duke and duchess of Sussex announced they resigned as royals, many blamed Young, according to Tatler.
"He has not geared up the system to protect the monarch," said an anonymous royal household source interviewed by The Times. "Very senior members of the royal family think he should go."
Young weathered the scandal, for now, and remains the ninth private secretary the queen has employed during her reign.