The Real Reason Alex Jones Was Banned From Facebook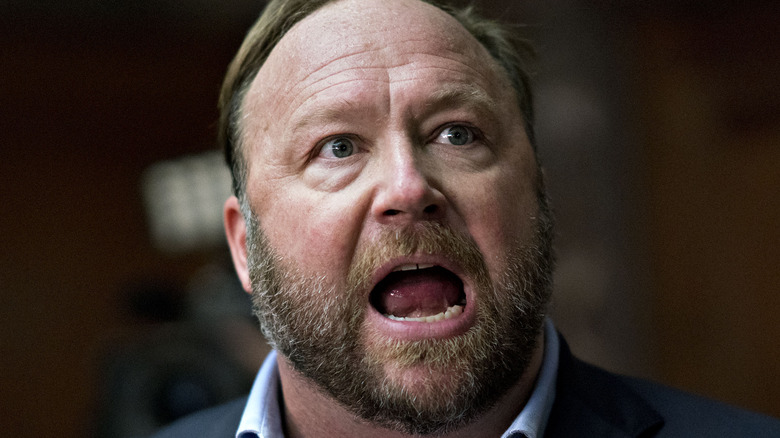 Bloomberg/Getty Images
Some of the more wild beliefs held by Infowars host Alex Jones are already fairly well known. He has said that chemicals in the water are turning frogs gay, accused the government of orchestrating extreme weather events, and repeatedly called the Sandy Hook shooting a "hoax," via CNBC. But none of that was enough to get him banned from Facebook. Jones spouted off fringe conspiracy theories freely until two years ago, when tech companies began to come under increased scrutiny and external pressure over their responsibility to control the spread of hate speech online. In a crackdown in May of 2019, amid growing concerns over right-wing extremist violence, Jones was banned from Facebook and Instagram for his increasingly troubling behavior, both on and off the internet.
Facebook said the decision was made after a lengthy review process, and explained that certain online behaviors, such as engaging in or calling for acts of hate or violence, promoting hateful ideology and violence based in racial or ethnic prejudice, and using hate speech or slurs, are all factors that qualify for account removal. The tech company declined to cite a specific reason for Jones' permanent ban, although they did point to certain instances that influenced the decision, including Jones twice appearing in a video with Proud Boys founder and designated "hate figure" Gavin McInnes, The Verge reported.
Jones' account had previously been suspended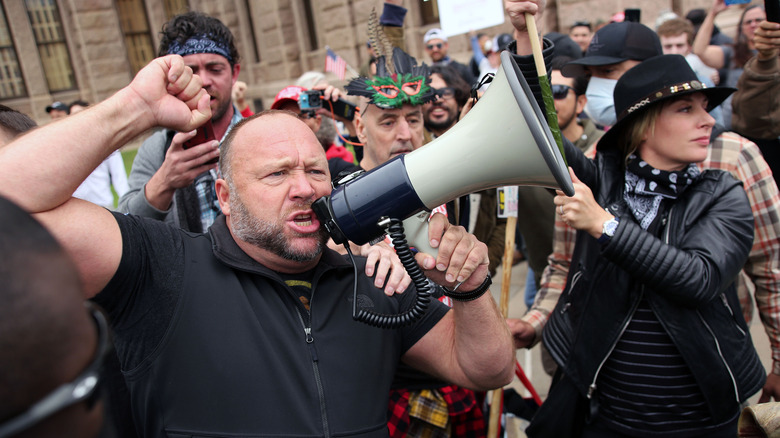 Shutterstock
Jones, along with other far right individuals Milo Yiannopoulos, Paul Nehlen, and Laura Loomer; his coworker at Infowars, Joseph Watson; and the Infowars page itself, were all barred from the social media site, according to NPR. Also banned at the same time was Louis Farrakhan, the Nation of Islam leader who has been accused of promoting anti-Semitism.
"We've always banned individuals or organizations that promote or engage in violence and hate, regardless of ideology. The process for evaluating potential violators is extensive and it is what led us to our decision to remove these accounts today," Facebook said of their decision in a statement (via The Verge). The ban followed an earlier suspension of Jones' account and removal of pages associated with Infowars, which violated Facebook's rule against bullying and hate speech.
However, Jones managed to get back on Facebook within a matter of hours, directly violating the terms of the ban by creating a different account. He set up a new page, called "Infowars is Back," where he live streamed for over two hours before it was taken down, per CNBC.
The Facebook ban has not removed Jones' online presence. Jones, along with many other right-wing personalities, defected to the new social networking platform Parler, although the site was deplatformed by Apple, Google, and Amazon in January 2021 following the U.S. Capital riots, per Vox. Jones also still regularly streams his show from the Infowars website.