The Real Story Behind Christian Slater's Cameo In The Office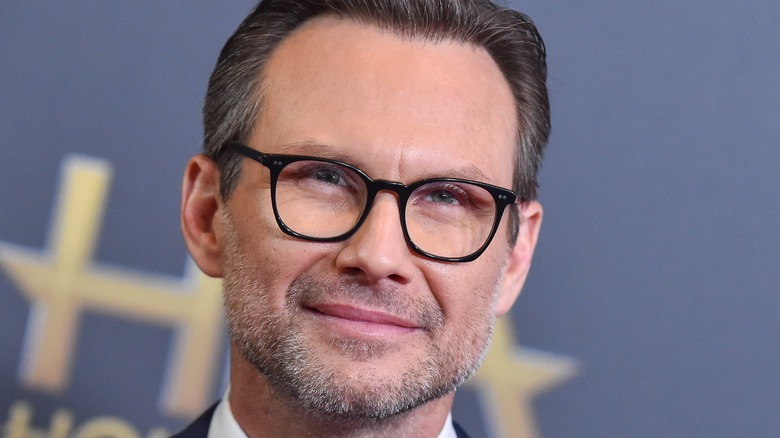 Shutterstock
With a stunning list of actors and notable celebrities making cameo appearances on NBC's "The Office" during its nine-season run (via Metro UK), it can be difficult to determine whose appearance was truly the most memorable. But, when it comes to the most random celebrity cameo during its 8 years on the air, nothing beats actor Christian Slater's bit part in the episode "Sabre" from The Office's sixth season. A long-time friend of actor John Krasinski (who plays Jim Halpert on the show), Slater was asked to guest on the popular sitcom. The result? A hilariously random training session, featuring the well-known actor talking up a very fictional printer company.
In the episode, the Dunder Mifflin Paper Company gets bought out by Sabre, a printer company run by Jo Bennett (actress Kathy Bates). As part of the takeover, the folks at Dunder Mifflin Scranton have to suffer through a training video about their new employer that featured none other than the much-lauded actor, Christian Slater, who, at one point in the video, goes as far as asking viewers if they've "ever tasted a rainbow."
So you've just been bought by Sabre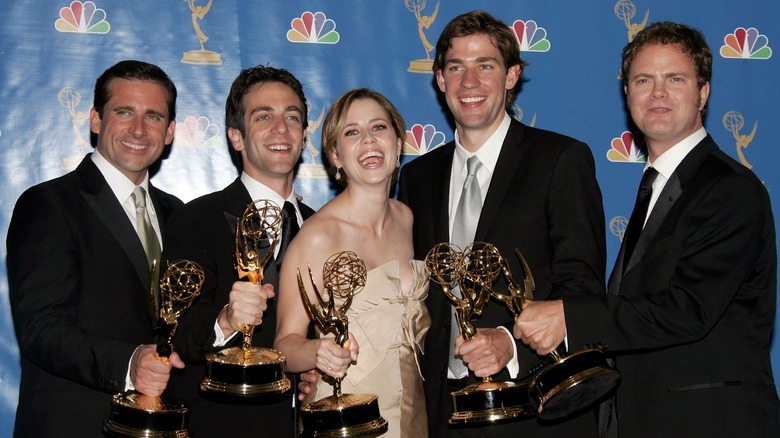 Frazer Harrison/Getty Images
How did Christian Slater end up filming the training video for The Office? A simple call from John Krasinski was all it took — and it didn't hurt that the "A Quiet Place" star was also directing. As part of the episode, Krasinski wanted to record a fake training video that included a celebrity appearance. Having been a long-time friend of Christian Slater's, Krasinski reached out to Slater's representative to check his availability. As fate would allow it, Slater's schedule was open and the role was cast. 
In a 2010 interview with EW, Slater commented further on the general awkwardness of his fake training video. To solidify the cringe factor that already included the introduction: "So, you've just been bought by Sabre, and you probably have a lot of questions. Hi, I'm Christian Slater," the actor tossed in the infamous "thumbs up" at the end of the video, stating: "The thumb's up was a spontaneous moment. I just kind of thought what would be the cheesiest things to do? John wanted it to really look like Kathy Bates [who plays the new boss] paid for this actor to come in and directed him on what to do behind-the-scenes. So I just kept thinking, 'What would Kathy Bates tell me to do?'"