The Strange Story Behind The Rock & Roll Hall Of Fame Induction For Guns N' Roses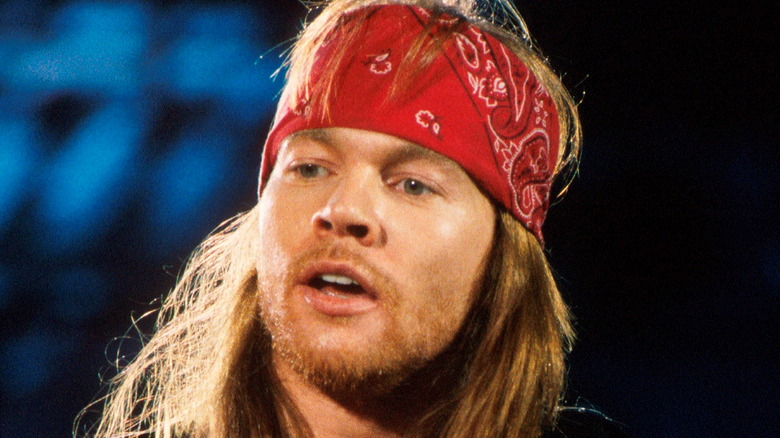 Michael Putland/Getty Images
Guns N' Roses were unlike most of the other Los Angeles-based bands that achieved full-fledged rock stardom in the late 1980s. They had the long hair and high-pitched vocals, but apart from that, they had nothing in common with Mötley Crüe, Poison, Warrant, or any of the other Sunset Strip hair metal heroes of the era. While those bands sang about their love for girls, girls, girls or boasted about having nothin' but a good time, lead singer Axl Rose didn't shy away from telling tales of the hard-knock life he and his bandmates knew before they became rock stars. It helped, too, that they had tons of talent — guitarists Slash and Izzy Stradlin, bassist Duff McKagan, and drummer Steven Adler (later replaced by Matt Sorum) were all skilled instrumentalists who perfectly complemented Rose's soaring vocals.
By the early 2010s, that supporting cast was long gone from GNR, and only Rose remained from the band's original lineup. It had also been about two decades since they were truly relevant in the broader music scene. But their legacy was undisputed, and the group was scheduled to be inducted into the Rock & Roll Hall of Fame on April 14, 2012, along with acts such as the Red Hot Chili Peppers and the Beastie Boys, as reported by Billboard. There was, however, some controversy in the days leading up to the induction ceremony, and not surprisingly, it originated from none other than Rose himself.
Axl Rose sent a letter rejecting GNR's Rock & Roll Hall of Fame induction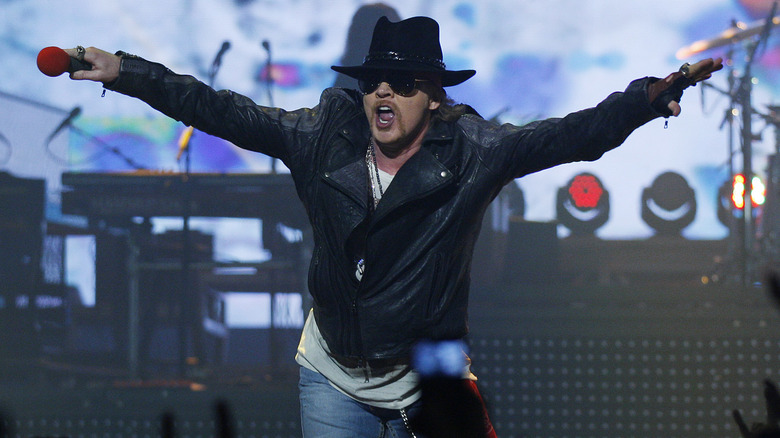 Isaac Brekken/Getty Images
At the time Guns N' Roses was set to be inducted into the Rock & Roll Hall of Fame, the band was, in the eyes of most casual fans, Axl Rose and a bunch of randos not named Slash, Duff, Izzy, Steven, or Matt. Sure, keyboardist Dizzy Reed, who was part of the "Use Your Illusion"-era lineup, was still playing for GNR, but other than him, none of the other supporting members played on any of the band's classic (read: pre-"Chinese Democracy") albums. But with the induction ceremony fast approaching, rumors were swirling regarding the possibility of one of the Gunners' golden-era lineups reuniting on stage.
Even if it was several years since GNR's last major hit-making lineup splintered, Rose was apparently unwilling to let bygones be bygones, as he sent a letter to the Hall on April 12, 2012, asking that neither he nor his band be inducted and stating that the ceremony didn't "appear to be somewhere I'm actually wanted or respected." As further quoted by CNN, the frontman complained about a "seemingly endless amount of revisionism and fantasies" from his ex-bandmates regarding a potential reunion, and specifically called out original drummer Steven Adler for his "interviews filled with reunion lies."
Rose concluded the letter by stressing that "neither former members, label representatives nor the Rock and Roll Hall of Fame should imply whether directly, indirectly or by omission that I am included in any purported induction of 'Guns N' Roses.'"
Guns N' Roses was inducted anyway while Axl stayed home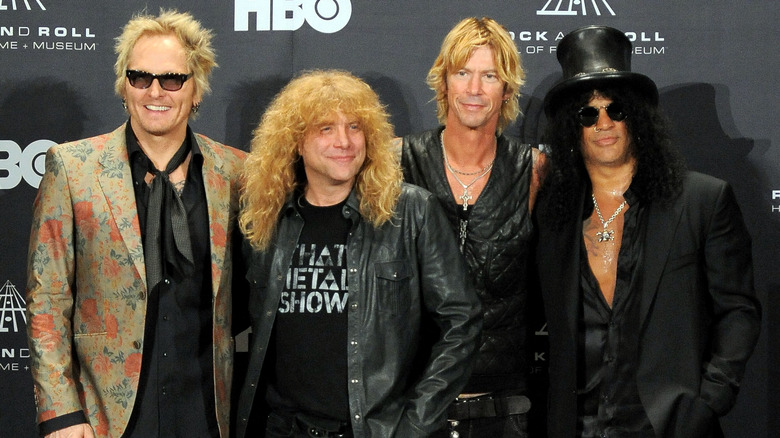 Mike Coppola/Getty Images
Perhaps dealing with an eccentric band leader for several years makes one confident enough to defy his strongly worded request. That's what happened when Slash, Duff McKagan, Matt Sorum, and Steven Adler attended the 2012 Rock & Roll Hall of Fame ceremony in Cleveland, as reported by The Guardian. After Guns N' Roses was formally inducted, the four ex-members were joined onstage by former guitarist Gilby Clark and Alter Bridge singer Myles Kennedy as they performed three songs, including "Paradise City" and "Sweet Child O' Mine." Aside from Rose, two other golden-era members — Reed and Stradlin — chose not to attend the event.
The fact that Axl Rose was absent from the ceremony wasn't lost on the audience, who cussed him out as his former bandmates were honored. However, Green Day frontman Billie Joe Armstrong spoke in defense of the singer, telling everyone that Rose, while "crazy" like many other lead singers, is "one of the best frontmen to ever touch a microphone."
A few days after GNR's induction, Rose sent another letter to the Hall, explaining that he didn't mean to "attack" it; instead, he had "genuine issues" with its selection process that he couldn't make an educated judgment about, per The Hollywood Reporter. While he thanked the fans who supported his decision, he also apologized to the city of Cleveland for choosing not to attend — and, true to his outspoken reputation, made sure to call out his detractors for their "desperate, misguided attacks" on his character.