A Look At Davy Jones And Michael Nesmith's Relationship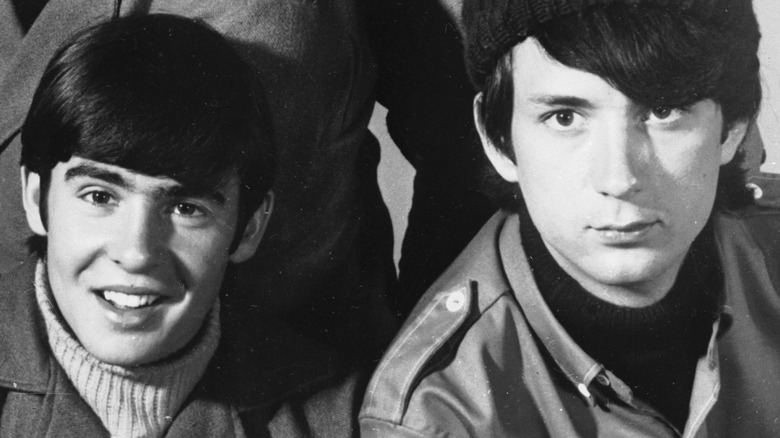 Keystone Features/Getty Images
Typically, rock bands become famous after years of paying their dues in the clubs and working odd jobs while waiting for that big break to come along. The Monkees, however, were decidedly different. They were a band specifically made for television, four young men who were picked from hundreds of hopefuls and assigned a dedicated team of songwriters and studio musicians to help them create their music. The band's "members"? Their job was to act first and to lay down the vocals second, no need to worry about actually playing any instruments. That earned them the derisive nickname the "Prefab Four," though it definitely didn't stop them from becoming one of America's most popular bands of the 1960s.
The Monkees were a band that had two apparent factions — Davy Jones and Micky Dolenz were the entertainers, and Michael Nesmith and Peter Tork were the serious musicians. That could lead to a potentially combustible situation for most bands, and as far as the Monkees were concerned, there have been rumors that Jones and Nesmith had an especially contentious relationship. Indeed, they seemed like oil and water — the diminutive, British-born former child actor who once starred onstage as the Artful Dodger in "Oliver!" (via Den of Geek) and the tall, wool hat-wearing Texan who punched a wall during an argument with record executives to prove his point that the Monkees had to play their own music. But what was the real score between these two on-again-off-again bandmates?
Davy Jones had mixed feelings about Michael Nesmith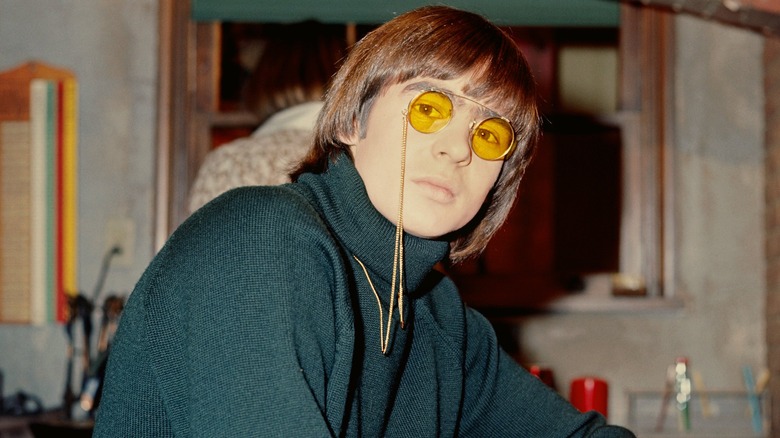 Michael Ochs Archives/Getty Images
Jones died in 2012, so he is no longer around to discuss any of the rumors that have swirled regarding his relationship with Nesmith. But Jones did have quite a lot to say about the singer-guitarist in his 1987 autobiography "They Made a Monkee Out of Me," quoted by the Monkees Live Almanac. "Nesmith was always a true professional," Jones wrote. "He and Peter [Tork] were always concerned about how it sounded musically. Or even how it looked. When we did those tight group shots when we were miming he'd be the one to notice that we weren't plugged in — and put it right just in case the camera picked it up."
All in all, Jones was very complimentary toward Nesmith, as he continued the passage by telling a funny story of how his bandmate took a private jet to Dallas just so he could eat at his favorite hamburger restaurant. "I still maintain that at any given moment he could be Hollywood's next leading man. A truly great talent. A very funny man. He'll probably become Governor of Texas next," he concluded.
Then again, Jones was far more critical in the book "Total Control: The Monkees/Michael Nesmith Story," as quoted by Showbiz Cheat Sheet. In this particular tome, the singer described Nesmith as "rude, arrogant, belligerent, and aggressive, and that was on a good day."
Nesmith says he and Jones were 'friends on some level'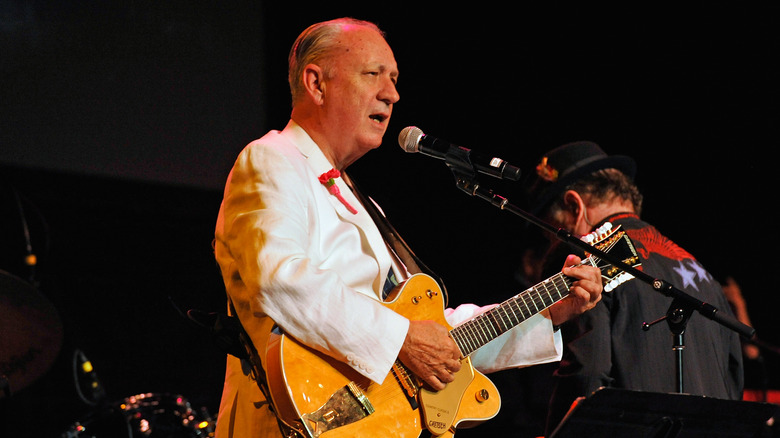 Michael Tullberg/Getty Images
Speaking to Rolling Stone's Andy Greene in 2019, Nesmith opened up about his relationship with Jones, though he didn't quite confirm or deny the rumors that he and the singer didn't get along too well with each other. He admitted, though, that everyone in the Monkees, Jones included, were "friends on some level" and "very casual work-space partners" who enjoyed making music together.
Nesmith also told Rolling Stone that the rumors about his alleged beef with Jones were blown out of proportion. "They make them into more than they are, and they ask you questions that they think are salient or to a point, and I'm always surprised. It's like, 'Where do you get this stuff? You just obviously don't have a clue,'" he lamented."
In yet another interview with Rolling Stone, this time shortly after Jones' death, Nesmith noted that "David was the Monkees" and that he, Micky Dolenz, and Peter Tork were merely Jones' "side men." However, he seemingly reinforced the belief that Jones and Dolenz were the most content with the Monkees' reputation as a band that didn't play their own instruments. As he recalled, they were the ones who calmed him down after the infamous wall-punching incident, telling him to treat the band's eponymous TV show like a job and stop complaining about their lack of actual musical contributions.