You Probably Never Realized How Many Rare Animals The Queen Has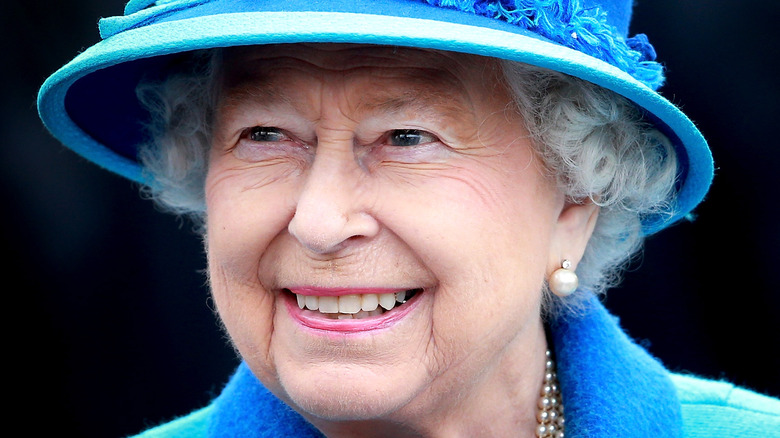 Chris Jackson/Getty Images
Queen Elizabeth's love for animals dates back to when her father, George VI, took in a corgi named Dookie in 1933. After Dookie became the family dog, Elizabeth would receive her own corgi named Susan for her 18th birthday, per Business Insider. During her reign, the queen has owned over 30 corgis. If that seems like a lot of animals, though, that's only skimming the surface of her collection — and no, it's not just corgis and horses. Believe it or not, the queen has the right to claim all the "Royal Fish" in Britain, according to a statute from 1324. Her Majesty's fish include porpoises, whales, dolphins, and sturgeons swimming in British waters.
The queen also owns all the mute swans in open water in the UK — an ownership she still takes seriously. In 2014, a man leaped over the fence at Bennett's Lake, Kent, before beheading one of the queen's swans, per Express. He was fined £215 after he admitted to the killing, saying he just "wanted to see what it tasted like." He would later apologize after finding found out the swan he tried to eat belonged to Queen Elizabeth.
The queen has received even more exotic animals as gifts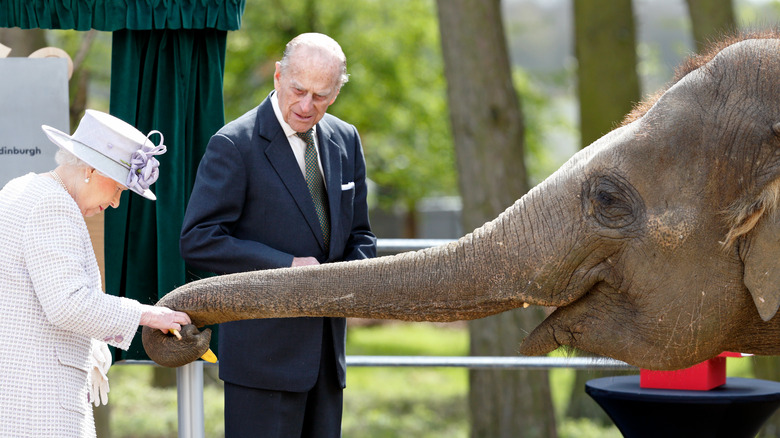 Max Mumby/indigo/Getty Images
Over the years, Queen Elizabeth has added to her menagrie of animals, receiving many of them as gifts. It all began in 1957 when the Royal Jersey Agricultural and Horticultural Society sent the queen a cow called Beauchamp Oxford Lady, per Express. The cow would make itself useful, supplying milk and cheese for the royal family. By the '60s, she was getting even more unusual breeds of animals, such as a pair of pygmy hippopotamus from the president of Liberia. Unlike Beauchamp Oxford Lady, the hippopotamus pair wasn't able to live with the family, as they would soon be donated to London Zoo.
In 1977, the Royal Melbourne Zoological Gardens in Australia sent the queen six red kangaroos, two Brolga cranes, and one fat-tailed dunnart, per Reader's Digest. Much like the hippos, all animals were sent packing to the London Zoo. Along with the hippos and cranes, the queen has received even more exotic animals, such as two black jaguars, a sloth, two tortoises, and a 1,300-pound elephant who was fed bananas, avocados, and sugar on its flight to Britain. 
Queen Elizabeth has indeed taken on some fascinating and unusual animals — and we're sure she loves them all; however, the London Zoo probably loves them even more. And we're sure your image of the queen is a little different than it was before — instead of picturing her elegantly holding a corgi, you may now think of her wrangling jaguars while holding a sloth.