Nearly 1 In 3 Said This Was Their Least Favorite Guns N' Roses Hit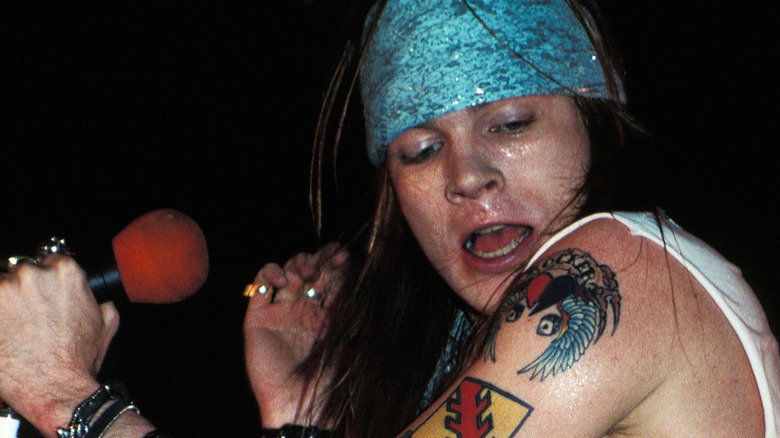 Larry Marano/Getty Images
They were, in many ways, the ultimate band of outcasts — two kids from small-town Indiana, a punk rocker from Seattle, and two Hollywood natives from homes as broken as those of their bandmates. Together, Guns N' Roses proved that the Sunset Strip rock scene had far more to offer than vapid party anthems. Thanks to songs like their first hit, "Welcome to the Jungle," they had a much harder edge than most of their contemporaries, though that was also tempered by frontman Axl Rose's occasional ability to showcase his tender side, as evidenced on tunes such as "Sweet Child O' Mine."
Even the greatest bands in the world record a few songs that don't exactly resonate with their fanbase, and Guns N' Roses is no exception. Whether it's the shockingly racist and homophobic "One in a Million," the weird industrial experiment "My World," most of the tunes from the all-covers album "The Spaghetti Incident?" or the 14-years-in-the-making "Chinese Democracy," fans, as well as rock websites such as Loud Wire, have their own opinions on which GNR song is the worst of all time. But we decided to keep it simple for the 677 respondents who answered our survey. 
Grunge took six of the band's greatest hits — no deep cuts — and asked you which of those songs is your least favorite. Based on the results, close to a third chose one song in particular. Which one is it, and what are the reasons why it's seemingly so unpopular?
Many fans don't need this early-'90s GNR hit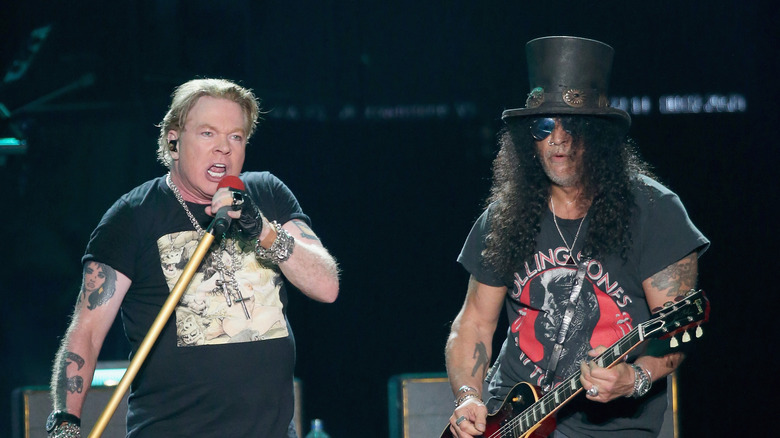 Gary Miller/Getty Images
After tallying all the votes, we found that 32.95% of our readers chose "Civil War" as their least favorite Guns N' Roses hit. This may come as a bit of a surprise, as Loud Wire ranked it as the 10th-best GNR song, noting how it allowed Axl Rose to become more "socially progressive" after starting out as someone who had no qualms about writing and singing offensive lyrics. It was described as a song that was more "ambitious and epic" than anything GNR had recorded before that, and to top it all off, it was originally included in the 1990 charity compilation "Nobody's Child: Romanian Angel Appeal" before reappearing as the opening track of 1991's "Use Your Illusion II."
All those signs point to a song that should otherwise be beloved by a band's loyal fans, but not everyone holds that opinion about "Civil War." The Guardian's Marc Burrows wrote that while he ultimately liked the song after finding it too cliched in its first minute, it was still a "wishy-washy peace anthem" and a "self-important plodder from a band losing touch" with rock audiences.
As for the other songs in our survey, "Welcome to the Jungle" came in second with 20.38% of the vote, the gentle acoustic ballad "Patience" was third with 15.95%, and the hard-rocking "Paradise City" placed fourth with 13%. "Sweet Child O'Mine" took fifth place with 9.31%, and rounding things up was the nine-minute epic "November Rain" with 8.71%.