American Pickers Star Frank's Weight Loss Finally Explained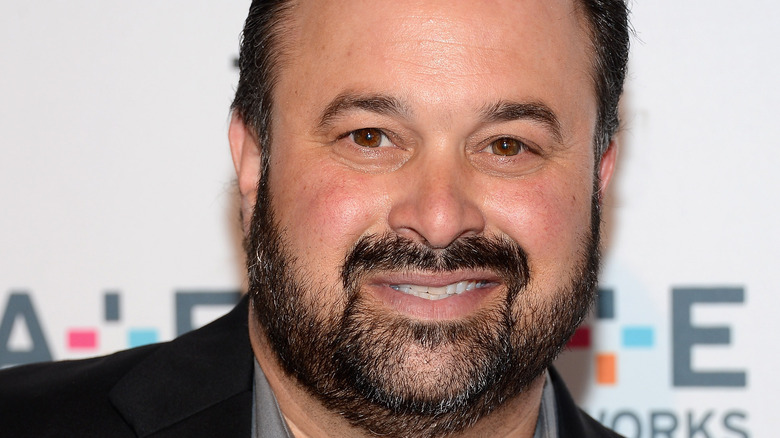 Dimitrios Kambouris/Getty Images
When Season 9 of "American Pickers" debuted in 2013, a lot of viewers were surprised — and even concerned — at co-star Frank Fritz's apparently significant weight loss. Fritz had been open on his Facebook page that he had not been feeling well, so naturally, there was a lot of concern. So the "Bearded Charmer," as he refers to himself, took to Facebook to let his fans know about the health issues that were a contributing factor. "A lot of you have been wondering about my health and my weight loss. I have an illness called Crohns Diease [sic], which at times is difficult to deal with."
According to the Mayo Clinic, Crohn's Disease is a disease of the digestive system that creates painful inflammation in the intestines, that can cause abdominal pain, weight loss, diarrhea, and other uncomfortable symptoms.
While Crohn's can cause unintentional weight loss, Fritz instead seems to have taken the opportunity to build on his health. "Well, I have been feeling great!" he continued, "I started losing weight and ran with it! I have been exercising and eating good." Fans reacted to Fritz's openness and candor, and his post received hundreds of supportive comments.
Crohn's can be challenging to manage when traveling
Fritz and co-star Mike Wolf are constantly on the road shooting — and picking — and that's hard when you have Crohn's, managing not just the symptoms, but also the dietary restrictions. Fritz opened up to Quad-City Times in 2011 about dealing with Crohn's while shooting the show, and noted he tries to eat mostly at night to keep the symptoms at bay during the day. And he noted that disease management is all "about planning and nutrition and making provisions to yourself for your health and safety," he stated.
The producers have also been helpful, he noted, making sure that there are portable facilities — in an RV when necessary — for emergency bathroom breaks on the road. He said (via Distractify), "My entire crew knows about my Crohn's. They understand it when I need a break. I mean, if I have to go, I have to go!"
Fritz's attention to his health and wellness, and his openness about the disease, will hopefully help others dealing with Crohn's feel able to be more open in talking about their own issues. And he's not alone. SNL actor Pete Davidson, 90210's Shannen Doherty, former NFL quarterback David Garrard, Pearl Jam guitarist Mike McCready, and journalist Cynthia McFadden have all been open about their experiences with the disease, Health Grades reports.