How Dr. Joseph Bell Became The Real-Life Sherlock Holmes
The character of Sherlock Holmes, whose first appearance was in Sir Arthur Conan Doyle's 1887 novel "A Study in Scarlet," has had a remarkable renaissance in the 21st century, thanks to his ongoing portrayal in sumptuous productions on both TV and the big screen. The Victorian private detective is perhaps best known to us today thanks to the smash-hit movie franchise starring Robert Downey Jr. (with Jude Law as Sherlock's assistant, Doctor Watson), which began in 2009, as well as the internationally successful BBC series "Sherlock," in which he is played by Benedict Cumberbatch. "Sherlock" saw the character updated with a modern setting, as did another well-received show based upon Conan Doyle's famous detective, "Elementary," an American production starring Jonny Lee Miller and Lucy Liu. According to Guinness World Records, Sherlock Holmes is now the most widely portrayed character in the whole of film and TV, having been brought to life in various productions a total of 254 times.
But the detective who has been part of our collective consciousness for more than 125 years wasn't just summoned out of thin air. Instead, Conan Doyle had a very real source of inspiration: Dr. Joseph Bell, a Scottish surgeon who is today considered to be the real-life Sherlock Holmes.
Dr. Joseph Bell: the teacher who inspired Sherlock Holmes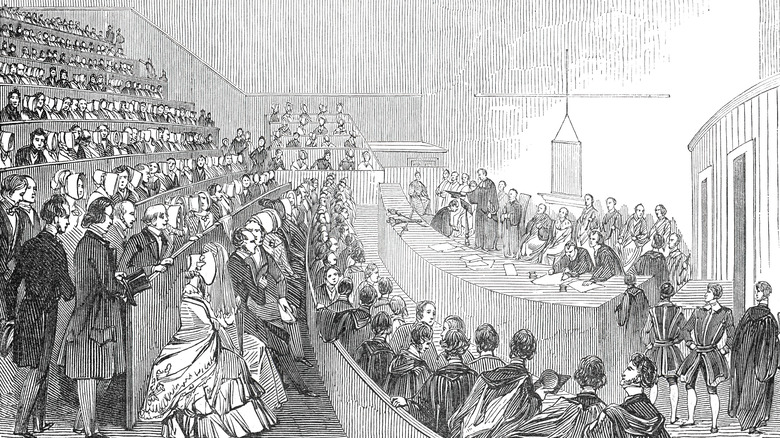 Print Collector/Getty Images
Arthur Conan Doyle first met the man who would become the primary inspiration for the timeless Sherlock Holmes while studying to become a doctor at the Edinburgh Medical School in 1877, according to Conan Doyle Info. Dr. Joseph Bell, already a respected figure in the world of medicine in his own right, was teaching at the school at the time, and Conan Doyle could not help but become captivated by the singular character of the shrewd and eccentric figure who lectured the class on the importance of observation. 
Per the Irish Examiner, Bell became famous for being able to decide the backgrounds, occupations, and activities of his patients that could aid diagnosis. As Bell himself described in an 1893 interview with The Pall Mall Gazette (per the Arthur Conan Doyle Encyclopedia), "The only credit I can take to myself is that appertaining to the circumstance that I always impressed over and over again upon all my scholars — Conan Doyle among them — the vast importance of little distinctions, the endless significance of the trifles ... Any really good doctor ought to be able to tell, before a patient has fairly sat down, a good deal of what is the matter with him or her."
Such powers of observation and the lateral thinking required to connect details into a revealing narrative would become hallmarks of the character of Sherlock Holmes.
Dr. Joseph Bell and the hunt for Jack the Ripper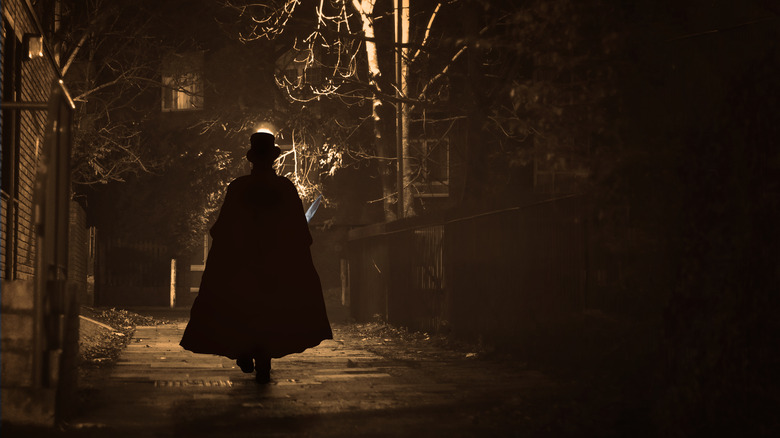 Shutterstock
As described by Conan Doyle Info, the Sherlock Holmes' creator grew closer with Dr. Joseph Bell as his studies went on. In his second year, Bell selected Conan Doyle as one of his assistants, a position in which he was able to witness Bell's powers of deduction close up. "I always regarded him as one of the best students I ever had. He was exceedingly interested always upon anything connected with diagnosis, and was never tired of trying to discover all those little details which one looks for," Bell later described Conan Doyle, according to the Arthur Conan Doyle Encyclopedia.
But Bell was not just a doctor and lecturer. As a pioneer of forensics, he was also involved in police cases, where the similarity to Sherlock Holmes becomes even stronger. In fact, Bell's methods were so respected that he was asked in 1888 to provide his expertise in one of Victorian London's most notorious cases — the Jack the Ripper murders. Per the Irish Examiner, Bell used his methods of deduction to assist in positively identifying the killer, with the doctor reportedly even going as far as to name a suspect.
Unfortunately, however, Bell's involvement in the search for Jack the Ripper didn't quite pan out as one of Arthur Conan Doyle's fictions would have done. Despite Bell's cunning and expertise, the Ripper was never brought to justice, and historians continue to debate his identity to this day.