A Look At John Wesley Hardin's Face-Off With Wild Bill Hickok
Shutterstock
Notorious Old West gunmen John Wesley Hardin and James Butler Hickok, also known as "Wild Bill," began as friends. Against the bloody backdrop of the uniquely volatile point in history, both killers earned a reputation for viciousness. Unsurprisingly, the two gunslingers found much to relate to in one another when they crossed paths in 1871 and were thrust into a face-off, albeit one that never turned deadly.
Hickok, who was the marshal of Abilene, Kansas, confronted Hardin at a saloon for wearing pistols amid the city's ban on carrying firearms, but the young gunman refused to relinquish his weapons. Per History Net, Hardin claimed that Hickok pulled a gun on him and demanded that he turn over his pair of revolvers. The young killer responded by presenting Hickok with the handles, but when the marshal reached for the weapons, Hardin spun the pistols around and had him staring down the barrels of death. The tense encounter paved the way for drinks at the saloon and a short-lived friendship.
Hardin eventually left town to protect his life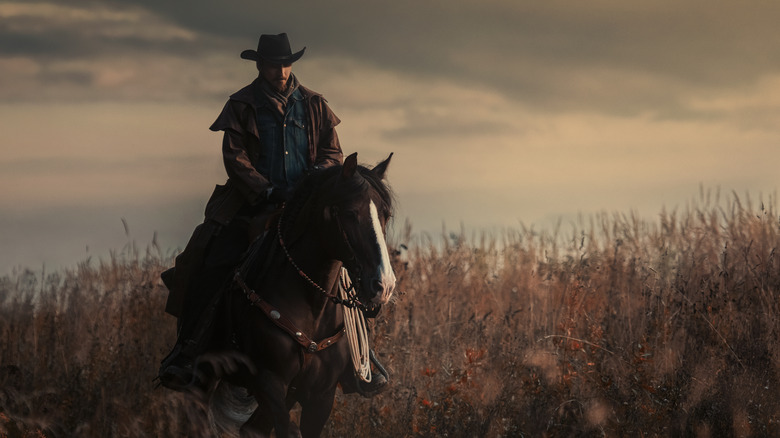 Shutterstock
The pair got along well at first. Hickok saw Hardin, who was 16 years younger than he, as a youthful, budding killer to whom he could offer guidance in the savage world of the Old West. As for Hardin, History claimed he took pride in his newfound association with an older, more famous gunslinger. But weeks of womanizing and drinking weren't enough to hide the stark reality of the time period and the violence that both Hardin and Hickok were prone to, violence that eventually would take Hardin's life at age 42 and Wild Bill's at age 39. Amid a realization that Hickok would likely take his life if he had the chance, Hardin left Abilene, Kansas, and his former mentor along with it.
"Now, I believed that if Wild Bill found me in a defenseless condition he would take no explanation, but would kill me to add to his reputation," Hardin said in his autobiography.