The Suspicious Purchases Xavier Dupont De Ligonnes Made Before The Murder Of His Family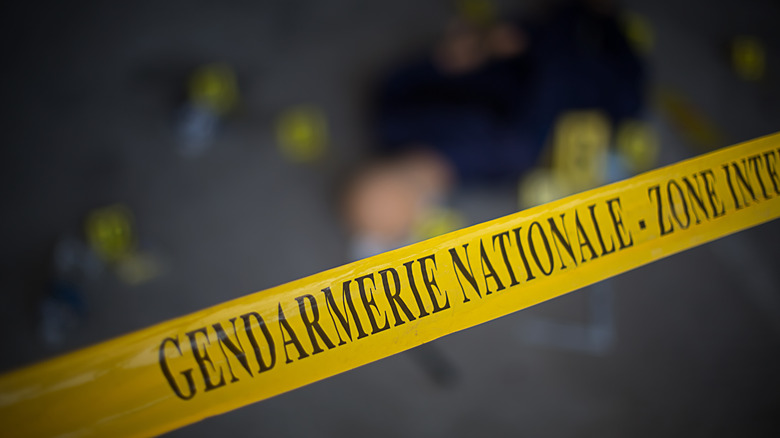 Shutterstock
There is little doubt in the minds of those familiar with the case that the wealthy French businessman and aristocrat Count Xavier Dupont de Ligonnes was most likely responsible for the execution of his wife and four children at their home in Nantes, France in early April 2011. But as reported by the BBC, in the days following the family's initial disappearance — the victims' bodies were not found until April 21, according to Oprah Daily – Dupont de Ligonnes fled. Even to this day he has yet to be found and charged for the murders, and he remains the prime suspect.
As the press published more details of the case in the months following the murders, a chilling picture emerged of Xavier Dupont de Ligonnes' movements both before and after the crime, a web of suspicious behavior as devious as it was incriminating, and as calculated as it was brazen. Though Dupont de Ligonnes may have succeeded in evading capture — indeed, even recent leads, such as a recent supposed sighting in Glasgow, Scotland (per the BBC) have turned out to be dead ends — in the end, the Count did little to conceal his guilt.
Xavier Dupont de Ligonnes' incriminating purchases
The French news outlet France 24 describes how the bodies of the Dupont de Ligonnes family were discovered buried under their patio, the victims of a "methodical execution" whose killer had made efforts to conceal the evidence of the slayings and to inter the bodies in plastic sheets and quicklime to avoid detection. All five of the victims had been drugged with sleeping pills before being shot with a .22 rifle. The killer had also killed and buried the family's two dogs.
In the days following the family's disappearance, various relatives of the Dupont de Ligonneses received correspondence from Xavier (per RFI). This correspondence attempted to mislead its recipients with false information that claimed the family was headed to the United States due to Xavier's involvement with the Drug Enforcement Agency, and, elsewhere, that they were emigrating to Australia — stories that he had reportedly also spun to his children's school and to a number of friends, per France 24. Tellingly, the letter also attempted to dissuade its readers from investigating the patio where the victims' bodies lay hidden.
As if these details and those concerning his subsequent flight from justice weren't damning enough, then those concerning his purchase of various items that were then used in the crime and attempted cover-up seemed to put his guilt beyond all doubt. France 24 reports that Dupont de Ligonnes had bought "cement, digging tools, and four bags of lime" in the days before the slayings, while he had also bought ammunition for a rifle he had recently inherited from his late father. The rifle was a .22 caliber — the exact same model that had been used to execute the Dupont de Ligonnes family.