What You Should Know About The Royal Pets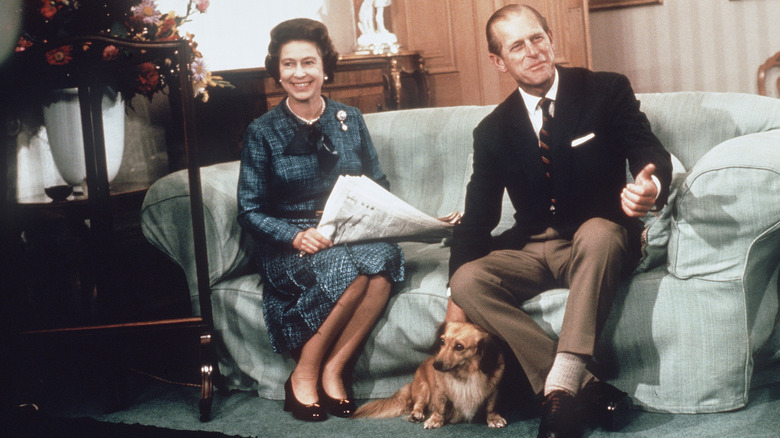 Anwar Hussein/Getty Images
For the British Royal Family, it's all about the dogs. Other animals have entered castle grounds, for instance, horses—Princess Anne's daughter, Zara Tindall, is an accomplished equestrian — but it's canines that seem like essential companions for the royals. Queen Elizabeth II, for example, loves her corgis, according to Town and Country. She received her first, named Susan, when she turned 18. Queen Elizabeth cared for her furry confidante's descendants for decades until 2018 when Willow, the last of the line, died. She has owned more than 30 corgis, according to The Sun, which mentioned she obtained two new corgi puppies in early 2021.
All the royals, though, enjoy their four-legged friends: Princess Anne snuggles up to English bull terriers; Prince William's family lost their English cocker spaniel, Lupo, in 2020, but love the breed so much they adopted another one; Even Prince Charles and Camilla own two Jack Russell terriers, named Bluebell and Beth.
British royalty has a long tradition of seeking loyalty and compassion from these loving animals. The Royal Collection Trust notes that the King Charles spaniel was popularized by Charles I in the 17th century and that Queen Victoria and Prince Albert kept several dogs — from dachshunds to collies to pugs. They even commissioned Sir Edwin Landseer to paint some of their most beloved, including the spaniel, Dash, and Eos, a greyhound.
Royal pets live in the lap of luxury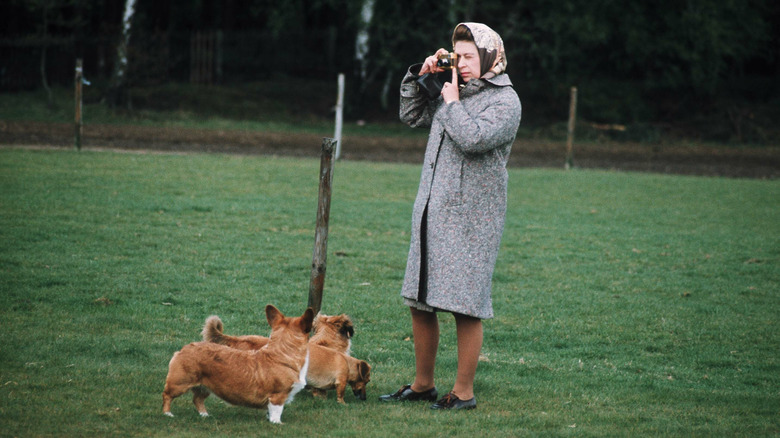 Anwar Hussein/Getty Images
Royal pets receive a lavish life full of luxury, including gourmet chefs, private air travel, and personal butlers, reported Insider. Sometimes they even make celebrity appearances, with Queen Elizabeth's corgis even "acting" in a special video for the 2012 Olympics opening ceremony, featuring Daniel Craig playing his role as British secret agent James Bond. 
While the Queen's corgis never receive tidbits from the royal table, they do enjoy food created especially for their palate. The Queen instructs her staff to feed each animal its own special menu, according to Town and Country.  A butler brings the meal in a porcelain bowl and all of the dogs must sit in a semi-circle and wait for the command to eat. 
Despite the disciplined protocol, the pets only eat the best. Former royal chef Darren McGrady told Hello! that the dogs never ate canned food and always had their own menu. "One day it would be beef, the next day chicken, the next day lamb, the next day rabbit and it alternated through those days," he said. "The beef would come in, we would cook it, dice it into really fine pieces and then we did same with the chicken."
Loyal companions to the end
Print Collector/Getty Images
Bedtime also offers the same type of comforts, with each pooch sleeping in a raised wicker bed, high enough that the floor's chilliness never touched the corgis, according to Hello!. The Queen's precious pooches reside in their own room at Buckingham Palace, called the Corgi Room. The dogs have free rein in their room, and bed sheets are changed daily, a rule the Queen Mother started. After all, there's nothing like fresh linens!
Some of the royal pets become immortalized in art — from statues to paintings to sculptures. King Edward VII cherished his wire fox terrier, Caesar, so much that his image was crafted into a Fabergé piece, made with enamel, gold, and rubies, according to Fabergé
Like the original Caesar, the jeweled replica features a dog collar that proclaims, "I belong to the King." When his master died, Caesar, forlornly looked for him throughout Buckingham Palace and followed his coffin during the funeral rites. Now that's a man's best friend.