How Joan Jett Got Started In Music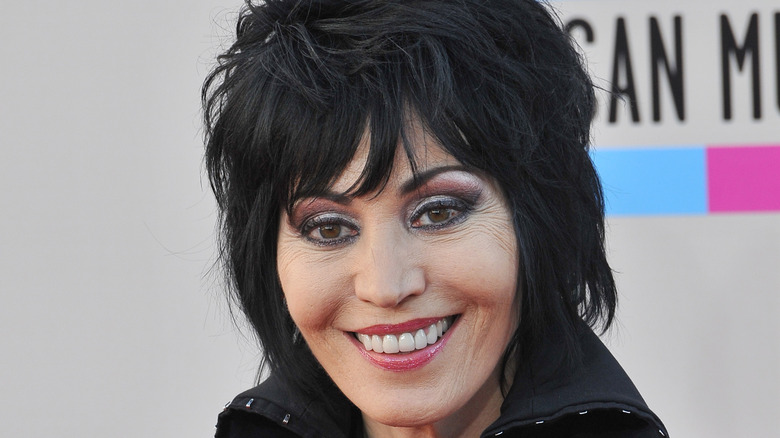 Shutterstock
"I don't give a damn 'bout my reputation!" 
With those words kicking off the now-iconic tune "Bad Reputation," Joan Jett put everyone on notice, releasing her first solo album after her previous band, the Runaways, called it quits, and taking no prisoners as she did so. Not too long after that, she had a new band, the Blackhearts, and she became one of the most surprising hitmakers of 1981. The group's cover of the obscure Arrows song "I Love Rock and Roll" went all the way to No. 1 on the Billboard Hot 100 and stayed there for seven long weeks, eventually selling 25 million copies. Its video also became an early mainstay of MTV — way back when the "M" unquestionably stood for music.
Looking back on Jett's career and legacy as one of the first prominent women in hard rock, she's done far more than just sell millions of records and regularly appear on the Billboard charts. The "Riot Grrrl" bands of the 1990s, including L7, Bikini Kill, and Babes in Toyland, owe a lot to Jett's influence. You also have to consider how her songs are still a staple of pop culture up to this day — for instance, the aforementioned "Bad Reputation" was used by Ronda Rousey as her entrance theme in both the UFC and WWE. However, even the most influential entertainers have to start somewhere, and that often means looking up to or patterning your career after someone. So how did Jett get started as a musician?
Joan Jett was inspired to rock hard by Suzi Quatro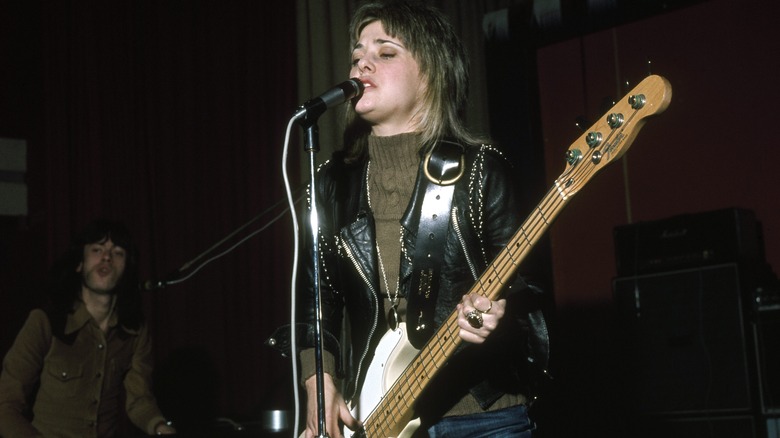 George Wilkes Archive/Getty Images
Way before Joan Jett and the rest of the Runaways recorded their first tracks, it was rare for women to play loud, aggressive rock music. That made it tough for young Joan Marie Larkin — as Jett was known before she took on her now-familiar stage name — to find a suitable role model as an aspiring musician. It didn't help that her first guitar teacher told her that "girls don't play rock 'n' roll," as she recalled to the New Yorker's Sarah Larson in 2018. (Instead, he taught her how to play "On Top of Old Smokey" and told her that girls cannot play guitar in a "social" setting — talk about patronizing.)
Jett eventually found inspiration in the edgy music and fashion sense of one particular early female rocker — Suzi Quatro (pictured above), who rose to fame with her 1973 hit "Can the Can" and, prior to that, was part of an all-girl group known as the Pleasure Seekers. "What Suzi Quatro did for me was make me realize that girls could be successful playing rock 'n' roll ... there were probably other girls like me who probably wanted to do it too," Jett told the Irish Times. "It wasn't that we wanted to have a 'girl sound.' We wanted to be The Rolling Stones, Led Zeppelin – we wanted to have the same menace that the boys did."
The Runaways didn't get much respect from the men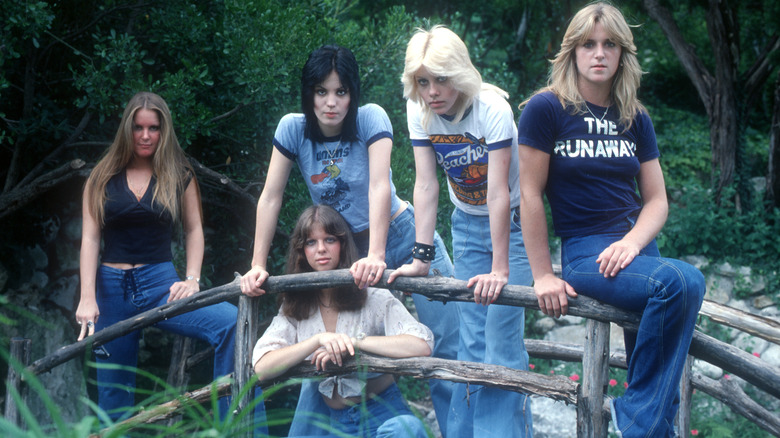 Michael Ochs Archives/Getty Images
Joan Jett was only 15 years old when she formed the Runaways, and what they lacked in chart success they made up with their influence on generations of women in rock music. As shown on their IMDb soundtrack page, their most famous song, "Cherry Bomb," has been used in movies from "Dazed and Confused" to "Guardians of the Galaxy," and even the arguably cheesy, over-the-top girls-in-juvie epic "Dead End Justice" made its way to an episode of "Stranger Things." It's great to look back on their impact more than four decades after their heyday, but as Jett recalled, it was difficult getting respect from largely male audiences who saw an all-girl hard rock band like the Runaways as a novelty.
"When guys thought it was just a phase they'd belittle us, but when they realized we were serious they got nasty. It's difficult to get across to people what it's like to be spat at," Jett admitted to the Irish Times. "They expected us to run off stage crying, but we didn't, we just stood there." She also admitted to eventually crying "out of sheer frustration" after concerts where she'd constantly get spit on by unruly fans.
Despite those challenges and countless others, the Runaways kept rocking until they disbanded, and Jett remains active in music to this very day as she continues to prove her old doubters wrong – girls and women can play rock 'n' roll and be pretty darn good at it.