How Sammy Davis Jr. Lost An Eye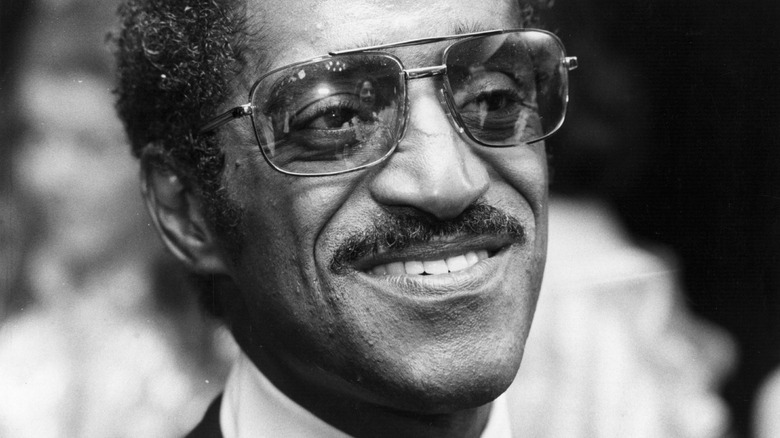 Michael Fresco/Getty Images
Sammy Davis Jr. was a multitalented entertainer with all the earmarks of a classic vaudevillian. He could sing, dance, act, and perform different comedy styles, and his peer impersonations were amazing. Davis had to rise above the indignities of racism, which made him a stronger person. His tenacity served him well when an early morning car accident left him without his left eye.
Davis was born on December 8, 1925, in New York City to an African American father, Sammy Davis Sr., and Puerto Rican mother, Elvera Sanchez. His grandmother raised him but could not prevent his father from bringing the 3-year-old Davis onstage to perform with the Will Mastin Trio. On November 19, 1954, a 28-year-old Davis, along with his friend and assistant Charley Head, were traveling south on Route 66 when his world changed suddenly and irrevocably. The Akron Beacon Journal reports Davis had just performed his first hit song "Hey There" on NBC's "The Colgate Comedy Hour" and a late-night gig at the Frontier Hotel in Las Vegas.
He was scheduled to record the soundtrack for the 1955 film "Six Bridges to Cross," so he drove his brand-new lime green Cadillac El Dorado back to Los Angeles instead of getting a hotel room (via Biography). Meanwhile, Helen S. Boss, 72, and Bessie Roth, 69 were headed to Van Nuys when, according to Sidetrack Adventures, Boss realized she missed her turn at the Kendall Drive intersection and backed up into Davis' vehicle.
Sammy Davis Jr.'s car accident on Route 66
Per the Beacon Journal, the impact caused his face to hit the steering wheel, which featured a conical horn button in the center. Striking that protrusion popped his left eye out of the socket, fractured his face, and injured his back. The force also catapulted his head forward, and he broke his jaw. Boss and Roth suffered broken bones after being thrown backward. Davis lost his eye and spent eight days in the hospital. The accident caused Ford to change El Dorado's newly discovered design flaw. "It has no functional purpose, just to look cool," said Henry Ford Museum curator Matt Anderson (via CBS News).
"Lying flat on your back in the hospital for eight days, you are bound to think about serious things. And I couldn't get over how lucky I was. God must have had his arms around me. Otherwise, I would be blind today," Davis later told the Associated Press, as quoted by the Beacon Journal.
Losing his eye certainly didn't affect his personal or professional life. In fact, his interracial relationships with his second wife May Britt and actress Kim Novak were more of a threat to his life and career than his missing eye, but he refused to let ignorance run his life (via Smithsonian Magazine). His dance style — a mix of street style and vaudeville-style — influenced Michael Jackson's and Gregory Hines' dance moves. Sammy Davis Jr. continued to perform until shortly before his death on May 16, 1990, from throat cancer.