The Real Reason William Goldsmith Left The Foo Fighters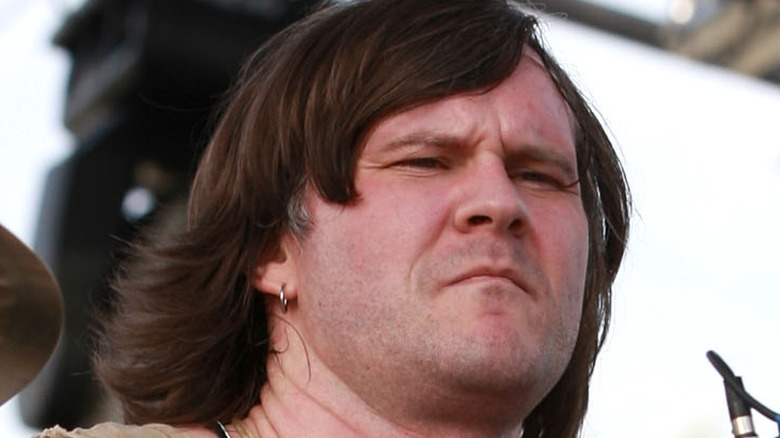 Karl Walter/Getty Images
When the Foo Fighters released their self-titled debut album in 1995, it was practically a solo project for former Nirvana drummer Dave Grohl. Not only did he sing and write all the songs by himself; he also played the drums (as expected), the bass, and almost all the guitar parts, with the only guest appearance coming from Afghan Whigs leader Greg Dulli, who contributed a guitar part on "X-Static." Officially, though, there was an actual Foo Fighters lineup that featured Grohl on lead vocals and lead guitar, former Nirvana touring member Pat Smear on rhythm guitar, and Sunny Day Real Estate alumni Nate Mendel on bass and William Goldsmith on drums.
Although they were not at all involved in the recording of "Foo Fighters," Smear and Mendel would make substantial contributions to the band going forward, and Mendel still plays the bass for them up to this day. Unfortunately, that wasn't the case for Goldsmith, who left the group during the recording of their sophomore release, 1997's "The Colour and the Shape." At the time he quit, Goldsmith had only appeared on a few Foo Fighters tracks, and while he would eventually return to his old band, his issues with Grohl apparently remain unresolved, as further suggested in 2018 when he accused his former bandmate of preventing the release of "the greatest Sunny Day Real Estate record ever made," according to a report from Spin. 
So why did William Goldsmith leave the Foo Fighters anyway? Here's the real reason why.
Goldsmith didn't want to promote an album where he barely played
Many people don't talk about Dave Grohl as much as they fawn over him. Furthermore, publications such as The Guardian have long documented his kind deeds toward fans, giving him titles such as the "nicest guy in rock." But if you ask William Goldsmith what he thinks of Grohl, he'll refer to his ex-bandmate as a "playground bully" who stifled his creativity back when he was a founding member of the Foo Fighters.
Speaking to the Daily Mail in 2017, Goldsmith recalled the time when he and his bandmates were recording "The Colour and the Shape" in 1997, talking about how he worked "13 hours a day for three weeks" and mostly felt relieved when everything was completed. However, he also felt that something was a bit off, and his suspicions were apparently confirmed when he discovered that almost all of the drum tracks he laid down were re-recorded. "Apparently Dave was going to re-record a few of the songs," Goldsmith said. "I don't know if the producer told him to keep going, or what. But the next thing you know, all of the work I had done was gone except for one or two of the tracks."
Although Grohl supposedly wanted Goldsmith to remain in the band and go on tour behind "The Colour and the Shape," Goldsmith ultimately chose to quit the Foos, stressing to the Daily Mail that he did so because he didn't want to play live to promote a record where he barely played. He also accused the band of leaving him out of the credits in order to avoid paying him.
The Foo Fighters' side of the story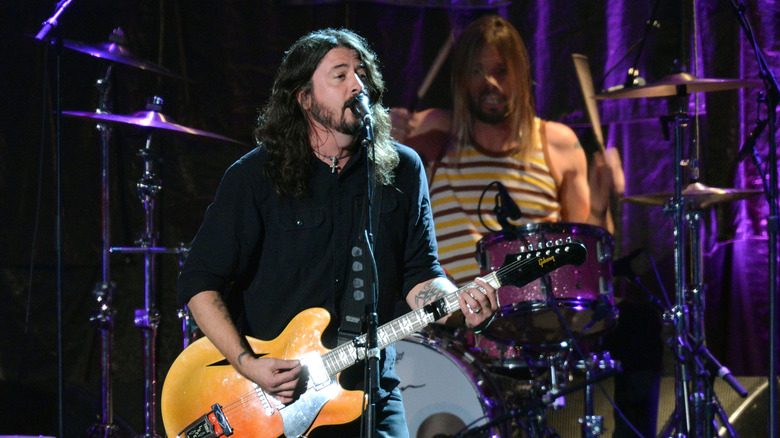 Scott Dudelson/Getty Images
In his interview with the Daily Mail, William Goldsmith didn't hold back when talking about Dave Grohl, comparing him to the kid in school "who is popular but is mean and everyone likes them" and suggesting that "bad people" like him "get to do whatever they want." However, current Foo Fighters drummer Taylor Hawkins — who replaced Goldsmith in 1997 — had a far more positive account of his experience as a newbie with the band. He revealed in 2018 (via NME) that it took him a few years after joining before he was comfortable enough banging the skins for the Foos.
"I was struggling, because I had never been in the studio before," Hawkins said. "The studio is a completely different thing than live, dude, it couldn't be any more different. The microscope is on." Without actually naming Goldsmith, he went on to call him out for "[buckling] under the pressure" and debunk the rumors that Grohl fired him. "He quit," Hawkins continued. "He keeps going on these blog adventures. Dave never fired him, Dave never wanted to fire him."
Grohl backed up Hawkins' claims when speaking to Louder in 2018, recalling that Goldsmith got "[bummed] out" after he recorded some new songs for "The Colour and the Shape" where he played both the guitar and the drums. "That turned into a breakdown and then I realized he wasn't coming back, so I recorded all the drums on the record myself," he added.