Why Was Olivia Black Fired From Pawn Stars?
History Channel's hit reality TV show, "Pawn Stars," has been on the air since 2009. The popular show follows a family-run pawn store in Las Vegas called the World Famous Gold & Silver Pawn Shop. It is owned by a multi-generational family, started by the late Richard Harrison and is currently run by his son Rick and his grandson Corey, via History.
The Harrisons and their staff spend a bulk of their time on the show examining various types of objects and valuables brought into their shop for estimates. This process usually includes a series of checks to identify if an item is valuable, and then its worth is determined. But what makes the show popular are the adventurous steps the Harrisons do to come to those conclusions. Of course, it wouldn't be a reality TV show without some drama here and there. Sometimes on scripted series, the drama is just that: made up. However, there's been many actual, real-life instances that have involved cast members of the show, including that of a new-hire.
Aside from the Harrison family, there are several other cast members that are seen on the show and work in the shop. One of them was Olivia Black, who came much later in the show and debuted during the show's fifth season. However, barely over a year after her first appearance, she would get fired from the series.
Olivia Black's firing from Pawn Stars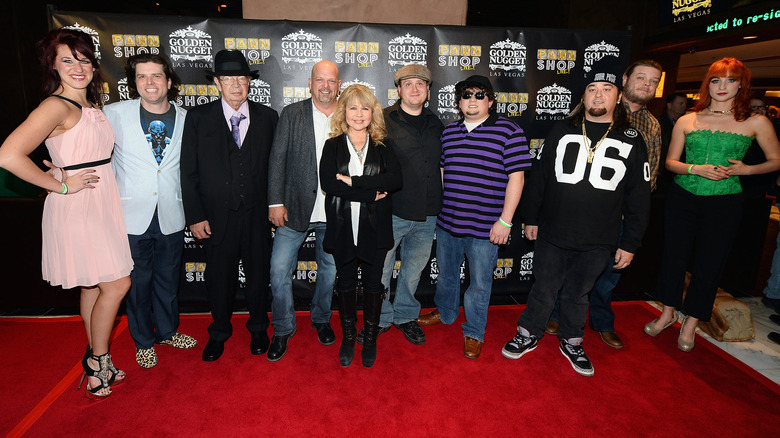 Ethan Miller/Getty Images
Despite the clever pun of the show's name, the History Channel is apparently no fan of salacious photos. In December 2012, Olivia Black was fired from the show, per Fox News. The reason for her firing: some suggestive photos of her from an adult site called Suicide Girls surfaced online, according to a companion Fox News article. 
A few years earlier in 2008, she had modeled for the site and eventually the images leaked on the internet. After which, the network would not let her appear on "Pawn Stars." However, she was still employed by the Harrisons and continued to work in the shop until she decided to leave on her own accord shortly after. 
The following year, Black decided to take legal action against the network, says Fox News. She stated that network execs never explained anything to her about her firing. A spokesperson for her told Fox that Black wanted answers not only for herself, but for her fans, too. "Olivia has missed seeing her fans from 'Pawn Stars' as much as they've missed seeing her. Her firing was abrupt and unfortunate, and I think the public deserves more answers," said Black's spokesperson. 
Even though Black did return to modeling for the same website that led to her being out of a job, Rick Harrison also had to clarify (mostly for "Pawn Stars" fans) that the shop played no part in her departure and that it was strictly a network decision. "I never fired her. She's out doing her own thing now. It's just the production company did not want her working there anymore," he said to Fox News.