Why Marky Ramone Got Kicked Out Of The Ramones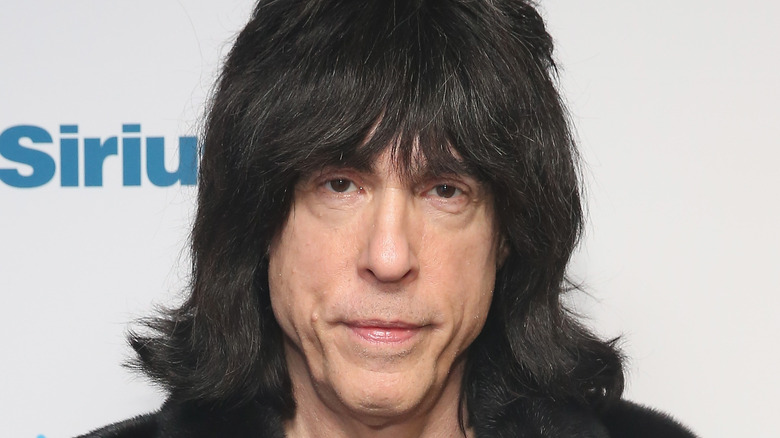 Robin Marchant/Getty Images
Not everyone may know the names Jeffrey Hyman, John Cummings, Douglas Colvin, and Thomas Erdelyi, but in 1974, these four New Yorkers took their love of '60s pop and garage rock, sped up and shortened their songs, and took on the same surname as their band, the Ramones, eventually became the biggest name in American punk rock in the 1970s and 1980s. Messrs. Hyman, Cummings, and Colvin are much more recognizable by their respective stage names Joey, Johnny, and Dee Dee Ramone, but it may be harder for some fans to pick the drummer who is most easily identifiable with the group.
The Ramones weren't exactly on the level of Judas Priest and their eight drummers (via Ultimate Classic Rock), but they did go through three full-time drummers before they disbanded in 1996 — Tommy, Richie, and Marky Ramone. Out of those three, Marky (born Marc Bell) had the most impressive credentials, as he played for seminal hard rockers Dust (via Louder) and early punkers Richard Hell and the Voidoids before joining forces with Joey, Johnny, and Dee Dee in 1978. He also had the longest tenure out of all the Ramones' drummers, though there was one four-year period where he was out of the band, having been replaced by Richie Ramone for three mid-'80s albums. Here's the story of Marky's dismissal from the Ramones and the circumstances that led to his firing.
Marky Ramone was fired because of his alcoholism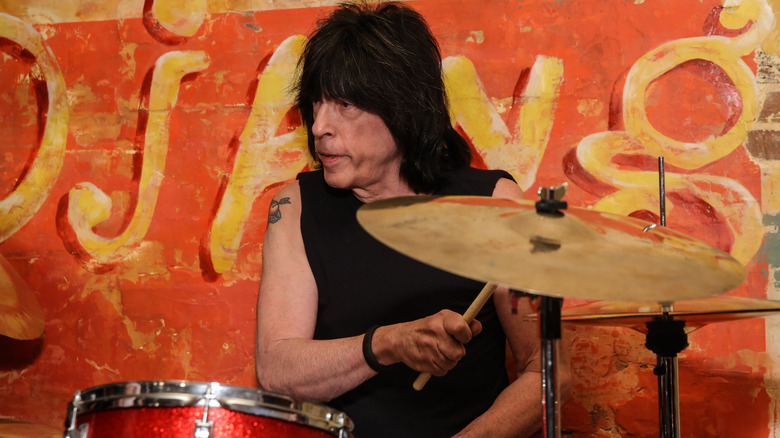 Jp Yim/Getty Images
Most Ramones fans are aware that bassist Dee Dee Ramone battled substance abuse throughout his entire tenure with the band. But Marky Ramone also fought his share of personal demons; he revealed in his autobiography "Punk Rock Blitzkrieg: My Life as a Ramone" that he was fired early in 1983, shortly after his excessive drinking caused the group to miss a show. That left frontman Joey Ramone with no choice but to make the call to Marky and hit him with a dose of tough, albeit brotherly love. "You can't be in the band anymore," Joey supposedly told Marky, as quoted by The Morning Call. "I feel bad about it, but there's nothing I can do."
Just how bad was Marky's drinking problem? According to Vice, the drummer wrote that he was so drunk one time that he drove his car through a furniture store. Even worse, there was an instance when he placed a friend's Chihuahua in a freezer. "That thing was a pain in the a**," Marky told Vice's J. Bennett. "It was barking all the time and kept biting my ankles every time I went into the guy's house."
No matter how you look at it, drunkenness is never an excuse for animal cruelty. But Marky finally sobered up after two trips to rehab, and by 1987, he was back with the Ramones. As noted by Louder, he would remain with the band until their 1996 breakup.