The Tragic Death Of Eddie Cochran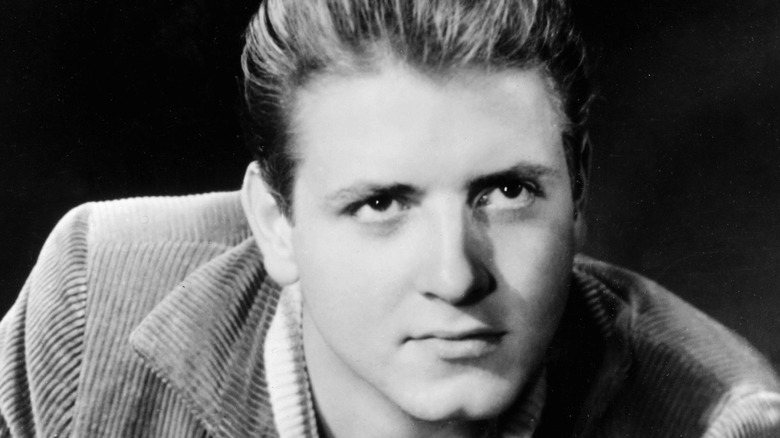 Michael Ochs Archives/Getty Images
While he isn't as familiar to modern listeners as other early rock 'n' rollers like Elvis Presley, Chuck Berry, Buddy Holly, and Jerry Lee Lewis, Eddie Cochran was a major influence on numerous acts. As noted by Beatles Bible, Cochran's "Twenty Flight Rock" was among the songs Paul McCartney sang while auditioning for the Quarrymen — the band that would form the foundation for the Fab Four. Another one of the Minnesota-born rocker's big hits, "Summertime Blues," was famously covered by The Who and Blue Cheer, with the latter version surprisingly peaking at No. 14 on the Billboard Hot 100 in 1968 — not bad for a group often considered as one of the first-ever heavy metal bands (via Louder). Then you've got songs like "C'mon Everybody" and "Somethin' Else" that also helped make Cochran a household name in the late 1950s.
Unfortunately, Cochran died at a very young age — and in similarly tragic circumstances — little more than a year after Holly, Ritchie Valens, and J.P. "The Big Bopper" Richardson were killed in a plane crash on what has often been referred to as "The Day the Music Died." Like the aforementioned musicians, Cochran was at the peak of his career at the time of his death, leaving many to wonder how things might have turned out if he were alive today.
Cochran had a 'strong feeling' he was going to die young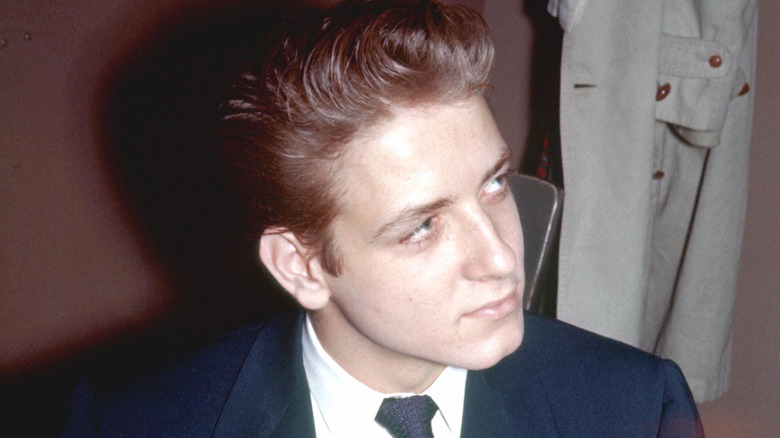 Michael Ochs Archives/Getty Images
The February 3, 1959, plane crash that killed Buddy Holly, Ritchie Valens, and The Big Bopper greatly affected rock 'n' roll fans around the world, who never expected that three of the genre's biggest stars would lose their lives at such a young age. It also affected Cochran, who, shortly before his death in 1960, apparently became concerned that he too might die soon, according to John Collis' biography "Gene Vincent & Eddie Cochran."
"Cochran was obsessed and in a dreadful state over a strong feeling he had that he was going to die," Arnold Burlin, manager of the Milverton Lodge in Manchester, England, said after the musician's death. "He told me: 'I feel so horrible — there is nothing I can do about it, but I know I'm going to die.'" The book also stressed that the singer-guitarist was "severely depressed and brooding" in the last days of his life. However, British television producer Jack Good claimed that he "never saw Eddie with a sense of doom" and was very complimentary of one of Cochran's final performances.
"Eddie Cochran was amazing ... even more dynamic than I have ever seen," Good said, as quoted by Collis. "And how he used those bloodshot eyes ... It looked fabulous and outrageous ... This beat everything for turning a disadvantage into an advantage."
Cochran died in a car accident while on the way to London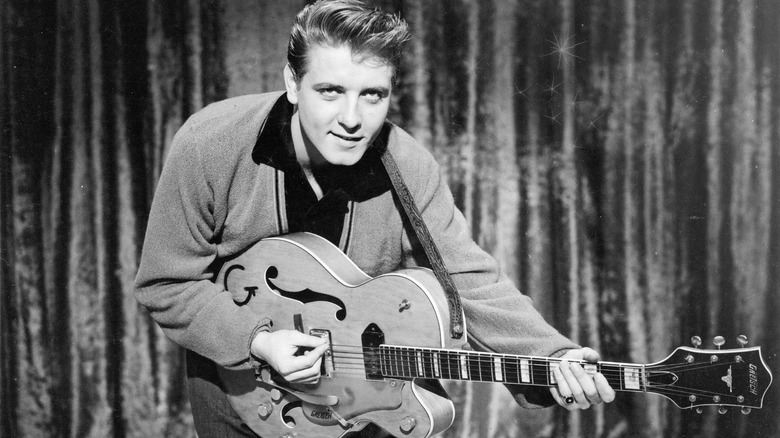 Michael Ochs Archives/Getty Images
On the night of April 16, 1960, Eddie Cochran had just wrapped up a successful tour of England, where he and fellow American rock 'n' roller Gene Vincent had performed in front of appreciative crowds. According to History, the tour had actually been extended an additional 10 weeks because of the "intense demand for tickets" — this underscored how the rebellious, hard-edged Cochran was seemingly more popular overseas than he was at home, where lightweight, wholesome pop singers like Paul Anka and Frankie Avalon had emerged as part of the new breed of hitmakers.
Shortly after what would turn out to be his final concert, Cochran, his fiancee, songwriter Sharon Sheeley, tour manager Patrick Thompkins, and Vincent hopped in a Ford Consul taxi and headed off to London. As the cab traveled through a winding road in the village of Chippenham, driver George Martin, who was supposedly traveling at speeds greater than 60 mph, lost control of his vehicle and spun into a light post. As explained by BBC, Sheeley, Thompkins, and Martin escaped with relatively minor injuries. Vincent broke his leg, resulting in a limp that bothered him until his death in 1971.
Cochran was the only occupant of the taxi who died in the accident, having suffered a serious head injury after getting thrown from the cab. He was taken to St. Martin's Hospital in Bath, where he died early the next morning. He was only 21 years old.