How Many Murder Victims Have Been Found In The Texas Killing Fields?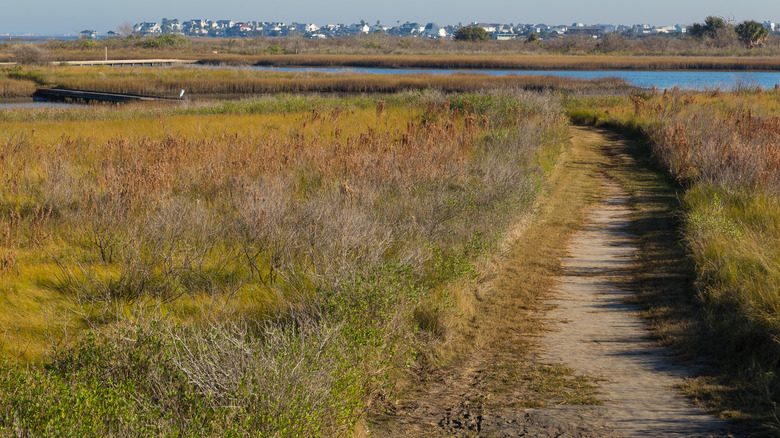 Shutterstock
A 50-mile stretch of land off Interstate 45 in an otherwise unassuming area near Houston, the Texas Killing Fields are infamous for the many murder victims found there. Perhaps it's no surprise that the area has become a preferred dumping ground for serial killers — the fields are overgrown, mostly abandoned, and surrounded by dirt roads that rarely see any traffic. As told to CBS News by federal agent Don Ferrarone, the long, empty fields are "just a perfect place [for] killing somebody and getting away with it."
Since 1971, over 30 young girls and women — some as young as 12, some in their 30s — have been murdered or disappeared around what some call the "Highway of Tears." While the Killing Fields have seen a particularly large number of deaths and disappearances, the FBI has long been aware that interstates are a favorite hunting ground for serial killers (via Toronto Sun).
The murders and disappearances around the Texas Killing Fields are believed to be the work of multiple serial killers. Over the years, the local police and FBI have identified several people as suspects. Some have been eventually convicted for a few of the murders, while others were released or remain as suspects.
The only thing all victims had in common is that they were women
The victims come from all walks of life and in all ages. The first victim, found in 1971, was 14-year-old Brenda Jones. There were 11 other victims found in the area in the 1970s, mostly teenagers and young girls who, according to 9News, used to hang out on the local beaches.
Of the 12 murders that happened during the '70s, only one led to a conviction. However, an investigative team working together in 2017 presented the theory that all the 1970s crimes could possibly have been committed by a single man (via Houston Public Media).
During the 1980s, there were four victims, all found at the oil field off Calder Road, according to 9News. Two of the bodies couldn't be identified until in 2019. A new method of DNA analysis called "phenotyping" finally revealed their identities (per Chron). Both women were in their 30s, and all four victims killed in the 1980s are believed to have been murdered by the same man.
The murders in the '90s are unique because several of them have been solved or are close to being solved. The most notorious example is connected to William Lewis Reece, who was in prison for an unrelated kidnapping and attempted murder when DNA connected him to the Killing Field's deaths of Jessica Cain and Kelli Cox. He's also suspected of killing 12-year-old Laura Smither, though he denies the charges (via ABC 13).
Not every victim was found in the field and many remain missing
The murders connected to the Killing Fields continued into the 2000s, though the numbers of victims have been smaller and no body has been found in the area since 2016 (via CBS News).
Many of the victims connected to the Texas Killing Fields are presumed dead even though their bodies were never found. For example, 22-year-old Suzanne Rene Richerson disappeared in 1988 after leaving her place of employment in Galveston, Texas, and 57-year-old Tot Harriman was last seen driving down Highway 35 in 2001 (via CBS News).
Until his death in 2019, Edward Harold Bell was one of the prime suspects in several of the 1970s murders. He knew two of the victims because they used to visit his surf store, and he lived very close to where the bodies of two other victims were found. Bell eventually received a 70-year sentence for the killing of somebody else, and while in prison, he sent letters to Harris and Galveston County prosecutors about the Killing Fields murders (via Houston Public Media).
In these letters, he confessed there were "eleven that went to Heaven." Although he couldn't name every one of his victims, he confessed to killing several young girls, including 15-year-old friends Debbie Ackerman and Maria Johnson, who disappeared after accepting a ride outside an ice cream shop and were later found dead and bound nearby. According to 9News, there was no evidence that his claims were true, so Bell was never charged.