The Truth About Dennis Rader's Life Before He Became The BTK Killer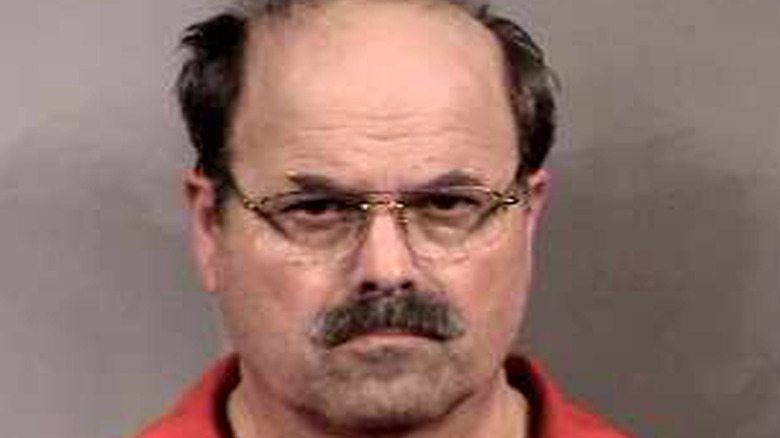 Getty Images/Getty Images
On January 15, 1974, a man broke into a Wichita, Kansas, home and killed all four of its occupants — Joseph and Julie Otero and their two youngest children, 11-year-old Josephine and 9-year-old Joseph Jr. This was just the first in a series of murders committed by the individual known as the "BTK Killer," the initials standing for the brutal method in which he took the lives of his victims — "Bind, Torture, Kill." After the murders stopped in 1991, the case went cold, but in 2004, the BTK Killer started sending feelers out to local media and law enforcement, much like he did during the first few years of his killing spree, as noted by Biography. Finally, on February 25, 2005, the mysterious serial killer was arrested, and his identity was finally revealed — the BTK Killer was a 59-year-old Wichita resident named Dennis Lynn Rader.
Those who had known Rader for years were shocked to learn that he was charged with 10 counts of first-degree murder. On the surface, he was a devoted family man and dedicated compliance supervisor who was also the president of his church council and a Boy Scout troop leader. He certainly didn't fit the mold of the average serial killer, but when he pleaded guilty to the murder charges, he allegedly did not show any remorse for his actions. Who was Dennis Rader before he became the BTK Killer? Here's what we know about his childhood and young adult years. 
Rader had disturbing sexual fantasies as a young boy
Even as a young boy, Dennis Rader had a knack for appearing outwardly normal and leaving no indication that he was, in private, engaging in disturbing behaviors. Born on March 9, 1945, in Pittsburg, Kansas, the future BTK Killer grew up in Wichita and ostensibly had an unremarkable childhood, but as he admitted in a 2005 interview (via All That's Interesting), he "sort of had some problems" when he was in grade school. "[I had] sexual, sexual fantasies," he revealed. "Probably more than normal. All males probably go through some kind of, uh, sexual fantasy. Mine was just probably a bit weirder than other people." 
Going into specifics, Rader claimed that he would tie some rope around his hands and ankles and place a bag on his head — an eerie sign of things to come, considering how he used the latter method when killing his victims. He also cut out photos of pretty women from magazines and imagined how it would be like to restrain them, drawing ropes and gags on the photos to aid his fantasies.
In addition, it seems that Rader showed one of the signs described by the Macdonald Triad, which, as explained by Healthline, oftentimes predicts whether a young person will grow up to become a serial killer or violent individual. He claimed that during his childhood, he would hang and torture stray animals, though he didn't appear to go into much detail about the topic.
He had trouble finding steady employment after four years in the Air Force
Pool/Getty Images
According to his Murderpedia page, Dennis Rader graduated from Wichita Heights High School in 1963 and spent the next two years working odd jobs before enrolling at Kansas Wesleyan College in Salina. However, he only spent two semesters in college before he dropped out and joined the Air Force in the summer of 1966. He underwent basic training at Lackland Air Force Base in San Antonio, and after spending time in two more bases in the U.S., he was moved to Okinawa in 1968; according to Rader, his four-year Air Force stint also included assignments in Greece, Korea, and Turkey. All in all, Rader's stint in active duty was largely uneventful apart from the fact he eventually reached the rank of sergeant.
After getting discharged from active duty, Rader returned home to Wichita and got a job as an electrician, according to All That's Interesting. He then met his future wife, Paula Dietz, who worked as a bookkeeper for a convenience store. The couple got married in 1971 after only a few dates, but it appeared as if Rader was getting frustrated by his frequent unemployment and by his poor performance as a student at Wichita State University, which he started attending in 1973. Unfortunately, having extra free time between jobs was seemingly what led Rader to revisit his childhood fantasies and act them out as the BTK Killer, as hypothesized by Murderpedia.