The Unexpected Heir To Pablo Escobar's Drug Cartel
Notorious Colombian drug trafficker Pablo Escobar rose to infamy in the 1980s as a main figure in the global cocaine business. As head of the Medellin Cartel, he oversaw the production and supply of cocaine, and orchestrated the smuggling of drugs into the US. This network of business earned him millions that made him filthy rich. So much so that at one point in time, Escobar was one of the richest men in the world, raking in $420 million weekly (Newsweek). At the height of his operation, his net worth was estimated to be $3 billion, per Forbes. But his clock ran out and it all came crashing down in 1993, when after a year on the run from Colombian authorities and American drug enforcement agents, Escobar was killed in a shootout. 
Despite his death, he left behind a massive multi-billion dollar cartel. But it was all illegal money, which meant, despite leaving behind a wife and two children, his family wouldn't exactly inherit it. The person who would take over Escobar's empire was Diego Bejarano, once employed as a driver by a former Escobar acquaintance. Bejarano turned snitch to take Escobar down, per All That's Interesting.
A former Escobar underling rises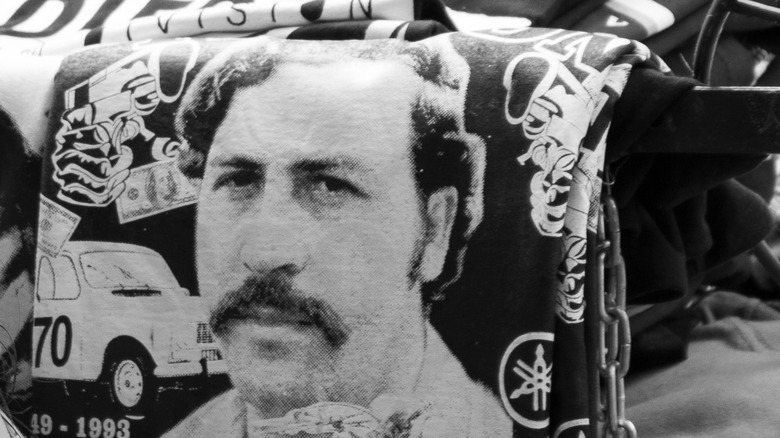 Shutterstock
Diego Murillo Bejarano, better known as Don Berna, worked under Fernando Galeano. Galeano was a friend of Escobar, and a major operative in the Medellin Cartel. Berna simply worked as a driver for him, but slowly and quietly rose up the ranks. When Escobar had Galeano and another confidant murdered on the grounds of his lavish prison La Catedral (via The Washington Post), it set off infighting in the cartel and Escobar went on the run. It also led to the creation of Los Pepes — a group of trigger-happy Escobar enemies out for blood.
Berna was one of the co-founders of Los Pepes. In the aftermath of Galeano's death, Berna, who once headed Galeano's security team, would have acquired all of his former boss' business. But a ruthless Escobar thought ahead and took Galeano's earnings and control of his properties, says All That's Interesting. Unbeknownst to Escobar, however, Berna was thinking even further ahead. He already had Los Pepes on the hunt for Escobar, and Berna aligned himself with authorities for Escobar's capture. At this point, the former underling was slowly and surely working his way into managing the Medellin Cartel. And he would.
Don Berna officially takes over
In 1993, the authorities finally discovered Escobar's hiding spot and killed him. It was a major victory for agents. Although Berna and officials worked together to take out Escobar, they would have different stories of who fired the round that killed him, per BBC. Whoever fired the shot, the man they wanted for so long was dead, and Berna now had a clear path to assume the throne left empty by Escobar. Berna spent time reuniting sects of the Medellin cartel that had broken away, continued the pattern of paying off corrupt officials, and reinforcing the ruthless measures of a drug kingpin. The cartel was back and it had a new leader. He would operate from his position until he faced the fate that his predecessor once feared: extradition to the US.
In 2005, the Drug Enforcement Agency (DEA) issued an extradition request for Berna and in 2008, Colombia extradited him to the US (pictured above) to face charges for trying to smuggle cocaine, per Colombia Reports.
Berna was later sentenced to 31 years in 2009, and fined $4 million (via Justice Department).