A Look At Poppy's Feud With Grimes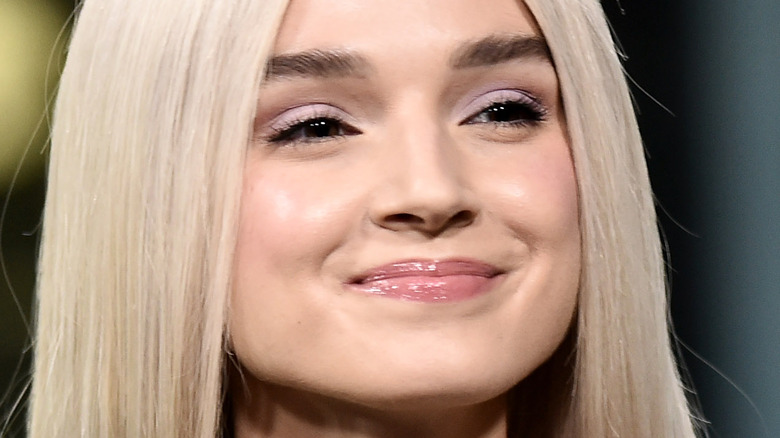 Steven Ferdman/Getty Images
Musical beefs between artists are very commonplace. A lot of times feuds make for good publicity for artists and their sales, other times they are trivial, and sometimes they might tackle a very serious issue. Such was the case in Poppy's beef with Grimes. In 2018, the singer and YouTuber claimed that the Canadian singer was a bully.
A few months before her accusation, the pair worked on a song of Poppy's titled "Play Destroy" (post on YouTube). But less than two months after its release, the two singers were at odds. Interestingly enough, ahead of their collaboration, many fans voiced some concerns about them working together. In fact, several fans attempted to discourage Grimes from working with Poppy because, at the time, there was an ongoing lawsuit against Poppy and her collaborator Titanic Sinclair, for abuse claims, according to PopBuzz. That case would be settled later, per New Musical Express.
The song would be released anyhow, and new twists emerged. The first came from Poppy. In an interview with Billboard, Poppy explained that Grimes and her team took on an overbearing sense of control over the release of "Play Destroy," and even said Grimes forced other creators into signing contracts. "We planned the song coming [sic] out months ago, and she was preventing it. I got to watch her bully songwriters into signing NDA[s] and not taking credit for songs that they were a part of," said Poppy.
But her critique of Grimes' work was one thing. 
Grimes responds to Poppy's claims
Frazer Harrison/Getty Images
The singer also had some strong criticism about her character and beliefs. "She doesn't practice what she preaches. It's really upsetting to work with a female that is very outward about a topic, but behind closed doors, it's the complete opposite. It's actually very disheartening to people that are actually feminists and supporters of other females," said Poppy.
The beef would get testier when Grimes responded to (and then deleted) Poppy's claims on her social media account. "Poppy you dragged me into a disgusting situation and won't stop punishing me for not wanting to be part of it. I don't want to work with you, you leaked the song anyway. u [sic] got what you want let it go," posted Grimes to her Instagram account, via New Musical Express.
Grimes did not exactly go into detail on why she didn't want to work with Poppy, nor did she react to the singer's claims of bullying. But perhaps Grimes had second thoughts about working with Poppy while she was facing allegations. But we'll never know because nothing more came out of the feud, and the two seemingly went their own ways.