Why David Lee Roth Almost Didn't End Up In Van Halen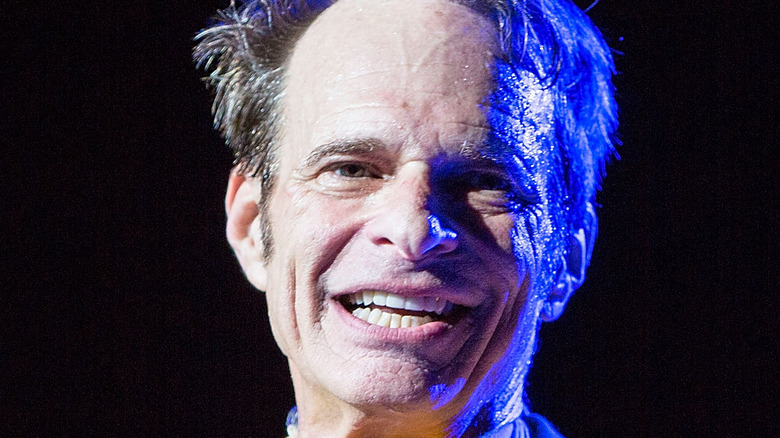 Daniel Knighton/Getty Images
While the name "Van Halen" is universally known, there was a time in the early '70s when things were very different for arguably one of the greatest rock bands of all time. Before Van Halen would ever become hot for teacher, Eddie Van Halen and his brother Alex were rocking the streets around Pasadena, California as a group known as Mammoth. Meanwhile, not quite on the other side of town, was another band called Red Ball Jets. Led by an extravagant, long-haired singer with a penchant for wearing spandex pants and not much else, known as David Lee Roth (via The Eagle), Red Ball Jets and Mammoth were rival bands in the early '70s vying for the same teenage audience.
The problem with Red Ball Jets, and David Lee Roth in particular, was the vocal range. While noted early on having an incredible stage presence, his vocal range was not nearly as impressive, with Roth telling The Star Tribune, "I've never had any delusions about my voice. It sounds like four miles of flat road with knobby tires. Mom used to say that; in fact she said it last week." 
When it came down to it, neither band was fond of the other with Roth quoted as saying (via Ultimate Classic Rock), "There were always creative differences. We've never gotten along. We started in rival bands. Bitter rivals. But we were thrown together and it was amazing." 
A deal with the devil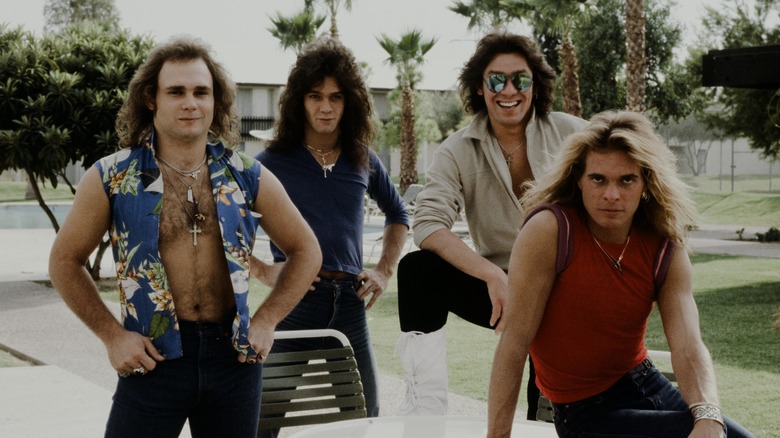 David Tan/shinko Music/Getty Images
The reason they were thrown together? The Van Halen boys dire need of a PA system. While Mammoth was an up-and-coming group, equipment came at a heavy price. And that price came in the form of David Lee Roth. According to Van Halen News Desk, Eddie and Alex knew Roth had a PA system, but weren't crazy about making a deal with their perceived devil. Roth was well aware of this, and the fact that Eddie was not crazy about being the lead singer of Mammoth (via Society of Rock). Roth used all of that to his advantage, telling the Van Halen boys, "You guys can use the PA system but how about I sing a song tonight?" (via Forbes). The maneuver worked, and Roth joined the band in 1973.
The band continued to work southern California clubs for the next couple of years until they finally landed a record deal with Warner Bros. Records in February of 1977 (via Van Halen News Desk). After catching Van Halen at a local California club, long-time record producer Ted Templeman brought the president of Warner Bros. Records, Mo Ostin, to see the group the following night. After a blistering set, Ostin and Templeman went backstage and offered Van Halen a deal that very night.
Ain't talkin' bout love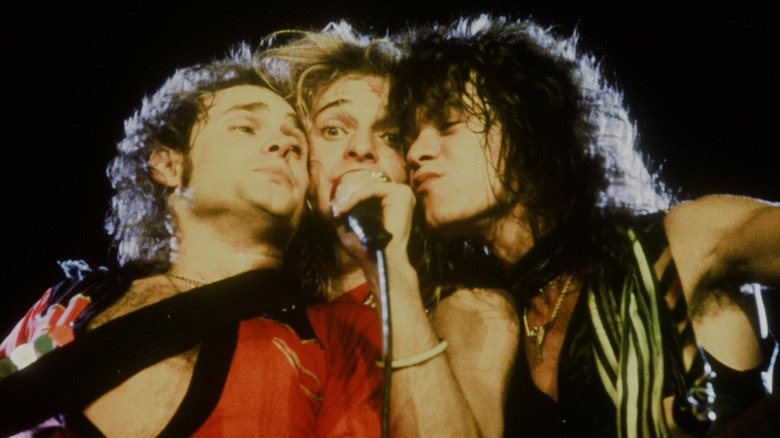 Koh Hasebe/shinko Music/Getty Images
While Templeman was initially impressed with David Lee Roth's performance that evening, saying (via Van Halen News Desk), "Dave was playing to an audience of 10,000, when there were about 11 people in there. He was performing and sweating and jumping whether anybody was there or not." 
It was clear Roth's vocal range left something to be desired. After working with the band for a short period, Templeman quickly realized Roth's voice, while "identifiable in a good way" (via Ultimate Classic Rock), was pitchy at best, and the singer's tendency to miss notes proved to be a continual problem. So much so, that Templeman began toying with the idea of approaching Eddie and Alex to suggest replacing Roth with the lead singer of the group Montrose, Sammy Hagar (via Van Halen News Desk).
According to Ultimate Classic Rock, there was one song in particular that impressed Templeman enough to not chase after Hagar at the time and stick with Roth. While recording songs for their 1978 self-titled debut, Templeman and Roth got into a discussion about the song "Ain't Talkin' bout Love." According to Templeman, "The more I read his lyrics, especially 'Ain't Talkin' bout Love,' the more impressed I became ... He was extremely well-read and smart, and that showed up in his whole approach to fronting Van Halen."
For his part, Roth buckled down, taking vocal lessons up to the recording of "Van Halen" and continued to practice expanding his range. Templeman noticed Roth's efforts in improving his vocals, and coupled with his ability as a capable lyricist, the producer decided against contacting Sammy Hagar. "Van Halen" would go on to sell 10 million units, certifying it as a Diamond release (via Van Halen News Desk).