The Tragic Death Of Sally Ride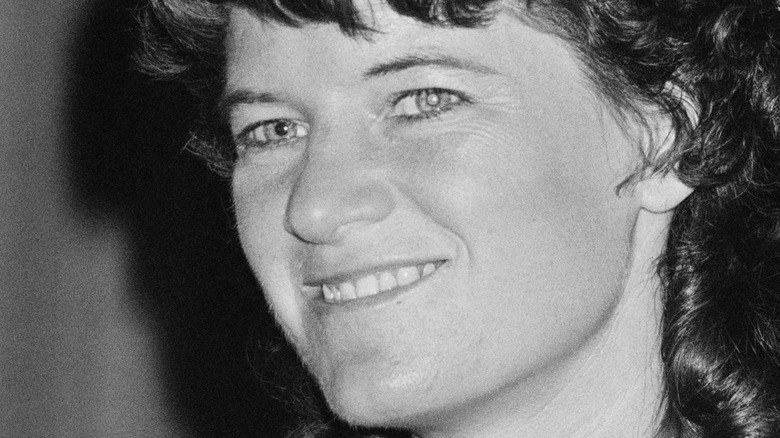 Express/Getty Images
Ranked among the most famous and influential women in American history (via Parade), Sally Ride was the first female U.S. astronaut ever when she launched into orbit on the Space Shuttle Challenger in 1983 and the third woman in space overall, behind the Soviet Union's Valentina Tereshkova and Svetlana Savitskaya (via Space). After that groundbreaking spaceflight, Ride served as a popular science communicator for the space agency, as she informed the public about missions, among other roles. Despite the inherent danger of her chosen profession and a life spent in the spotlight, Ride sadly lost her life to an earthbound disease. Right up until the end, she also kept some parts of her personal life from public view.
Ride broke through several other glass ceilings on her way into space. For example, she was (and remains) the youngest American to enter space at age 32, per the JFK Space Center. In 1978, she completed her doctorate in physics at Stanford University, where she focused on astrophysics, as Forbes reports. While at Stanford, Ride saw a newspaper ad looking for astronaut candidates and decided she would apply. She was selected in 1978 — one of only 35 to be chosen out of thousands of applicants, per NASA. After extensive training (and intense media scrutiny due to her gender), Ride took her historic flight into space in '83 and a second space flight in 1984; her third was scheduled for 1986 but was canceled as a result of the Space Shuttle Challenger disaster that same year.
Sally Ride died in 2012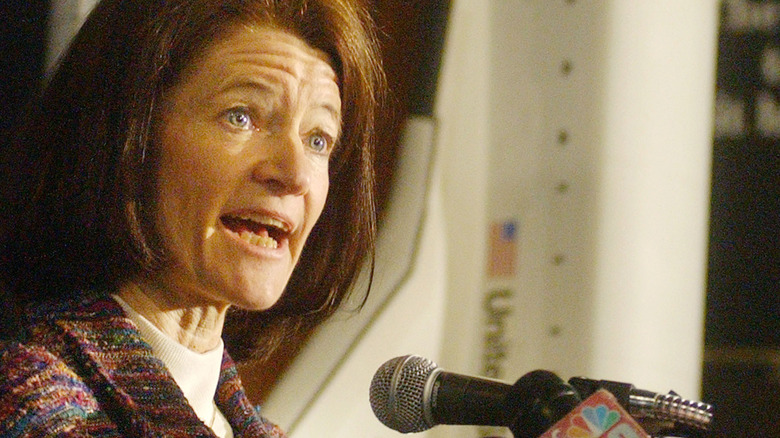 Sandy Huffaker/Getty Images
As well as serving in a number of professional capacities for NASA, Sally Ride wrote several popular science books in her life, as the book publisher MacMillan explains. In 2001, she also co-founded Sally Ride Science, a nonprofit to promote STEM literacy among young people, but especially for girls and minorities, per UC San Diego. Additionally, Ride served on the committees which investigated both the Challenger and Columbia disasters — she was the only person to serve on both, according to The New York Times. Sadly Sally Ride would ultimately lose her life to pancreatic cancer in 2012. She died at her home in San Diego at the age of 61.
After her death, Ride's ashes were interred next to her father in Santa Monica's Woodland Cemetery, as the Santa Monica Lookout reports. Preferring to keep her personal life private, not much is known about Ride's experience with the illness. She kept her diagnosis a secret from everyone but those closest to her, according to BuzzFeed. What is known for sure is Ride battled pancreatic cancer for only 17 months, and she succumbed to the illness on July 23. After her death, President Barack Obama hailed Ride (via CNN) as a "national hero and powerful role model." Ride's life, he said, "showed us that there are no limits to what we can achieve."
She came out as gay in her obituary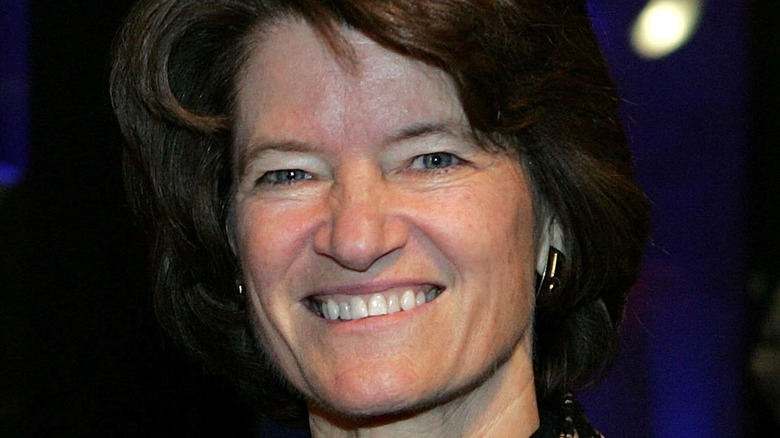 Justin Sullivan/Getty Images
In addition to keeping her health struggles private, Sally Ride also kept one other part of her personal life private until after she died: She came out to the public as gay in her obituary, which listed Tam O'Shaughnessy as her partner of nearly three decades, according to Business Wire. Longstanding stereotypes attributed to astronauts might have contributed to Ride's decision to keep her sexual orientation private until after she died (via NBC News). More than that, though, her sister, Bear, told NBC News that Ride was a woman of few words, and that was likely what motivated her to never mention that part of her life,
In her comments with NBC News, Bear continued, "In her inherent Norwegian reticence — in this and so many aspects of her personal life (wrestling with pancreatic cancer, for example) — she just didn't talk much." She preferred to not even comment on what life was like as the first female American astronaut, Ride's sister said. "[S]he just didn't think that way. She wanted to get the job done. Her personal feelings were just that: personal. Not right or wrong — simply Sally." At the time that she died, Ride was survived by O'Shaughnessy, her mother, her sister, niece and nephew, and many friends and colleagues.